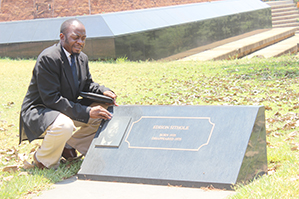 "I PRAYED for Ian Douglas Smith to live longer so that I would confront him about my father's whereabouts when I got older," said Edison Sithole Junior in an interview with The Patriot.
Edison is the only son of the late Cde Edison Chisingaitwi Sithole who was the second barrister after Hebert Chitepo.
It is now 40 years after the death of the firebrand politician who was abducted at his prime when he was 40 years old.
The veteran lawyer and nationalist was abducted together with his secretary Miriam Mhlanga on October 15 1975 while leaving the Quill Club at the New Ambassador Hotel, after an interview and was never seen again.
Edison Junior was three months old then.
That night the late hero was supposed to drive his mother to the rail station where she intended to board the train to Mutare, then Umtali.
The news of the abduction only reached the Sithole family who were fearfully waiting for their relatives because he had been in detention several times.
"I was told the late journalist Justin Nyoka brought the sorrowful news home in Highfield to my grandmother and my mother," said Edison Junior.
"He told them that my father and his secretary had been abducted by members of the Special Branch.
After that incident the late wife to Edison Sithole, Deliwe Loise Sithole left with for her rural home in lower Gweru for security reasons.
"Just like any other little boy I was eager to know about my father," said Edison Junior.
"I only asked my mother once and she told me my father was taken by Ian Smith and she quickly dismissed my question.
"The answer did not satisfy me and I asked my grandmother who also told me that Ian Smith took him.
"Ever since then I prayed for Ian Smith's life because I wanted him to tell me where he took my father.
"I came to Harare in 1980 on Independence Day eve to meet my paternal grandparents.
"They were now staying in Southerton where they were given a house by the government to accommodate my father's property and books.
"It was the first time to see my grandmother and grandfather.
"My grandmother broke into tears when she saw me.
"Again I asked my grandparents about my father, but I could not get a clear answer.
"I kept wondering about my father until 1986 when I was 11 years old doing Grade Five.
"I came to know the truth after visiting my rural home in Chereni village which is in Buhera South."
A ceremony was held to welcome Edison Furatidzai Chisingaitwi Sithole's son home.
The grandfather Furatidzai Sithole killed a beast for his grandson.
"It was exciting, but I was astonished," said Edison Junior.
"Why would my grandfather kill me a whole beast?
"I did not enjoy the meat because my grandmother was crying."
Edison Junior said his grandfather gave him $20 and told him that his father was abducted and he was not going to come back.
This traumatised the young Sithole who wondered why for several years his father would disappear and not return.
"In 1993 my aunt, Doreen Sithole sent me a newspaper cutting," said Edison Junior.
"I was doing my Lower Six at Hillcrest College in Mutare.
"It was from Sunday Times with an article written by David Masunda.
"The article was suggesting that my father could have been killed by the Selous Scouts and dumped at Warren Hills dumpsite.
"I vowed to look for my father's remains and give them decent burial, but I had to empower myself."
Edison Junior said he was fortunate to get a place at Rhodes University in 1995, but unfortunately I was involved in a serious accident.
This accident twisted events in Edison Junior's life.
He began visiting traditional healers all in an effort to find his father's remains.
He searched every part of the country, but it proved to be a wild goose chase.
In 1999 a tombstone was laid at the National Heroes Acre in honour of the veteran nationalist Cde Edison Sithole.
Edison Junior, however, said he will not rest until his mission of finding his father's remains is fulfilled.