By Fidelis Manyange
'REGAI vadiki vauye kwandiri' his guitar seems to be saying as the children of the area mill around him each time he strums his guitar in practice.
He was still an infant when the Chegutu-based hitmaker Robson Banda, who fronted the New Black Eagles, died.
He doesn't even know Banda's music, yet his voice and music sounds like that of the New Black Eagles.
His name is Batsirai Robert Kativhu who plays Afro-jazz and Chimurenga music.
The Nyanga-born artiste, who resides in Epworth, has a bright music future.
Born 34 years ago in Nyanga's Ruwangwe area, his interest in music started when he was doing his secondary education.
"When I was doing my secondary education, I saw a dark future in my education because I had no books and school fees since my parents were poor," said Kativhu.
"One day when a band called Blue Band came to perform at our school I became interested in music and If the likes of the late Oliver Mtukudzi, Thomas Mapfumo and Leonard Dembo, among others, despite their little education, became popular and earned a living through music, why couldn't I?"
The following day he carved a guitar from a mupepe tree.
He joined his childhood friend, one Tindikai Mautsa, in learning how to play the guitar.
One Isaiah Chidarura, who was a bit older than them, joined the duo and they formed a band called Young Stars and Mutunhu Unemago.
"We performed in schools like Chapatarongo, Manjanaja, Kazozo, Mbiriyare and other surrounding institutions; children were attending in their numbers.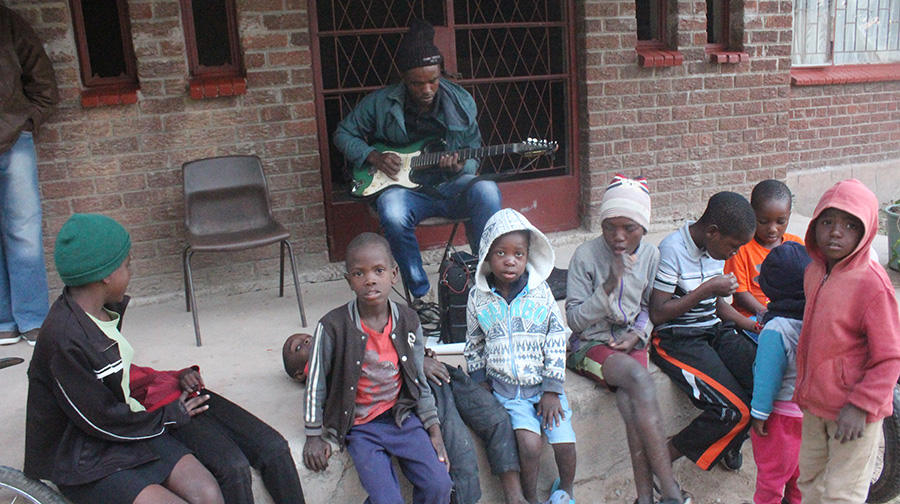 "With some of the proceedings, I managed to buy chickens and piglets"
He was later called to Harare by his uncle.
His uncle, upon noticing his interest in music, sent him to Zimbabwe College of Music but, unfortunately, he attended a few lessons since the staff went on strike for months. He then met Eddie who was also a former college of music graduate who gave him acoustic guitar lessons.
Kativhu called his friend Tendekai Mautsa from Nyanga to pursue their dream.
"Ndakamukumbirira kwekugara kwatete vake kuKuwadzana vakabvuma," said Kativhu.
Together they approached the Dzivaresekwa-based legend Shepherd Chinyani to be mentored and guided on how to record.
They called their new band Mafaro Mberi Band.
"Another guy, Berlington Zikamveka, came and joined us on drums. We had our debut show at Club 15, which was situated at Westgate of which the returns did not come out well as we arrived late due to transport challenges," said Kativhu.
They had another show in Hwedza where they were cheated by the promoter and came up with meagre earnings which led to band members disbanding.
Seeing that music was not paying, his uncle gave him work as a brick moulder so that he could buy his own instruments.
Soon, he had enough money to buy instruments and returned to Harare to re-join his former band members but, unfortunately, they had moved on and his spot had been filled.
They offered him the position of doorman which he turned down.
Kativhu bought an acoustic guitar and decided to go solo as an afro jazz artiste.
In 2010, he managed to visit his favourite artiste Oliver Mtukudzi at Pakare Paye to seek advice to which Tuku said: "When you write and perform, you must be like a dictator and a song must be like a composition.
It must have an introduction, a body and a conclusion.
When Mtukudzi died, I had a dream of him with his face on the moon and the whole world gazing at him," said Kativhu.
Kativhu also managed to visit Nicholas Zacharia who advised him to go for solo live shows since he was very good with the acoustic guitar.
In 2021, he managed to make a breakthrough in studio recording.
He recorded his debut made up of two songs, 'Mapingauta' and 'Munedaka', all Afro-jazz tracks.
He played all the instruments on the tracks.
His wife Zvamaita Mazarura provided the backing vocals.
Currently, he is in the studio working on a project called 'Mhande'.