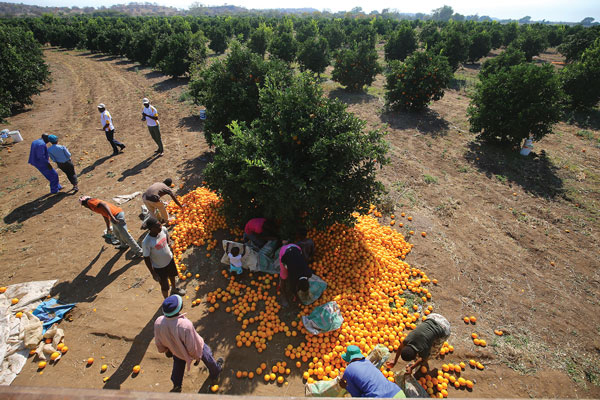 CITRUS plantations have been established in Zimbabwe since the 1920s.
In March 1922, the citrus estates of Zimbabwe averaged 254 600 acres in total, excluding numerous smaller horticultural entities that also grew oranges.
The largest of these estates were Sinoia (Chinhoyi) Citrus Estates (86 600 acres), Mazoe Citrus Estate (57 000 acres), Premier Citrus Estate, west of Mutare
(23 500 acres), Simoona Estates, north east of Mazoe (7 500 acres), was Marandellas Estate, south of Marondera
(48 000 acres) and Selous-Nek Estate, north of Macheke. on 32 000 acres.
Collectively, these estates were known as British South Africa Citrus Estates.
When the colonisers lost hope of finding mineral wealth in the new Southern African colony, now Zimbabwe, land became the primary interest of their politics as well as economic acquisitions and under the auspices of the British South African Company (BSAC), they turned to other ventures, orange groves among them.
Commercial groves of oranges were laid down near accessible water bodies to facilitate the irrigation of the oranges, such as the Mazowe Dam on the Mazowe River, north of Harare, constructed in 1920, and built mainly to provide irrigation for the Mazoe Citrus Estates which commenced operations in 1914.
In 1935, the BSAC took an interest in the recently formed citrus venture known then as Citrus Processing Limited (CPL), based at Mazowe, to process orange oil and orange concentrate.
The orange industry, at that time (1941), was boosted by regular, lucrative contracts from the Ministry of Food in Great Britain.
Thus, with overseas demand for tropical and citrus fruit as well as guaranteed financial assistance, the group of estates were able to register a regular annual profit.
In 1944, the Citrus Processing Plant (CPL) was fully absorbed into the BSAC and was developed further.
Soon after colonial occupation, the BSAC made grants of land to the pioneers and settlers to encourage the production of food for the community.
Naturally, few of the settlers had any knowledge of farming methods.
Indigenous Zimbabwean itinerant farmers who were well-acquainted with the lay of the land and aqua bodies provided the vital knowledge they required.
Needless to say, many of these citrus estates were established through the indigenous people's knowledge of the terrain and by exploiting African labour and their long-established soil expertise.
In time, various aqua bodies were dammed to provide irrigation for the various citrus estates.
The sweet orange (citrussinensis) is a member of the citrus family, along with the sour oranges (citrusaurantium), limes (citrus aurantifolia), lemon (citrus limon),grapefruit (citrus paradis), mandrin (citrusreticulata) and kumquat (fortunella margarita).
In pre-historic times, oranges were cultivated in several locations, including China, India, Burma, Bhutan and Malaysia.
Citrus fruit followed the trade routes west to Arabic countries and later to northern Africa, Italy and Spain
The Europeans recognised the medicinal benefits of citrus and used the fruit to prevent scurvy on long sea voyages.
In 1493, Christopher Columbus brought oranges and lemon seeds to America.
Today, north America accounts for about 60 percent of the world's citrus production, with Brazil leading in the field of concentrates.
Orange products are marketed in various forms which include fresh juice, orange juice concentrates, mixed fruit juice, orange marmalade and various confectionary.
Dried orange peel is used in baking and waste from cutting and processing is used for animal feed.
Citrus is an important source of vitamin C and foliate.
Oranges also provide significant amounts of antitoxin.
Oranges and other citrus fruits grow well in warm sub-tropical climates.
Site selection influences the long-term production of citrus trees and the ease of management such as irrigation, fertilisation, pruning as well as weed and pest control.
Citrus trees require deep soil having good surface and internal drainage.
The soil must provide 13 nutrient elements essential to all plant growth.
Planting depth of the sapling is of importance to the growth of citrus trees.
Fertiliser should not be applied until the tree begins new growth after planting.
Watering should be done two to three times the first week and one to two times per week for the next few weeks, depending on soil type, rainfall and the time of year.
The weeds and grass beneath citrus trees should be controlled to reduce competition for fertiliser and water.
Also, weeds and grass may harbour pests which can affect the fruit or trees.
Foot rot is a fungal disease present in many local soils, which affects orange trees.
In Southern Africa, citrus pests include insects, mites and diseases which may affect the health and vigour of the trees or the appearance of the fruit.
Like any other fresh fruit or vegetable, oranges can be contaminated by bacteria from soil, water or animal sources. Bacteria on the rind (skin) can be transferred to the internal flesh during peeling, cutting or juicing.
Oranges should be washed prior to consumption.
Over half of all juices sold in the US are orange juices.
In Zimbabwe, Mazoe orange juice was world renowned for its 100 percent real fruit juice — a trademark to be reckoned with, so much so that it still carries an international market demand and instant brand recognition.
The Mazoe glass bottle and label were a unique industrial design icon, and is still a world recognised brand in industrial design circles.
Sadly, the original savvy Mazoe glass bottle design has been discontinued and replaced by plastic.
The contents and product were one of Zimbabwe's premiere exports and still holds consumer memory and market sway, locally, regionally and internationally, today.
Commercially grown orange trees in Zimbabwe are grafted onto rootstocks that have been selected for disease tolerance under varying conditions, tree vigour, productivity and fruit quality.
Oranges do not ripen after harvesting, so it is important to pick the fruit at the right time of maturity.
This is normally associated with colour, sugar content, acidity and juice content.
Zimbabwe has some of the most suitable soil types, adequate irrigation and sunshine to further develop the citrus industry.
However, being a specialised horticultural product, growing oranges requires investing in intensive training, specialised fertilisation programmes and rigorous disease control as well as monitoring to grow first grade oranges of export quality.
Valencia, Saville and Navel are some of the suitable and lucrative orange varieties for cultivation in Zimbabwe.
Dr Tony Monda-is currently conducting Veterinary Epidemiology, Agronomy and Food Security and Agro-economic research in Zimbabwe and Southern Africa. E-mail tonym.MONDA@gmail.com