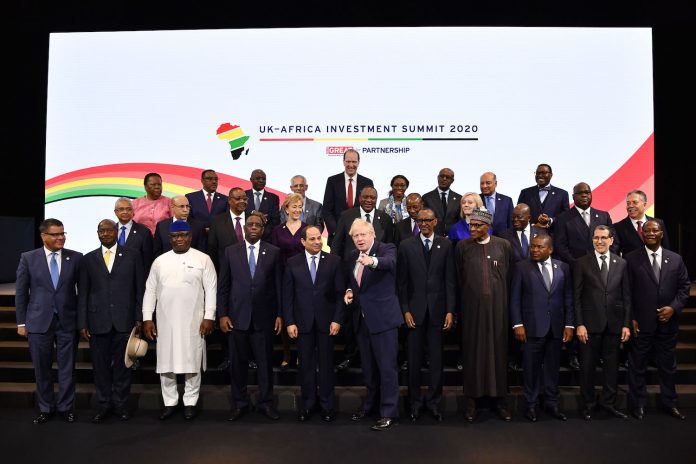 By Eunice Masunungure
BREXIT, an acronym for the UK's withdrawal from the EU, is proving the UK cannot do without Africa as evidenced by the recent vindictive sanctioning of other countries and the trade deals that it has entered with entirely the whole of sub-Saharan Africa under the UK-East and Southern Africa Economic Partnership Agreements (EPAs).
Brexit was ratified by the UK Parliament on January 23 2020 and by the European Parliament on January 29 2020, ensuring the UK leaves the EU on January 31 2020.
Beyond the negotiating period with the EU, which ended on December 31, the UK is no longer subject to the EU laws or EU political institutions, Customs Union and single market deals and will cease to trade with African countries under the terms of the existing arrangements in place between them and the EU.
It is in this new set-up that the UK wants to portray itself as self-regulating without the albatross of the EU on its neck, yet still responding to the country's dire need for resources, especially from Africa, hence frantic efforts to strengthen the Commonwealth grouping.
The UK is an export destination for several sub-Saharan African countries' products.
Before Brexit, more than 40 percent of exports from Botswana and Seychelles to the EU were destined for the UK.
Countries like the Gambia, Equatorial Guinea, Mauritius, Kenya and SA are said to have been sending more than 20 percent of their EU exports to the UK.
Under the EU, Britain got things like tea from Kenya, fresh vegetables from Malawi, processed fish products from Ghana, Mauritius and Seychelles, fresh or frozen beef from Botswana and Namibia, gold products from South Africa, diamonds from Botswana and 10 percent of Southern African citrus.
Records reveal that before Brexit, the UK took 80 percent of EU export of black tea, about 58 percent of chilled beans, 80 percent chilled vegetables and the EU might not accept it anymore post-Brexit.
The UK will definitely need citrus products, but the country is not a citrus producer and relies on food imports.
For the UK to continue with normal life, she needs to fast-forward on new trading deals.
In 2020, the UK concluded a series of trade agreements with countries across the continent that replicate existing agreements between these trading blocs and the EU, directly with the UK, enabling the continuation of trade between the UK and such countries on the same terms post-Brexit.
For instance, Economic Partnership Agreements (EPAs) partners in Africa do not pay any tariffs or duties on any of their exports to the EU and are required to open their markets only partially to the EU (80 percent) and benefit from long transition for doing so.
The UK has concluded negotiations for rolling over of EPAs, with blocs like Eastern and Southern Africa: Madagascar, Mauritius, Seychelles and Zimbabwe; East African Community: Kenya, Uganda, Tanzania, South Sudan, Rwanda and Burundi; Southern African Customs Union member-states and Mozambique: Botswana, Eswatini, Lesotho, Namibia, South Africa and Mozambique.
Jones' (2016) essay titled 'Brexit' Opportunity or Peril for Trade with Developing Countries' in Mendez-Parra, et al.'s The Impact of the UK's Post-Brexit Trade Policy on Development argues the challenge for UK is to ensure trade continuity on terms that are at least as favourable as those provided under the EPAs.
EPAs, an economic arrangement that eliminates barriers to the free movement of goods, services and investment between countries is an immediate step between free trade area and single market in the process of economic integration that the UK will use.
Whether the UK will install EPAs replicas or not, the UK's offer of trade preferences should be extended to services, in line with the agreed less developed countries' (LDC) waiver under the World Trade Organisation (WTO), an organisation regulating trade deals.
Even with Free Trade Areas, it is unclear whether a trade agreement that excludes services and investment would satisfy its commercial interests.
Therefore, the UK's policymakers must remember that the UK needs African, Carribean and the Pacific (ACP) countries as well as other less developed countries and Brexit must not result in trade disruptions.
But what changes will Britain suffer?
A month down the line, since the UK stopped following EU rules and trading under a new system agreed by both sides in a post Brexit trade deal, reflects a number of loopholes.
The UK administration has tried to minimise the Brexit challenges but there are problems.
The EU that traditionally purchased nearly half of Britain's exports is now to relate with Britain differently.
According to a press release (December 24 2020) about EU-UK Trade and Co-operation Agreement: Protecting European interests, ensuring fair competition and continued co-operation in areas of mutual interest: "On that date, the UK will leave the EU Single Market and Customs Union, as well as all EU policies and international agreements.
The free movement of persons, goods, services and capital between the UK and the EU will end.
The EU and the UK will form two separate markets; two distinct regulatory and legal spaces.
This will create barriers to trade in goods and services and to cross boarder mobility and exchanges that do not exist today in both directions."
Although there are still 'zero tarrifs and zero quotas on all goods that comply with the appropriate rules of origin,' trade deals have changed; there are custom procedures, health and safety checks, value added taxes on imports and time consuming as well as commerce hindering issues at play.
There are now trade barriers related to its relations with the EU.
The borders, food industry, online shopping, medicines, financial services and some places within UK are suffering.
Manufacturers are contending with disruptions to their supplies of finished products, components and basic materials.
According to New York Times: "Companies that used to ship pork to the European Union without customs checks as if the United Kingdom and the continent
across the water were one vast country with Britain now legally outside the bloc, had to navigate inspections, safety regulations, and a bewildering crush of paperwork.
The situation is hectic since some of those without papers end up sending their containers to incinerators.
Brexit's trading deal imposed customs paperwork, health and safety checks and changes that cost time and money, and limit commerce."
Fish, meat and cheese, which need more check-ups and paperwork such as health certificates, are being delayed.
Some foodstuffs are not leaving the source or are rotting at border posts, the source says.
Another problem is the need for EU importers to have an agent to vouch for incoming goods and the challenges posed by lorries carrying multiple consignments, all of which need correct paperwork.
Sources reveal that the volume of exports crossing the channel in January 2021 collapsed by more than two thirds compared to the previous year.
The fact that those who were selling to the EU are cut off under Brexit will cost the UK.
Regarding finance, Britain's trading in stocks of European companies shift abruptly as the Netherlands has displaced it as the primary market for shares.
Therefore, London's financial district could lose its dominant position in Europe.
Some of these are really expensive disruptions that will strain the UK economy.
Analysts argue Brexit could cause the country's economy to shrink by between 3,8 and 7,5 percent by 2030.
Already, the UK is experiencing far less trade than normal.
Indeed, developing the UK's trade relations with Africa must be integral to its Brexit strategy — yet they continue to thump their noses at Zimbabwe's reintegration overtures.
The UK needs those she calls the margin as Linda Hutcheon (2003) argues in Circling the Down Spout of Empire.
Right now Britain hopes the majority of the Anglophone states pull out of trade agreements with the EU like them.
Now they intend to make Brexit look like their means to boost the integration of African countries into global financial markets.
The UK needs to forge rules for trading relationship with the EU and other countries.
It needs Anglophone countries (Zimbabwe, Angola, Botswana, Equatorial Guinea, Nigeria, Ghana, South Africa Kenya) as much as it needs Francophone Africa.
Côte d'Ivoire and Senegal are two of Africa's best performing economies; producing, processing and exporting commodities.
Much of Global North takes advantage of a global economic system made up of regional, bilateral and international trade agreements.
When Britain colonised Africa, their primary goal was access to raw materials which they have succeeded in harnessing ever since.
Foreign multinational companies are hooked on Africa's resources like minerals, gas and oil as documented in one African research paper titled New Colonialism: Britain's Scramble for Africa's Energy and Minerals Resources: A New War on Want.
No doubt Britain now needs African countries more than before.