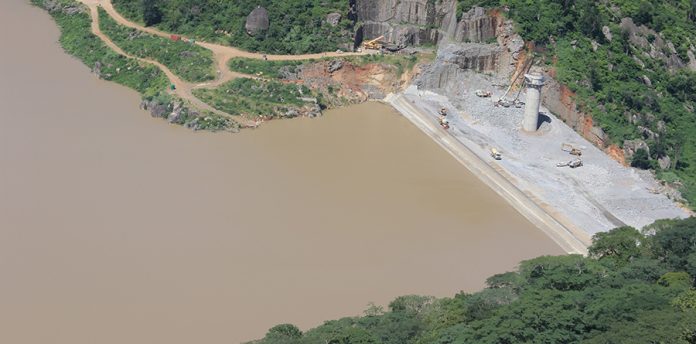 WATER is defined as a clear, colourless, tasteless and odourless liquid that is essential for the survival of human, animal and plant life and constitutes, in its impure form, rain, oceans, seas rivers and lakes.
It is chemically defined by the symbol H20. Water is vital to the survival of man, the land, flora and fauna.
Scientifically, water is a neutral substance and an effective solvent for many chemical compounds and is used as a comparative study for many physical properties.
Hydro bodies or aqueous bodies are geophysical bodies or areas containing this precious liquid, such as lakes and rivers.
Beginning in the Iron Age of Zimbabwe, indigenous Shona people showed a large degree of agronomic creativity and were sapient in their construction and harnessing of water, providing waterways and undulating terraces that harnessed and directed water for the growing of crops and other uses.
Indeed, this early form of irrigation system, developed by indigenous Zimbabweans, laid the foundation for pre-historic agriculture.
From time immemorial, water resources formed the basis of the entire gamut of life, including the sustenance of human livelihoods, agriculture, hydration, mining, industry, sanitation, tourism and bio-diversity.
Water is a precious resource that drives the socio-economic agricultural, political and cultural development of a country, including Zimbabwe.
In fact, the right to water, enshrined in the UN's Human Rights Charter, is part of the declaration that every Government has the moral and duty-bound obligation to ensure food security for its citizens.
It therefore became imperative for the Government of Zimbabwe to initiate its national irrigation programme.
In Harare, the main water body is the Mukuvisi River which draws from the Manyame River and falls under the auspices of the urban council and ZINWA.
The river flows through both industrial and residential areas of Harare and is the most heavily polluted river system in Zimbabwe today. It is in need of intensive purification and rehabilitation by the concerned authorities.
Water resources are critical for meeting the basic demands for civic, domestic and industrial requirements, sanitation and waste management; let alone supporting the various agricultural programmes the Government of Zimbabwe is promoting, such as 'Pfumbvudza' and 'Command Agriculture'.
Given the bio-physical and socio-economic importance of water bodies, this nationally strategic resource should be subject to diligent management as well as use and on-going development by the various sectoral and national interests.
Needless to say, given the national emphasis on agriculture, the limited water resources in rural areas are much more prone to over-exploitation and unsustainable short gain use, than long-term sustainable development.
Water is the epicentre of development and the mainstay of agriculture in Zimbabwe.
Its critical-associated environmental and socio-economic impact on human, animal and environmental bio-diversity cannot be underestimated.
Today, the high loss of bio-diversity, the drying up of valuable eco-systems, particularly due to deforestation, stream bank cultivation, illegal and unguided peri-urban settlements (particularly on wetlands) as well as the increased demand for farming land, is impacting the wellbeing of human, fauna and flora, as well as the environment.
Increased population pressure on land and its attendant resources, expanded agricultural, industrial and mining activities as well as uncontrolled deforestation and wild veld fires increase the emission of greenhouse gasses that lead to negative climate change, temperature rises and a notable increased frequency and severity of cyclones; such as experienced with 'Cyclone Eileen' (the first), 'Idai' (the most damaging), as well as droughts and uncommon floods such as the recent 'Chalene' and 'Eloise'.
Global climate change, coupled with human pressures on precious non-renewable resources will result in the inevitable depletion of water bodies.
In guiding decision and policymaking for comprehensive agro-development and farming in Zimbabwe, water is the most vital resource, indispensable to agriculture and thus should be developed through national irrigation projects that use visual sciences to locate and harness potential agro-hydrological sites.
To achieve sustainable development, sustainable conservation and sustainable agriculture in the face of rapidly changing agricultural landscape, changing meteorological landscape and the digital economic world, the conservation of existing water bodies and the construction of new ones underscores the importance of water bodies in the quest to achieve food security and leverage the agricultural potential of rural farmers in Zimbabwe.
Goal Seven of the eight Millennium Development Goals (MDGs) of 2000 pledged to promote a comprehensive approach and co-ordinated strategy to simultaneously tackle socio-economic and environmental problems across a broad spectrum.
One of the MDGs' primary objectives is to ensure sustainable water management.
Hence the development of irrigation systems in the country's agricultural regions will be the panacea for perennial productive problems of agriculture in Zimbabwe, essential for the nation's food security and export-oriented cropping.
Two decades ago, an article titled 'State of Environment – Zambezi Basin 2000' reads: "With water being the key resource to economic development and survival in this generally arid region (SADC), it is important that we do not overlook the importance of the Zambezi River Basin as we try to satisfy the growing demands on water – managing demand for water and other resources is therefore critical to our long-term planning."
About 55,2 percent of the total area of Zimbabwe, amounting to 215 800 km2 , lies in the Zambezi Basin.
The total area of Zimbabwe is 390 759 km2.
A UN population census projection, at the time, estimated that Zimbabwe would have a population density of 62,8 km2; requiring an increased water supply of double the current generation by 2025.
Needless to say, the Zambezi River and its dense network of tributaries ushers 2 600m3/second of water – at a rate comparable in the same range as the Nile (2830m3/second), and the Rhine (2200m3/second), making it an important natural resource which, if tapped judiciously, could spur the agro-economic returns of Zimbabwe to unprecedented heights.
While most of Zimbabwe's agriculture relies mostly on rain, with support from the Save River system which is a traditional agricultural matrix, the envisaged expanded agricultural programmes will undoubtedly require massive additional water supply systems through the construction of more dams and irrigation structures.
Engaging numerous rural farmers and other agro-stakeholders from Matabeleland, Masvingo, Mashonaland West and Mashonaland Central over a five-year period, both livestock and crop farmers have emphasised, to this writer, the urgent need to rehabilitate and expand existing water provision and supply systems to rural farmers.
The need to supplement the traditional four-to-five months of precipitation is vital in order for us to develop sustainable, all-year-round farming production in Zimbabwe.
As the Zimbabwean Government commits to ensuring food security for the nation, it is encouraging for the farmer to note that the development of rural agricultural waterways and communal irrigation systems is at the top of the Government's national agenda.
Such strategic projects will help to alleviate the adverse impact of global climate change in accordance with the UN's Agenda 2030 and SDG 13, which aims to combat climate change and its impacts on national water security.
Dr Tony Monda is currently conducting veterinary epidemiology, agronomy and food security and agro-economic research in Zimbabwe and Southern Africa.
For views and comments, email tonym.MONDA@gmail.com