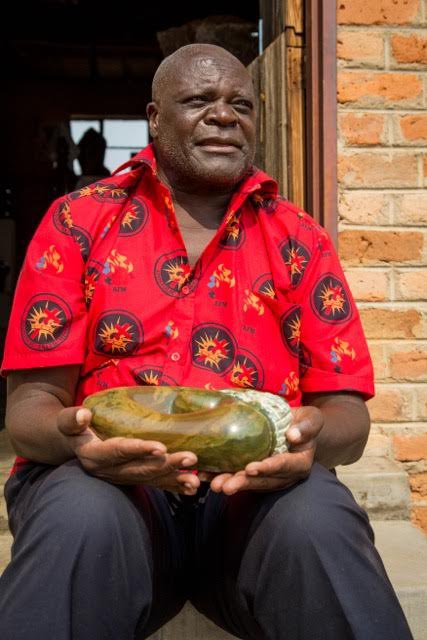 THE death of prominent Zimbabwean sculptor Lazarus Takawira, of COVID-19-related complications, was an immense loss and shock to the visual art community of Zimbabwe.
One of the most distinctive and popular Zimbabwean artists, Lazarus Takawira passed away at the height of his career, which deservedly needed national appraisal and Government recognition for his sterling contribution to the cultural history, tourism and the visual arts of Zimbabwe.
I first met Takawira at the inaugural Zimbabwe Heritage Exhibitions, together with his brothers Bernard and John, in 1986, when he received an award from former President Robert Mugabe for his sculptures that propelled him to national acknowledgement and international renown.
As a champion of the visual arts and national heritage, former President Mugabe instituted the inaugural Zimbabwe Heritage Art Exhibitions during the Summit of the Non-Aligned States, in 1986, to promote and inspire a fuller appreciation of Zimbabwe's contemporary arts.
The youngest of the famed Takawira brothers — John and Bernard —
Lazarus was unique among Zimbabwean artists, linking the first generation to the second.
He trained informally under the supervision of his brother John, and worked briefly under Frank McEwan at the Vukutu Countryside workshop in Nyanga where he worked part-time until 1974.
He was a giant of a man, in stature, spirit and strength.
Although he often joked that he was 'the shortest of the Takawira brothers' at over two metres in height, he was, in fact, the tallest in his family.
Within the heart of this giant lay a sensitive artist whose work dealt primarily with the African woman's gender issues, first brought to the fore by former UN Secretary General Kurt Waldheim in 1975.
Takawira was part of the inchoative group of Shona sculptors best known for his unique sculptures of women with huge, elaborate, billowing coiffeurs that veiled petit faces balanced atop elongated necks.
He was internationally recognised as a leading sculptor and regarded as one of the worlds most accomplished figurative sculptors, often referred to as 'Zimbabwe's Sandro Botticelli'.
Born in 1952 in Nyanga, in the Eastern Highlands of Zimbabwe, Takawira was raised by his mother who was a traditional potter. From here, he learnt about traditional culture and received much technical artistic training in the elements of aesthetics as well as attention to detail.
Takawira began to sculpt while he was a full-time member of the Zimbabwe Republic Police (ZRP).
After serving for 11 years, he resigned his commission to devote all his energies to full-time sculpting.
His creative process was distinctive and rare.
His approach to the stone was exceptional and his aesthetic deceptively straightforward.
Every unworked stone, in his mind's eye, was a finished sculpture.
In many of his works are abstract qualities derived solely from the natural shapes of the stone.
While his preoccupation with pure form was an objective, he shared with his brother Bernard, his exploitation of the stone's rugged patina and textures recalled from the sculpting techniques of the older brother John.
Like his brothers, Lazarus understood the sculptural expressive potential and character of raw stone – its brute strength and delicacy; its stillness, steadfastness and precariousness as well as its potential to communicate emotion.
At the height of his career, in a Channel 4 BBC interview on Zimbabwean Stone Sculpture, Takawira said: "There is no such thing as a spirit in the stone.
For me sculpture is the extraction of meaning, beauty and form, guided by the natural shape of the stone."
He dismissed the spiritual, mythical rhetoric of Shona sculpture popularised by colonial writers as fictitious.
His sculptures were solid, durable and easily understood artworks that encompassed Zimbabwean cultural language and etiquette in a distinct Shona body language.
Early in his career, Takawira affirmed his intention to sculpt women as a key component to his sculptural work and said: "I only sculpt women.
They are the most important gender because they are the source of all life, of all beauty and of all joy.
Women drive everything in our lives and, as a sculptor, with every work I do, I pay homage to the women in my life, who have made me what I am today."
Women, for Takawira, were not perceived as a weaker gender, but the stronger, formidable, unyielding bearers of humanity and African indigenous culture.
Moreover, the Shona women portrayed in his sculptures were not submissive or repressed, but represented metaphors of liberated, powerful Shona women celebrating their culture, gender and beauty from youth to maturity.
Towards the late 1970s to 1989, Takawira developed his bulky style of sculpture into a linear, graceful signature style – transforming to new heights of gracefulness and sculptural presence; adding to it an exclusive content based on a rich Shona gestural language and the African women, their beauty, inner strength, resilience and fortitude.
He sculpted with reverence the holistic cultural Shona roles undertaken by Shona women.
Theatrically, Takawira's sculptures of women had a balance of strength and vulnerability where the essence of the message was preordained in the form and medium of stone.
Stylistically, the works had an expressive elongation of form and balance of volume over line, with slender tapering necks in a cylindrical graceful form, upholding delicate faces that were contrasted with rugged coiffures of flowing hair.
A consummate sculptor, Takawira achieved in his work an elusive balance of formidable mass on a small sculptural base.
His works were powerful, often massive and impressively dominant in vision that represented a modern break from the socio-religious and cultural treatment of the subject of women, referenced by many other Shona artists.
Dr Tony Monda holds a DVM and is currently researching Agronomy, Farming and Veterinary epidemiology in Zimbabwe.
For views and comments, email: tonym.MONDA@gmail.com