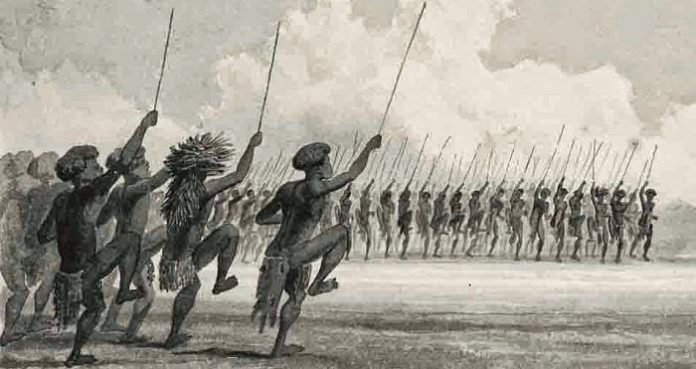 ONE thing the whiteman will never forget is that Zimbabwe is a land of unparalleled fighters who will ever challenge anything in their path which is not correct.
Chimurenga warriors launched the First Chimurenga with a war dance at a cattle village in Essexvale (now Esigodini), Matabeleland South.
The dance was unmistakable for its military zeal and anger against the British South Africa Company (BSAC).
It was an unmistakable message to the whiteman.
The whiteman will never forget Lozikeyi, King Lobengula's formidable widow.
He will never forget his oldest son Nyamanda, nor Ntini and his Ngoba regiment, Mpotswana and his Nyamandlovu regiment, Nkomo and the Jingeni forces, Manyakavula of Matshetshe nor Babyaan who routed Carrington in Matobo leaving 50 whites dead and without a single casualty among the Chimurenga warriors.
The whiteman will ever remember the young chief who asked Cecil John Rhodes: "Where are we to live when it is over?"
In Mashonaland, Makoni, Mashayamombe, Mangwende are formidable warrior paramount Chiefs whose names will remain etched in white memory.
These chiefs and their warriors and compatriots underlined to the whiteman that Mashonaland was unconquerable.
It was only with the arrival of imperial forces that the whiteman was able to reopen communication between Beira and Salisbury, which Chimurenga warriors had effectively closed.
Specifically, it was only after genocidal mass murders of Chief Makoni's people which led him to surrender that they were able to reopen communication between Beira and Salisbury.
They executed him nevertheless.
The whiteman will never forget he could not win the First Umvukela/Chimurenga in Matabeleland neither could he win the war in Mashonaland until he resorted to genocide, a strategy advocated by both Rhodes and the Catholics.
Defeated, the whiteman resorted to genocide; mass murders, executions and orchestrated mass starvations. With the executions of Nehanda and Kaguvi on April 27 1898, they claimed they had sealed their victory.
The claim was very short-lived, when in 1963, ZANU was founded with the mission to drive out the British with force of arms.
It was only 65 years later.
Those born at the end of the First Chimurenga would still know the history.
In fact, it would be their children who fought in the Second Chimurenga.
Indeed, the return of Chimurenga warriors was just a short 65 years later.
The shadows of the Esigodini warriors and the Gwindingwindi Makoni warriors did not rest in peace.
In 1965, jailed ZANU leaders issued the Sikombela Declaration which authorised Herbert Chitepo to start training freedom fighters for the war of liberation.
Chitepo took heed.

In late 1965, he requested permission from Mwalimu Julius Nyerere, President of Tanzania to start training combatants.
By 1966 he had 24 trained combatants, the nucleus of ZANLA.
This was hard on the hills of groups such as the one led by Cde Emmerson Mnangagwa, William Ndangana and others which had been sent for training only weeks after the founding of ZANU.
These groups had launched sabotage attacks and had prepared for the effective launch of the Second Chimurenga.
These groups had achieved their goal and the whiteman knew something was afoot – it was the end of his pretended peace in the land of Nehanda.
It was only pretended peace because from the moment he invaded the land of Nehanda and Chaminuka, the force of the land had been restive.
Mabweadziva, the seat of Mwari never accepted the whiteman's presence in His land.
He had ordered, 'Drive out the white menace'.
The whiteman therefore knew that he had transgressed a sacred land and he could never be at peace.
He also knew that Nehanda's prophecy was still very potent.
Indeed, 'her bones had risen'.
From 1963, ZANU had sent forces for training, and in 1966, the Chinhoyi Battle removed cobwebs from the whiteman's face.
It is not easy to write about these early fighters.
They knew they were up against a ruthless enemy with a heavy arsenal and that if caught, death was a certainty. They knew that in an encounter with the enemy they would be heavily outnumbered and outgunned, but they still took up the mission to be the pioneers, where no-one had treaded, where they would not know who to trust and danger lurked everywhere.
When the rest of us followed much later, these early fighters had done the groundwork.
Many had perished in their footsteps, in their early sacrifices.
They left a roadmap for us all to follow to complete and accomplish the work they had started under such treacherous circumstances.
It is most humbling to write about these great, brave warriors of our land.
Indeed many of them were captured tried and hanged. Cde Mnangagwa's group was captured and members of the group were executed except him.
He was only spared because it was argued he was too young.
The Chinhoyi Seven were made up comrades Simon Chimbodza, Christopher Chatambudza, Nathan Charumuka, David Guzuzu, Ephraim Shenjere, Peter and Godwin Manyerere.
The group was codenamed 'Armageddon'.
They had been destined for Charter District but were somehow diverted to capture Sinoia (now Chinhoyi). The instruction was to precipitate an insurrection in and around Sinoia, and other instructions were to cut down electricity and telephone power lines and attack European commercial farms.
The seven comrades knew that they were not likely to survive this mission.
Just seven of them, to capture Chinhoyi Town.
The town itself would have its own police and military, and the rest of the Rhodesian forces could be called upon to reinforce.
It was a mission to die for Zimbabwe.
They knew that the work had to be done with all the risks it entailed.
If they died, their fellow combatants would take it up from there on.
"Tinofa tichienda kuZimbabwe
Kudzamara tinosvika kunaZambezi
Kudzamara tinosvika kuZimbabwe!" is the song of dedication each combatant sang during the liberation struggle.
As pioneers, the terrain was still untamed, it was treacherous.
When ZANLA came to town 12 years later, so much work had already been done and so much groundwork had been done.
The masses were much more sensitive to the struggle, but it was still a risky mission, demanding a lot of courage and intelligence not to mention military prowess, but the terrain had been tempered somewhat.
The comrades were discovered before they could carry out the mission and what ensued was an epic battle.
The sons of Zimbabwe did not surrender though they knew they would not escape, they fought, true to their mission to liberate their land and not to give in to the enemy.
They were completely outnumbered and outgunned but they chose rather to fight and not to surrender.
"A large force of police commanded by Chief Superintendent John Cannon and Detective Inspector Dusty Binns and Freeman moved in to attack.
As the uniformed policemen encircled the guerilla position, Binns and Freeman and a team of Criminal Investigation Department detectives of the Sabotage Squad initiated the attack with a Heliborne assault from above.
The detectives fired on the guerillas using automatic Shotguns and 9mm Stirling sub-machines.
Hopelessly outnumbered the ZANU guerrillas fought to the last." (Ellert:1982).
The seven comrades fought until they had exhausted their ammunition, then they fell.
In the thick of the fight, throughout they fought, without raising their hands in surrender.
They were true Chimurenga fighters.
This is the mettle ZANU attracted with its declaration of August 8 1963, in just under three years, the bravest sons of Zimbabwe were taking on the enemy, carrying out the mission of ZANU, to drive out the white menace with force of arms.
ZANU achieved this in just under three years!
Aluta continua!