THE Ministry of Primary and Secondary Education is currently seized with the Continuous Assessment Learning Activities (CALA) regime to the detriment of so much in the school curriculum.
The Education Ministry is one of the biggest Ministries in the land because there is no-one outside its reach — it touches everyone, every family and every child. 
In fact, every parent is involved with the Ministry and the potential is massive.
If you want anything to reach every nook and cranny of the land, put it through the Ministry of Education and you wont go wrong. 
They will sing it from Early Childhood Learning (ECD) to University.
From last year, CALA projects have thrown teaching and learning in the nation into turmoil. 
CALA's demands and the threat that ZIMSEC will enter each classroom, assessing CALA projects and awarding 30 percent towards the final results, have left students and parents agitated. 
Now, in Zimbabwe, anything to do with exams throws children and parents into a state of panic. 
There is nowhere the diploma disease is more apparent than in Zimbabwe.
No child is at peace and no parents are at peace with the CALA trajectory.
In itself, continuous assessment is a progressive way of carrying out teaching and learning.  
This is the norm in progressive teaching and learning. 
This is nothing new, it has been around for decades. 
What is surprising, however, is why there should be continuous assessment learning projects outside the everyday teaching and learning. 
It should be the modus operandi for teaching and learning.  
This is a very serious distortion of teaching and learning. 
Continuous assessment is being portrayed as CALA projects over and above everyday teaching and learning, when it should be an everyday component where teaching and learning is conducted. 
Something that should be enhancing everyday teaching and learning has become extraordinary to the classroom, has become burdensome, making people feel ZIMSEC has overstepped its boundaries.
Why did continuous assessment have to be done this way, as a separate contenting institution within the curriculum when it should be the most normal way of conducting teaching and learning?
What is the value of CALA projects? 
Children don't sleep anymore as the school calendar has been extended to cater for CALA projects. 
Whatever fear the Ministry of Primary and Secondary Education has managed to infuse in pupils, teachers, school heads and parents is the greatest puzzle. 
Some schools now have a six-day calendar with Saturday as the day to coach children in CALA projects. Children are so bewildered sometimes they can't make much out of them, so the teachers have to literally spoon-feed them – that 30 percent must be scooped one way or the other, if necessary write it up for the children!
What are the guidelines for CALA projects? 
What is the monitoring?
What is the real value of CALA Projects? 
I have followed up some of these in a number of children from different schools.
A Grade Six pupil came home with a CALA topic which seized him throughout the 2022 Christmas holidays. 
He was tasked to find out the history of Roman numerals — the history of Roman numerals! 
The child didn't even know what Roman numerals are. How does a teacher give a task without explaining what it means?
How does a pupil find out the history of something he can't even conceptualise? 
Fortunately, the mother is a teacher so she explained to the child what Roman numerals are. 
But the child got even more puzzled. 
How do Roman numerals have a history? 
He was flabbergasted. 
What is their history, what does it mean? 
The child's concept of history did not stretch that far. Talk about the history of Zimbabwe, yes, the child would understand but Roman numerals!
The mother was hard put to help the child understand how Roman numerals can have a history. 
The last I heard of the mother and child struggle about the history of Roman numerals, the mother was planning to download something from Google for the child. 
Is this teaching and learning? 
Downloading things from Goggle and transcribing it for the child so the teacher can award a mark and the teacher to actually award a mark for this! 
Google must not be the main source of information for teaching and learning activities.
Google must be making a lot of money across the country because so many are no more teaching but charge Google to tell. 
But what does that mean? 
So downloading things from Google is synonymous with sound teaching and learning practice? 
So if we all got laptops and got connected to Wi-Fi, we would dispense with teaching; each of us would then just download and we will all be home and dry? 
So, in those countries where a child can afford laptops at home and at school, Wi-Fi at home and at school, they should have dispensed with teachers by now, let alone schools of education. 
These too would bow out because downloading is synonymous with teaching and learning.
The next time I was with this mother and child, they were wrestling with another CALA task. 
The child was to make out of cardboard various shapes and sizes, a hexagon and a triangle, among other objects. 
The child does not need to make shapes of various kinds, the child needs to make useful items, items which can be used in the home. 
Why not ask them to make candle stands using various materials, which items would be so useful in this era of blackouts and load shedding?
Another Grade Six child told me her CALA project was to interview 10 people from each of the 10 provinces on 'courtship'. 
The child was askance. 
"This is crazy, where do I get 10 people from each province as if I could actually travel there, it's not possible," the child wailed. 
"I will just make it up. 
"Me and my friends have just decided to make it up."
What boggles the mind is that the CALA regime is just a euphemism for what children should actually be doing in our Zimbabwe, an escape route to avoid life-related learning which children should actually be doing, like practical activities which solve life's problems and productive activities which teach them to address life's problems. 
When no-one wants to do something, they change it around here and there, and then say: "Oh here we go, we are doing it!" 
Everyone knows our learners should be doing 'education with production' to develop them into sound human beings, useful to themselves and society, not useless and dependent. 
But they don't want the children to do education with production because it is the nemesis of capitalism; they must protect capitalism. 
So instead they charge children to go around the villages, the growth points, everywhere with esoteric, elitist topics which are confounding the children. 
So what if you know the history of Roman numerals? There is so much noise about CALA projects just so as to make it seem like something is actually happening, to cover up for the fact that nothing correct is happening in the school system.
What are the guidelines for CALA projects? 
What monitoring mechanism is in place? 
Some of the topics and tasks are totally irrational.
Who teaches children to make solar panels, make straw or reed baskets so that each time you go to the shops, you don't look for plastic bags? 
Why not teach the children to make fruit baskets, to make exquisite baskets for flower girls, and there will always be takers for this. 
Why not teach them to make traditional dishes? 
Let them actually produce something of real life value, and for those who love baking, humour them too. 
This can develop into a food outlet at school to produce goodies for school-goers, especially when there are school social functions and this infuses and trains entrepreneurship.
Google cannot be the fulcrum of teaching and learning. 
Let the children become useful, life transforming human beings, not loiterers. 
Let them apply learning to life — practically and productively.
Those who divert the curriculum from education with production to CALA projects don't want education with production precisely because it exposes the uselessness of capitalist education. 
If a child can make something special and bring it to school, other children will admire and get inspired. Such children will develop into useful creative adults.
There are simple recipes on how to make soap, how to make candles, how to make everyday petroleum jelly or marmalade using mangoes, oranges, nartjies, guavas, lemons and other fruits in season.
Why should our children be seized with the history of Roman numerals? 
Surely can anything be more irrelevant, senseless?
Growing herbs that are of various uses would be a very useful productive activity. 
Herbs to take when they have the flue, dysentery, to make disinfectant, to use as pain killers and actually use them and have a local herbal clinic at school. 
All the aspiring, the budding medical doctors and pharmacists will be at peace here. 
This is how we make scientists. 
They harness the environment to actually make things, not to memorise esoteric epithets.
What is the use of 'courtship habits' from Zambezi to Limpopo? 
Anyway, the child made it up. 
Time was running out and she wanted to go for Christmas unencumbered and ZIMSEC was waiting for her to come back so she had to quickly make it up.
When children are challenged to actually produce, you can't make it up; you have to actually produce, show products; bring ingredients and actually make peanut butter, you can't make this up.
Children need to grow up knowing that you can make life workable, pleasant, improve lives and infuse meaning into it. 
This is how we mould citizens who will make a beautiful, meaningful, productive and progressive Zimbabwe.
When you make candle stands something improves in the home, and that is quite a spectacular achievement. 
When you make peanut butter (dovi), you will not wonder why mbuya spends so much of her time mubindu ravo renzungu. 
Honestly, our children love salted peanuts and roasted green mealies, but we have spoiled them; they don't know how to make a fire, how to roast green mealies nor to prepare mutetenerwa. 
Who is supposed to roast for them!
When we do this, we are making caricatures not functional human beings.
Let them bring mealies to school, roast them and enjoy them. 
Let us make them normal human beings and not 'dysfunctional beings'.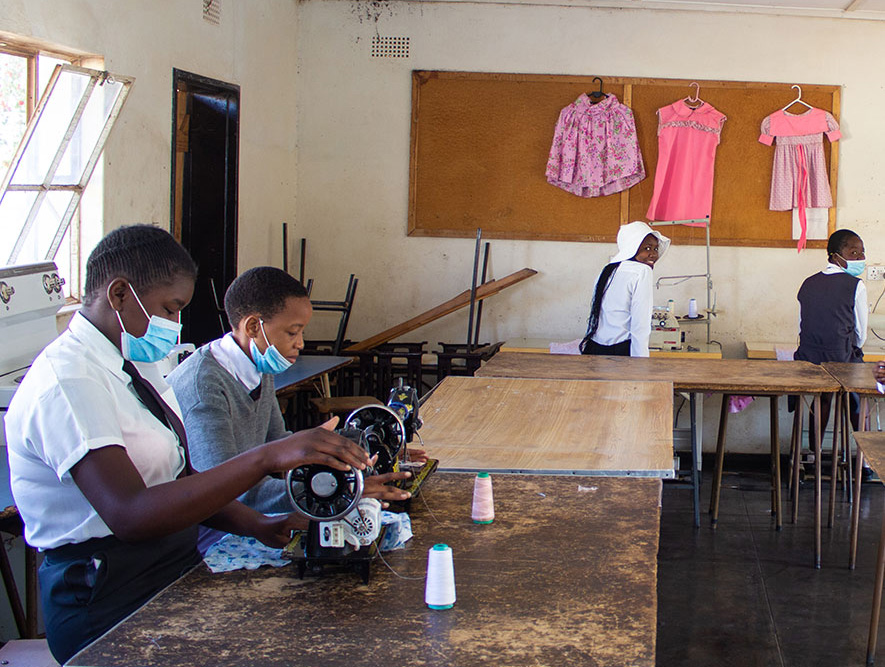 How do you make sorghum meal-meal? 
You prepare with them and when you do this, you are actually building normal human beings.
An elite educated child cannot look after him/herself. 
In fact, they are not educated because they do not know how to look after themselves; they do not know the science of living.
At the end of the day, they do not take long to resort to drugs, sugar daddies or sugar mummies as the case may be.
I insist, the CALA regime is an escape route. 
It is a patented refusal to address the Zimbabwean situation, a refusal take up the mantle of education as designed by the fathers of the nation during the liberation struggle and a refusal to fight capitalism.
There is a problem if people repeatedly insist on what clearly is useless year-in-year out. 
What do we do with the thousands elite educated school leavers who are at loose ends? 
Why do we insist our children must continue on this dead-end education?
If all the fuss about CALA projects was about education with production, we would be somewhere. 
It is tragic that this is the quandary we have landed our children in only 43 years after independence. 
It should not be so. 
Their compatriots in the struggle, those children in schools in the struggle, fought and died for an education for the children in independent Zimbabwe. 
We must not deny them their heritage because it was accrued very dearly. 
Revolutionary independence greetings Zimbabwe!