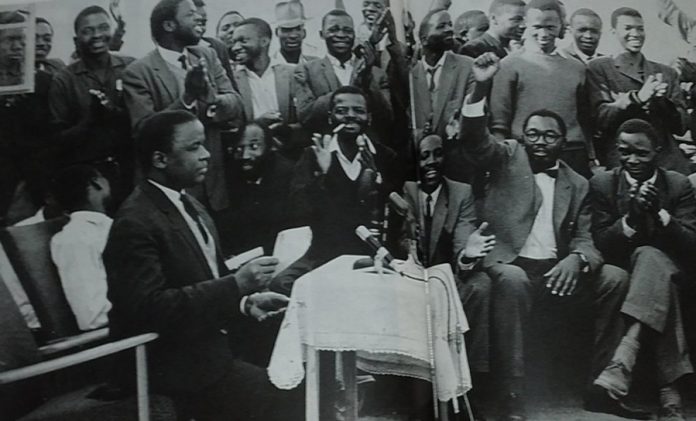 IN 1963 (August), the greatest revolutionary Party was born.
We begin a series of articles to celebrate the birth of a Party which was the first to declare armed confrontation against white insurgency in the land, the British imperialists.
Born in 1963, it is worth to celebrate 60 years of its unwavering revolutionary commitment to liberate and defend the edifice called Zimbabwe, the land of Murenga, a precious gift from Musikavanhu.
Handei kuhondo
Handei komuredhi
Handei vasikana/vakomana
hapana anoramba
ZANU yadaidzira
Pakati peZimbabwe
Handei kuhondo
Hapana anoramba.
(A special Chimurenga song calling on the sons and daughters of Zimbabwe to join the armed struggle).
Zvechokwadi hapana akaramba, uri MuDzimbahwe, wakazvinzwa ukadavira.
It was 1963, I had just turned seven, my sisters were 10 and five, our neighbours' children were nine, eight, six and five.
Something was in the air and we were all excited.
Our parents were always telling us we were to protect our country or the Boers would take it away.
During nights, they would tell us to march around our homestead singing revolutionary songs; if we didn't do that, the whites would take it way, they warned us.
We took this very seriously and we never relented; we were very resolute, utterly unafraid. Looking back, I wonder how we could have been so unafraid.
The Jeeps, the Land Rovers of the CIDs were a constant at the township, Basera Township in Gutu, now Basera Growth Point, was their playground.
Not a single day passed without them driving through, intimidating and harassing us. Our parents were ready for them, we were ready for them; it was normal for us to surround the Jeeps singing revolutionary songs.
Our parents told us not to be afraid of them but to challenge them whenever they came to the township.
Our general dealer's shop and private clinic faced Simbi Stores, across the main road which passed through the centre of the township, to our right was Mandizvidza Stores, a restaurant and Post Office.
These were our neighbours and comrades-in-arms. There were other comrades in the surrounding areas.
Our parents, the Simbis, the Mandizvidzas and other neighbours often held meetings deep into the night, while we marched outside singing revolutionary songs.
We would sing:
"Kana manyongora akajoina Dipondi
ZANU inotonga chete iwe!…."
We knew the whiteman was our enemy and we had to be very strong.
Our parents told us not to worry about the Jeeps but to keep fighting always.
Many times we watched the Jeeps take away our parents. They would be kept in detention for days, weeks, but we never cried, we were told to be strong.
Our parents always told us they would be back. Our greatest source of strength was our conviction that we were in the right, to defend our country.
When our parents came back from detention, they would tell us stories of what happened while they were in detention.
I still remember how Mai Simbi, Mai Mandizvidza and our mother (Mai Mahamba) fought the CIDs while they were in detention.
They went on hunger strike, telling them in their life they never ate such horrid food, beans and bricks of sadza and that they would never give the Rhodesians any information.
On a certain day, they told our mother that Mai Simbi and Mai Mandizvidza had already told them everything so she had better tell the truth.
Our mother laughed outright, telling them if they had already been told everything so what did they want from her.
They left her alone.
It was a great inspiration to us that our parents were never afraid of the harassing CIDs.
On another occasion, our shop was petrol-bombed by the police.
The following morning, the CIDs swooped on the township accusing our father of petrol bombing his own shop. Nobody was impressed; the township comrades-in-arms fought back and told the CIDs to their face that this was the work of the police.
The police drove off in a huff.
But they were not done with us.
One afternoon, they parked right in the centre of the township, arresting the businessmen except our father.
We raised hell that afternoon.
The three mothers and the children surrounded the two Jeeps which had the other two men and challenged the police to take the three and not leave our father behind.
Our mother specifically challenged them to take her husband, telling them to their face that it was a ploy to set him up as a sellout.
We were an impenetrable stonewall around the Jeeps and the CIDs could not get a word in edgewise. They would not take my father and we never stopped demanding that he too should be taken. Finally, the police could not stand the swarm of bees that we were and they drove off in a huff.
This was our daily lives, ever they came and ever we fought.
On a particular day, there was so much excitement in the air. Our parents and their compatriots were closed up in a meeting at our house deep into the night and we sang and sang… for hours:
"Kana manyongora akajoina Dipondi,
ZANU inotonga chete iwe!…"
We sang and marched round and round our house singing our souls out. I don't remember what time we finally slept.
The following morning, late morning, an aeroplane flew over the township dropping leaflets that ZANU had been banned.
We were not worried, nothing changed, we knew the struggle continued.
As youngsters, we lived the story of ZANU. We did not fully comprehend its origins though we knew it had been banned because we were demanding our country's freedom.
This year (2023) is the 100th Anniversay of the birth of Cde Hebert Pfumaindini Chitepo, one of the architect of the Second Chimurenga (1923-2023).
Cde Chitepo, who would have been 100 this year, was there at the founding of ZANU.
He explains what was behind the formation of ZANU, its philosophy, mission and purpose:
"We looked upon the situation we were facing. It was clear we were facing a situation of assault — a situation of violence. We were, to all intends and purposes, being made under compulsion, under force, under duress of a very vicious type to serve in the mines, to be minions, to have no place, no education, to live like serfs in the country of our birth.
We thought: No! The time has come to change tactics. We will confront the regime. We can no longer beg it to talk to us. We must confront it!
So, back in nineteen sixty-three, the Zimbabwe African National Union of which I am the acting… the chairman at present (Our president is still in jail, Rev. Ndabaning Sithole) was created on the very slogan of confrontation. Very shortly after its establishment massive attempts of confronting the regime by violent action, with stones and sticks, with hands and matchets took place….
He was arrested (the Rev. Ndabaningi Sithole). He was tried. Even before the case was over, the party was proscribed and banned.
We continued the struggle.
We sought to sharpen the weapons of resistance — the weapons of confrontation . We acquired weapons – modern weapons. So we prepared for the day." (Hebert Chitepo:1974)
In 2023, we, therefore, have twin celebrations: the birth of the founding Party of armed confrontation against the white menace, ZANU, and the attainment of 100 years since the birth of the greatest son of the soil, the architect of the Second Chimurenga, Comrade Hebert Pfumaindini Chitepo.
Have a Great Year Zimbabwe!