THE start of the 21st Century has been marked by major weather events and epidemics.
Old diseases like cholera, polio plague and yellow fever have resurfaced while new ones, like influenza, Zika and the recent COVID-19 pandemic, have emerged.
Every year, according to Britannica Academic, "…there are about 100 earthquakes that are large enough to cause substantial damage."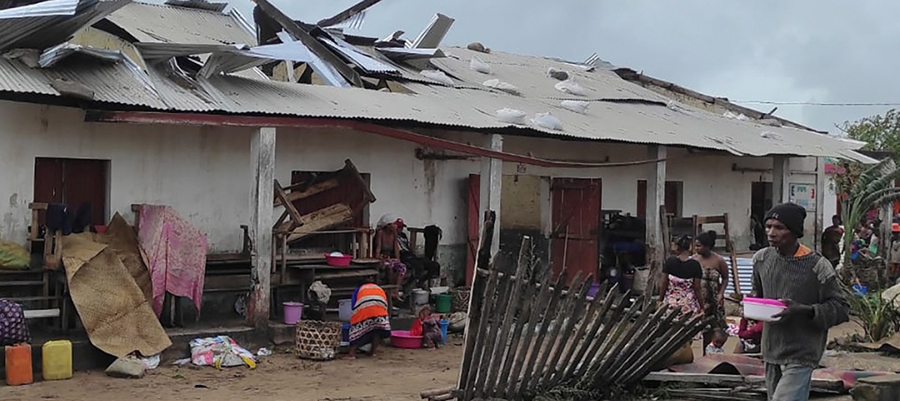 The US Geological Survey reports that: "According to long-term records (since about 1900), about 16 major earthquakes can be expected in any given year, causing suffering and loss of life on an unprecedented scale."
Although in Zimbabwe we have experienced some mild tremors over the years, attributed to the settling of the Kariba Dam, we have not experienced earthquakes, since Zimbabwe is not situated in a seismic zone. Nevertheless, in recent years, Zimbabwe has experienced climate change manifested in various ways. These include frequency and intensity of floods, droughts and extreme temperatures.
Climate change-induced extreme weather events and meteorological disasters include cyclones, sub-tropical storms and sub-tropical depressions.
These are a system of strong winds that rotate inwards at a high speed with an area of low pressure in the centre (eye).
Cyclone Freddy, which recently made landfall in parts of Southern Africa, made me wonder at the causes of cyclones
Is global warming responsible for the increasing numbers of cyclones in recent years?
There are six main requirements for tropical cyclogenesis, viz:
sufficiently warm sea surface temperatures,
high humidity in the lower to middle levels of the troposphere,
enough Coriolis force to sustain a low pressure centre and
a pre-existing low level focus or disturbance and low vertical wind.
Over the past 30 years, the proportion of the world's population living on cyclone-exposed coastlines has increased 192 percent; increasing the risk of mortality and morbidity in the event of a tropical cyclone.
From 1998 to 2017, storms, including tropical cyclones and hurricanes, were second only to earthquakes in terms of fatalities, killing 233 000 people.
During this time, storms also affected an estimated 726 million people worldwide.
People were injured, made homeless, displaced or evacuated during the emergency phase of the disaster.
Tropical cyclones, also known as typhoons or hurricanes, are intense circular storms that originate over warm tropical oceans, with maximum sustained wind speeds exceeding 119km per hour and heavy rains.
Cyclones are among the most destructive weather phenomena known to man.
Tropical cyclones are dangerous because they can produce extreme winds, heavy rainfall with flooding and damaging storm surges that can cause inundation of low-lying coastal areas.
However, the greatest damage to life and property is not from the ferocious high winds, but from secondary events such as storm surges, flooding, landslides and tornadoes.
Technically, a tropical cyclone is defined as: "A warm-cored, non-frontal low-pressure system of synoptic scale developing over warm waters, and having organised convection and a (10-minute mean) wind speed of at least 34 knots or 63 km/h, extending more than half way around near the centre and persisting for at least six hours."
They form as a cluster of thunderstorms that develop over warm tropical oceans.
If the cluster persists in an area of low pressure, it starts to rotate.
With the right conditions, the cluster of thunderstorms can grow in size and sustain itself until it develops into a tropical cyclone.
Once developed, a tropical cyclone is like a giant atmospheric heat machine.
The moisture from the warm ocean acts as the fuel, generating huge amounts of energy as clouds form. Together, the rotating thunderstorms form spiral rain bands around the eye (centre) of the cyclone where the strongest winds and heaviest rains are established (eye wall), transporting heat 15km or higher into the atmosphere.
The drier cooler air at the top of the atmosphere becomes the exhaust gas of the heat.
Tropical cyclones form only over warm ocean waters near the equator.
When warm, moist air over the ocean rises upward from the surface and a cyclone develops.
When the air rises up and away from the ocean surface, it creates an area of lower air pressure below.
It causes the air from surrounding areas with higher pressure to move towards the low-pressure area which further leads to warming up of the air; causing it to rise upwards.
Some of the cool air sinks into the low-pressure region at the centre of the cyclone; causing the relatively calm eye.
The eye is usually about 40km wide, but can range from 10 to over 100km, with light winds and often clear skies.
The rest of the cool air spirals outward, away from the cyclone centre and sinking in-between the rain bands.
The impacts of tropical cyclones include:
The wind: Cyclones generate gale force winds with gusts in excess of 90km/h around their centre eye. 
For the most severe cyclones, gusts can exceed 280km/h. 
These winds cause extensive damage and can turn airborne debris into potentially lethal missiles.  Usually, when the eye of a cyclone passes over an area there will be a temporary lull in the wind, but this will soon be replaced by destructive winds from another direction. 
However, for mainland Africa, the potential danger is from the torrential rainfall rather than the wind.
The rain: Heavy rainfall associated with a tropical cyclone can produce extensive flooding, which can cause further damage.  
Since heavy rain can persist as the cyclone moves inland and weakens into a low pressure system, flooding from an ex-tropical cyclone can occur a long distance from where it made landfall.
Storm surge: A storm surge is an abnormal rise in sea level caused by strong, onshore winds and reduced atmospheric pressure. 
Besides extreme winds, a tropical cyclone can cause the sea to rise well above the normal (astronomical) tide levels when it washes ashore. They are potentially, the most dangerous hazard associated with a tropical cyclone.
These powerful ocean movements are caused by strong winds piling water up against the coast as a cyclone approaches.
A three-metre storm surge on top of a high tide that is two metres above the mean sea level will produce a storm tide that is five metres above mean sea level.
Storm tides can swamp low-lying areas, sometimes for kilometres inland.
Strong winds at the coast can also create large waves, worsening the impact of the storm.
As long as environmental conditions support these atmospheric high temperature conditions, a tropical cyclone can maintain its structure and even intensify over several days.
Dr Michelina Andreucci is a Zimbabwean-Italian researcher, industrial design consultant and is a published author in her field. For views and comments, email: linamanucci@gmail.com