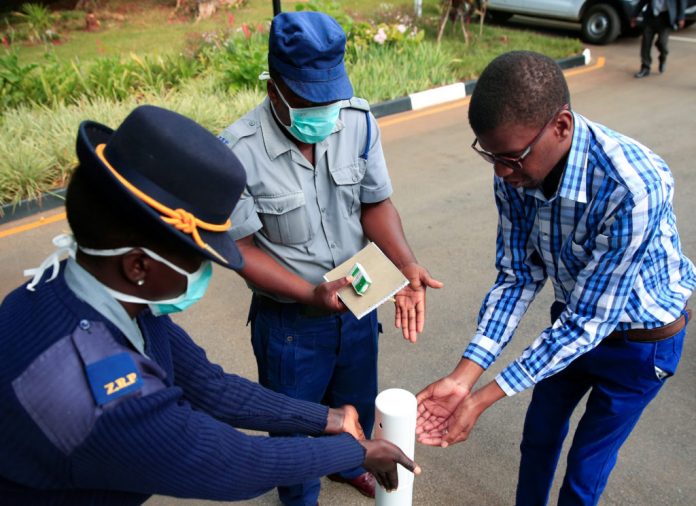 By Eunice Masunungure
WHILE most countries around the world have reached their peak of the outbreak of COVID-19, Zimbabwe's pandemic curve is on the rise and it is imperative that citizens change their ways of doing things.
The Government is doing all it can to save lives in Zimbabwe but a collective response will go a long way.
On July 10 2020 President Emmerson Mnangagwa warned that the Zimbabwean nationwide COVID-19-induced lockdown could be further tightened due to a spike in new infections.
"The recent rapid spike of infections requires that we make another review of the COVID-19 lockdown measures soon."
While all is being done to tighten the measures, the onus is on Zimbabweans to heed the message and seriously adhere to stipulated measures.
Behaviour change is to do with the way an animal or person behaves in response to a particular situation or stimulus.
In the context of public health, behaviour change means efforts that are put in place to change people's personal habits and attitudes, to prevent disease.
Myths and cultural practices like funeral gatherings and burial rituals embedded within local cultures for centuries ought to change.
Communities are being called upon to engage themselves and be willing to consciously follow what it takes to abate COVID-19 by focusing more on prevention measures.
In close knit circles, where people share everything like space, food and personal items, it seems as if physical distancing is impossible and adapting is more unlikely but nationals bear responsibility not to spread the virus.
For example, a home in the high density surbubs like Budiriro, Highfield or Mbare can house up to 12 people or an average of four families and if each member goes out and comes back regularly, there are high risks of bringing the virus home and infecting others.
Market places are also hubs of activities that bring scores of people together at a time.
Thus 'socialising' is increasing one's chance of catching COVID-19 and bringing it home.
Said Dr Phil Smith, COVID-19 Incident Manager with World Health Organisation (WHO): "As Individuals, we all bear the responsibility to not spread the virus.
The more we go out, mix and socialise, the higher our chances of catching COVID-19 and bringing it home.
Think of it this way: When you restrict your movements or stay at home, you are protecting your family from this virus, and the potential death it can cause."
Zimbabweans ought to improve on the need of hand-washing.
Many still ignore the hand washing points at building entries and only get to sanitise when directed to do so by security personnel at entry points.
Take a woman who strolls into a beauty salon shop to buy a hair piece, picks two items to compare and tries to pay for one, but when the seller says that she does not have change, she leaves both pieces.
To think that this woman, who did not sanitise as she entered the beauty shop, touched some materials, which will be touched or have been touched by others, must dawn on one about need to sanitise in and out of shops!
Also take a woman who enters a pharmacy, gives her phone to the attendant, who hands it to the pharmacist for prescription reading.
This customer did not sanitise anywhere when she entered and left the shop.
Not only that, her phone will be touched by her children at home.
All these are potential spreaders of COVID-19 evident, everywhere.
Why not sanitise always?
Behaviour change entails wearing masks correctly and not moving about with masks dangling on chins.
Private schools that have reopened without permission, why are they risking the lives of innocent children?
COVID-19 infections that reached
1 064 by July 14 characterise infections that are also from communities as 324 cases are local transmissions.
There is now an increasing number with no contact traces.
Given the rise, general members of the society ought to make use of all measures that might help to slow down the rate of infections.
Even those planning demonstrations to destabilise the country ought to change their behaviour and act responsibly.
Said President Mnangagwa:
"We continue to see acts that seek to out-rightly destabilise the peace, unity and harmony we are enjoying, in particular through the use of platforms in the health, education and security sectors. We shall never quiver or capitulate in the face of these machinations."
According to theMinister of Information, Publicity and Broadcasting Services, Monica Mutsvangwa, the country ought to heed to calls for behavioural change, which includes socially distancing, proper wearing of masks and avoiding unnecessary movements and abandoning unreasonable political agendas.
"Zimbabweans, we are in the midst of an existential threat.
Any political posturing is not helpful. We therefore call upon public figures and political players to act responsibly with the safety of Zimbabweans in mind.
This country cannot afford adventurism in the midst of this threat to our very existence. Indeed in the face of COVID-19, Government continues to do its best to mitigate the impact of this pandemic. We continue to review and update our COVID-19 response and Action Plan in line with prevailing conditions in the country and new information coming from the World Health Organisation."
Elsewhere, to enforce behaviour change, South African President Syril Ramaphosa has banned alcohol with immediate effect with an intention to lessen the multitudes ending up in hospital beds.
It has been noticed that a large number of hospitalisation of people occurred in the period when alcohol taking was permitted compared to the period it was prohibited.
On July 12, the South African president said South Africa remains on level 3 of lockdown regulations, where the country is conducting curfews from 9pm to 4am, as well as extended the national state of disaster to August 15.
Having such enforcement resulted from the fact that over the past month, many were partying, braaing and dining despite being forbidden by lockdown measures. South Africa is witnessing 500 hourly infections.
Changing our behaviour and attitude will saves lives.