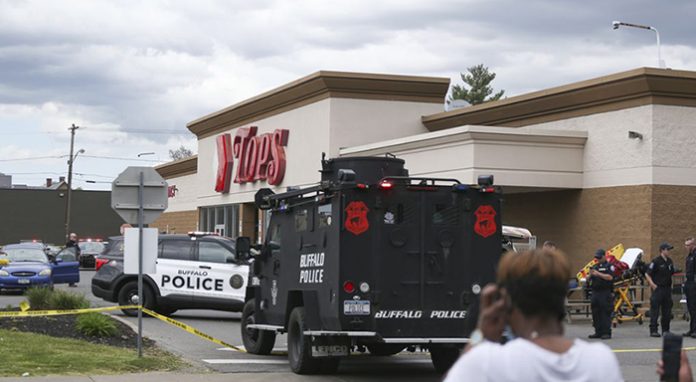 INSTEAD of reparation and reconciliation following a long ugly history, racism narratives are still being written, furiously and consistently, as signified by the recent race-based slaughter of people of colour in the US.
On May 14 2022, an 18-year-old US Caucasian, Payton Gendron, opened fire in a supermarket killing 10 black people and wounding three in the predominantly black community of Buffalo, New York.
The shooting has been called by the authorities "…a hate crime and an act of racially-motivated violent extremism."
Gendron was wearing military gear and live-streaming the horrible act showing how this was a well-planned mission to exterminate black people like vermin.
Gendron is said to have authored a 180-page race manifesto, which is said to be motivated by fear of "…complete racial and cultural replacement of the European people."
The killing is not just a young person's moment of madness.
It's a reflection of the US' racist streak that has continued to dehumanise anyone who is not Caucasian in that so-called 'land of opportunity'.
As we celebrate Africa Day, we ought to remind ourselves that the hatred of black people by the white component of the human race runs deep.
Even down south, some white boy at Stellenbosch University in South Africa had the temerity to urinate on black student Babalo Ndwayana's school materials.
Racially-motivated attacks continue to tell the story of unstable black-white relations since the Transatlantic slave trade.
During a speech in honour of US fallen National Peace Officers' Memorial Service, a day after the killing of the black shoppers, US President Biden delivered hollow words of comfort.
"We must all work together to address the hate that remains a stain on the soul of America. Hearts are heavy again, but our resolve must never, ever waver."
US White House press secretary Karine Jean-Pierre said the US President's reach-out gesture was to "…try to bring comfort to the community."
What hypocrisy!
Attacks on minority races have become a norm in the US and no real action or laws have been passed to deter racists yet America is one country that does not hesitate to pass laws against anything it deems a threat.
In a split second it passed a law that saw Zimbabwe being put under illegal economic sanctions.
It is now mooting a law to punish African countries that deal with Russia.
Apparently racism against non-whites in America is nothing serious.
Just commiserating with victims, like Biden's visit to Buffalo, is not going to change anything about the race problem.
Racism, especially in the US, must be interrogated and curbed, with laws.
Denying Gendron "…co-mingling with other incarcerated individuals," collecting evidence from the crime scene, visiting the home he lived in with his parents, checking the car he used and studying his history on social media is definitely not enough.
The spirit that stirred the enslavement of the Africans and unpaid labour for years continues to wag its tail.
For africans, Gendron's killing of blacks at Buffalo evokes memories of the very mentality that resulted in the Transatlantic slavery that saw the shipping of thousands of blacks to grow the whiteman's economy from the 16th to the 19th Century.
Two decades after slavery was outlawed in the US, many African-Americans working in the South were killed for realising the power that their labour represented.
On November 23 1887, some black sugar plantation workers reached out to the Knights of Labor, demanding living wages.
Records reveal that instead of negotiating their wages, a mob of whitemen dragged a number of black workers from their houses and led them to the railroads.
There, the men were told to run for their lives, before they were all shot in the back by the armed mob.
35 black people were killed and not one of the killers faced justice.
One of the murderers, Andrew Price, even won a seat in Congress the following year. On November 2 1920, wrath and fury visited a black community after a successful blackman, Mose Norman, attempted to vote.
The relatively wealthy African-American farmer was turned away from voting.
Following his efforts to vote, a white mob massacred over 30 black people; residents of Ocoee, Florida, a town located in Orange County, on the day of the Presidential election.
Julius Perry, whose home was thought to have offered Norman refuge, was killed and his body hung on a street light.
The perpetrators, once again, were literally empowered to perpetrate heinous crimes against blacks with impunity.
Monivette Cordeiro writes in the Orlando Centinel Post that, although Ocoee and central Florida have become more inclusive in the past century, "…systemic racism still simmers underneath…" touching areas like black home ownership, infant mortality rates and wealth disparities, to mention a few.
There was another massacre in New Orleans in 1866.
Only one year after the Civil War ended, Republicans in the State of US Louisiana were making efforts to give newly freed blackmen the right to vote.
The main reason for this was that the white voters, many of them Democratic Confederate veterans, were constantly passing racist laws which would essentially reduce the black citizens to a status akin to slavery.
On July 30 1866, all hell broke loose when hundreds of Confederate veterans serving as 'emergency police officers', many of them Union veterans, marched through the streets in support of the proposed changes regarding newly freed blackmen's right to vote.
The white mob began attacking the black marchers.
More than 40 blackmen were killed, with over 100 wounded.
One also cannot help but remember the Tulsa Race Riot of May 30 1921, which started when a 19-year-old blackman named Dick Rowland was accused of attacking a 17-year-old white elevator operator named Sarah Page.
He was quickly arrested and the local police began an investigation. When two separate mobs, one black and one white, descended on the courthouse, determined to protect or kill Rowland respectively, the black mob retreated back home.
Over 10 000 white people pursued them.
Nearly 35 Greenwood district whole city blocks had been burned and at least 300 black people killed.
Racism trauma being suffered by blacks in America and elsewhere is something that will never be corrected by merely commiserating with them.
I did not even write about current killings, just those that happened many years ago to show how insincere the US is about ending racism.
And then the US has the temerity to stand on top of the dunghill and extol itself as the paragon of democratic virtue!