THE man whose wife had refused to be touched was showing his guests a selection of videos.
In one of them Robert Mugabe was saying: "We are supposed to be free and independent Mr Ban Ki-moon. Supposed to be free
As 54 countries, we come to the United Nations.
It's ceremonial.
Every year September we are there.
We pay lots of money to go there and at the General Assembly, we make speeches.
We go back home year in year out.
But the bosses in the Security Council say you shall never have the powers that we have as permanent members.
And we have asked and asked and asked.
And asked and asked.
Reform!
Reform the Security Council!
I want to tell you Mr Ban Ki-moon you are a good man. You are a good man but of course we can't make you a fighter.
That's not what your mission was.
We will fight a fight for our own identity, for our own integrity and personality as Africans.
We are Africans."
***
Elsewhere, in Harare South-west, peaceful marchers wanting to attract Western foreign investment and associated jobs had gutted a small-to-medium-sized enterprises compound.
The dry saw dust carpeting the compound and the garbage thrown everywhere had made the job easy.
City fathers, space barons and party hawks who had mobbed and fleeced the entrepreneurs had ignored the hazard.
The once thriving home industries now lay in smouldering Zimbabwe ruins.
Some peaceful 'jaggers' had brought in their carts and carted away free furniture.
And the entrepreneurs stood around, arms akimbo, not knowing pekutangira.
***
Meanwhile, the gun laws debate was raging in the US Congress where the MDC from Zimbabwe was lobbying white congressmen to help stop the delivery of arms which Zimbabwe had bought from China to enable the Zimbabwe Defence Forces (ZDF) to defend the territorial integrity, national interests as well as the right of the people of Zimbabwe to self-determination.
Defenders of the gun-laws were invoking the Second Amendment to the US Constitution and insisting kuti the right of the American people to keep and bear arms in self-defence could not be infringed.
It clearly stated that: "A well-regulated militia, being necessary to the security of a free state, the right of the people to keep and bear arms, shall not be infringed."
In the same space, Al Jazeera was covering the Black Lives Matter Movement wanting to know if the killing of descendants of Africans brought to the US as slaves was considered a necessity to the security of a free state.
***
In London there was a Zimbabwean Home Affairs delegation negotiating the repatriation of the heads of First Chimurenga heroes which had been brought there as trophies of conquest.
The appeal was that Zimbabwe was no longer a British colony.
Zimbabweans were no longer subjects of the British empire.
In the same city, MDC activists wanting British citizenship were demanding the former colonial master's intervention to right human rights abuses by those who had had to fight the British to get human rights.
In Brussels, white settlers whose multiple farms had been confiscated for equitable redistribution to their landless colonial victims were lobbying for the confiscation of a huge consignment of Zimbabwean diamonds to compensate lost interests.
***
In an upper room chapel overlooking Market Square, Harare, one of the youths who had been encouraged by the evangelist who had said 'God was in it', sat in nervous stupor on a bench.
Around him, prayer warriors were chanting, 'Holy Ghost fire!' and binding midzimu nemashavi and mweya yemadzinza and casting them into the fire.
It did little to calm him down.
He was regretting his being there at all.
He had joined the peaceful demo to spite his father, an old war-veteran who would not stop harping about the days of the liberation struggle and the battle at Daramombe, Chivhu, where he had been wounded.
When he was young he used to be proud of him, proud of how he used to let him run his little fingers over two smooth scars on his left thigh.
They were the tattoos left by two enemy bullets that had narrowly missed his femur.
In time he had lost respect for him – almost came to openly despise him like his mother did.
Whenever the father talked about the war, the mother would cut him down with the words: "Chitipaika zvamakarwira tidye. Mavanga enyu anodyiwa here?"
A prayer warrior close to the nervous young man kept repeating: "Shimanda! Shimanda! Shimanda!"
A woman prayer warrior looked at the man speaking in a tongue and intimated to her friend: "Ndimi dza-Prophet Hezekiah dzakasimba manje."
A refugee from the peace on the streets asked the woman prayer warrior: "What
tongue is that?"
The woman prayer warrior replied: "I don't know."
A refugee from the peace demo on the streets quipped, "Does the language have only one word?"
The woman prayer warrior ignored the refugee but her friend smiled at him in shared confusion.
Prophet Hezekiah suddenly stopped speaking the one-worded tongue and as if that was the cue, all the prayer warriors went quiet.
And then a woman overwhelmed by the grace of God started crying and saying that she was not worth his mercy.
A man being shaken by the spirit continued his prayer in a whisper and then in a loud voice, offered to interpret what Prophet Hezekiah had been saying in his tongue.
He said, "God hides these truths from people and reveals them only to a favoured few.
"I listened to Prophet Hezekiah speaking in tongues and the message from heaven was to fear not because the end of our tribulations is near.
"Not near as in next week.
"It is near as in now.
"Just keep watch. Don't sleep. Don't be afraid. If you must know-ka, the walls of Jericho are already falling."
The prayer warriors raised their hands and looked at the ceiling in praise and worship.
But the young man was not elated.
He did not believe it.
He looked down at the deserted Market Square and Gulf Complex and a sense of shame and betrayal washed over him.
His father, whom he had come here to spite, always said that it is Christians who had hanged their black ancestors like Nehanda and Kaguvi's mediums right down there at Market Square; hanged them for resisting colonial dispossession.
And now, their own descendants had become Christian and were calling upon Jesus to bind them and the Holy Ghost fire to consume them.
He felt ashamed of himself for not having tried to understand his own father; not having tried to understand his obsession with liberation struggle.
He had had always said that liberation from physical chains was far easier than emancipation from mental slavery.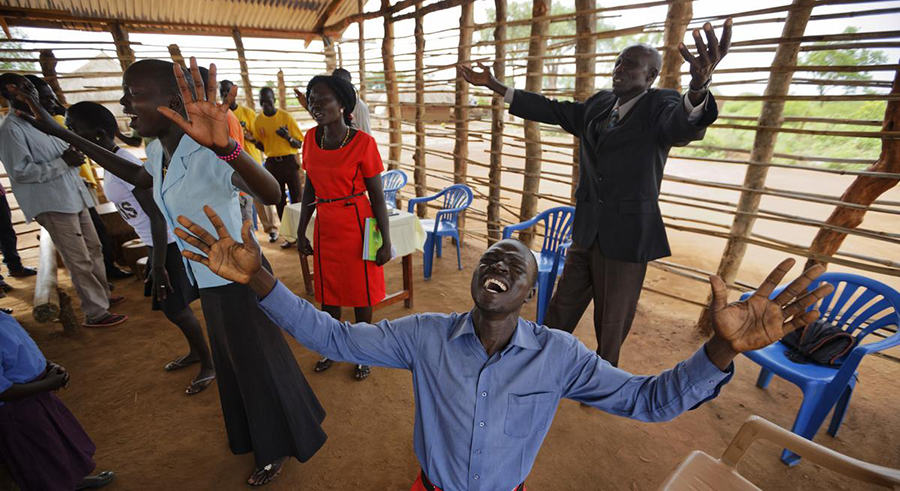 He had always said that mental slavery could undo everything achieved by armed liberation struggle.
The young man now realised that much of what he thought was deliberate betrayal by some people was actually ignorance arising from people not committing enough time and effort into research that enabled an intelligent interrogation of the issues affecting them.
He felt ashamed for all the prayer warriors speaking in single word tongues around him.
Random shots sounded and through the window, the ashamed young man saw peaceful marchers flood the street vari bararamhanya.
Soon after, a whole mob of peaceful marchers leaped into view.
They were imitating frogs under the close supervision of a stick of soldiers.
One of the soldiers suddenly looked up at the upper-room windows.
Prophet Hezekiah held very still.
He did not speak in tongue.
He did not say, "Shimanda!"
And the prayer warriors did not chant: "Holy Ghost fire!"
The interpreter of Prophet Hezekiah's tongue did not prophesy the soldier's next move.
The prophet said to the prayer warriors, "Move away from the windows. Do you want them to see us?"
An old prayer warrior responded, "Please don't worry yourselves. A person standing outside can't see through these windows. They can't see what is inside."
Then he proudly added, "I am the one who installed the window-panes."
To be continued…