AT the school where the man whose wife had refused to be touched had left his children, some teachers had come to sit in and some had gone to demonstrate peacefully in town.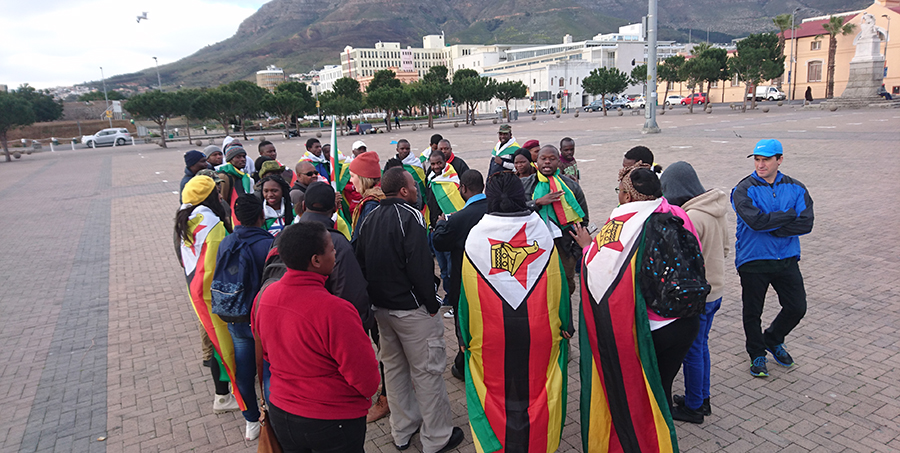 Among those sitting in, some had given work only to those children whose parents had paid for extra lessons.
The majority of the teachers had not even left the staff room.
The staffroom was as noisy as the unattended classrooms; all of them breast-beating and talking tough.
One summing up the opinion of all had said that even the parents of those who had paid knew that there was a strike and should understand the meaning of collateral losses.
The headmaster was in quiet agreement.
His own cut for turning a blind eye made him the biggest beneficiary of the peaceful scandal.
A middle-aged teacher with five 'O'-Levels from six sittings was the toughest talker.
She did not mind the presence of the headmaster.
She brazenly declared: "In my class I don't waste my time on children whose parents do not want to pay. Do they think my own parents educated me to work for free?"
The headmaster looked down.
Other teachers looked away from him.
Others watched him from the corners of their eyes, not wanting to be noticed.
And yet others brazenly stared at him, daring him to say whether the middle-aged teacher with five 'O'-Levels from six sittings was wrong or right.
The headmaster thought he had stayed too long in the staffroom.
He rose from his seat, put his hands in his pockets and left without saying anything.
The middle-aged teacher with five 'O'-Levels from six sittings let out a big laugh that stalked him like a quarry, tearing at his conscience, indicting his complicity with both the strikers and the Government.
A beautiful young teacher warned: "Asikana zvimwe munozozvinyanyawo. Exactly what do you want him to do?"
The middle-aged teacher with five 'O'-Levels from six sittings got up from her seat and challenged:"Kuzvinyanya chii? Kuzvinyanya chii? Get away mhani! He is supposed to be representing us but he is not."
A handsome young teacher looked at the middle-aged teacher with five 'O'-Levels from six sittings and almost said: "It is you who is wasting the time of the children whose parents are paying you for extra lessons."
He caught the words before they left his mouth.
His mother had once warned him kuti: "Unoroyiwa nevanhu ivava."
The middle-aged teacher with five 'O'-Levels from six sittings caught him smiling at his mother's warning and asked: "Ko Tendai urikusekei?"
She moved to where he was sitting and leaned over him, brushing him with her hip.
The handsome young teacher showed her the Tik-Tok of a girl who thought that an umbilical cord was an electrical extension cable.
The middle-aged teacher with five 'O'-Levels from six sittings laughed into the handsome young teacher's ear and caressed his head.
She said: "Kamwana kanopenga aka."
The handsome young teacher felt uncomfortable.
He thought the middle-aged teacher with five 'O'-Levels from six sittings would not harm him.
At least not in the manner his mother had feared.
He smiled at the thought.
The middle-aged teacher with five 'O'-Levels from six sittings misread the signal and exclaimed: "Is this what our education system has degenerated into?"
On CNN, they would not let go of US President Donald Trump.
Vanga vainaye nemumvura nemumvura.
Americans don't take kindly to other nations interfering in their affairs.
They were accusing him of inviting the Russians and Chinese to interfere in American elections.
In other news, the US Congress was hosting MDC leadership requesting US intervention in Zimbabwe's domestic affairs.
And in other news, Zimbabwean human rights activists in New York were protesting human rights abuses in Zimbabwe.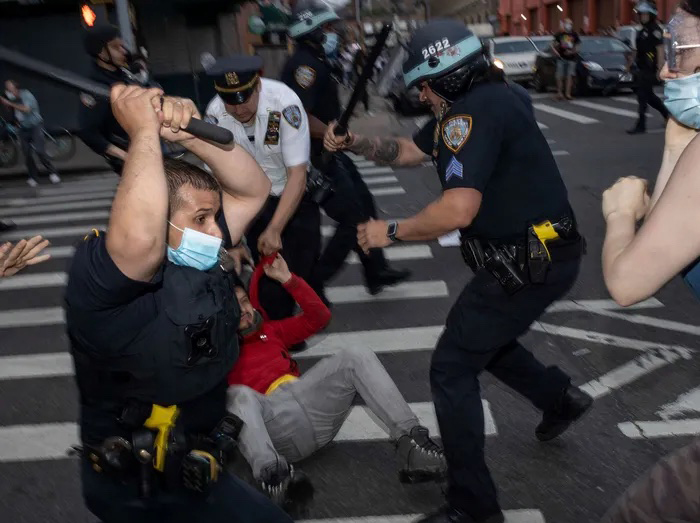 And, across the whole US, Black Lives Matter protests were raging against State-sponsored purging of the black race.
The husband of the woman who had been beaten-up by her friend's housemaid and was not angry that his wife had been beaten up thought it obscene kuti there should be such protests in the 'free' world.
He calculated that that should be almost 250 years after the 1776 American Independence that declared that all men were born equal.
He reached for his laptop and googled: 'Black Lives Matter'.
He called out to his sullen wife: "Ko hatisi kudya here nhasi?"
The woman who had been beaten by her friend's housemaid called back: "Uchadya izvozvo!"
The man was surprised: "Aikazve?"
He returned to Black Lives Matter, musing that his own black life obviously did not matter to his black wife
When the woman passed through the living room on her way somewhere, the man fumbled with his phone and asked again: "Ndati hatisi kudya here nhasi?"
The woman stopped and looked him straight in the eye, arms akimbo: "Which part of my answer did you not understand? I said uchadya izvozvo. You have two hands, you know where the kitchen is, you know where the food is and, according to the Constitution of Zimbabwe, we are equal."
The man said: "I see."
The wife added: "That is how we are going to operate until I find a replacement for the housemaid wawakanga wavakuda kunyenga."
The wife went away, exaggerating the swing of her hip … taunting him … wanting to hurt him by availing herself only when she chose.
The man fumbled with his phone.
The woman's phone sounded a notification and she rushed back to the bedroom.
After some time, the wife returned without a swing to her hips.
She stopped in the middle of the room and asked: "Saka what do you want for breakfast?"
The man said: "I see you have changed your mind without the use of domestic violence, and I suppose you want me to include the change among the recorded evidence of incompatibility in this marriage. I have been recording your stupidity for over six months now and I am ready to throw you out now."
She sat down, not believing what she was hearing.
The husband smiled and said: "I have two hands and I know where the kitchen is because I built it. I know where the food is because I bought all of it and I know that, according to the supreme law of the land, we are equal regardless of the differences in our input into this marriage. By voting yes in the referendum that approved that law, I agreed that we are equal."
The woman looked down.
The man continued: "I think this is as far as I can let you continue to take me for granted. I married you because I loved you and wanted to share my life with you; I wanted to build a happy family with you. But it now seems I married an activist. You already had your own agenda. You didn't want to share life with me. You didn't want a family. You wanted my resources to share with your family and someone else who is not me.
"You went and got sterilized without consulting me. You decided on your own that one child was enough for us even when I wanted more. You made it a solo decision because someone told you kuti it is an exclusive woman's right and it is perfectly normal for you to want to preserve your body from the deformation of childbirth. And, for 15 years, I have been having you only when you chose so.
"I want to ask you, do you sincerely believe that my sole purpose in your life is to make you happy and you absolutely have no similar obligation towards me?
"Come to think of it, I met you after 25 and you surely believe kuti until then, I was just idling without dreams … because you were still being spoiled somewhere, growing up without an ounce of responsibility…not putting any effort to educate yourself or improve your lot because you believed or had been taught that all you needed were good looks to harvest the effort yevana vevamwe."
From the high rise in the centre of town, the man whose wife had refused to be touched, and the graduate of Peace and Governance and his mate watched Harare downtown going up in smoke.
They watched truckloads of riot police armed with shields, six-star boots, baton sticks, tear gas and handcuffs speeding downtown to confront wave after wave of peaceful marchers.
The peaceful marchers put up a stubborn stand with stones, sticks and matches.
The frontier of conflict ominously crept from the less affluent Indian, Somali, Nigerian, Congolese and Museyamwa downtown quarter of Harare towards the central business district.
At one time, the subdued echo of an AK 47 had sounded.
The sounds of other shots had followed in rapid succession and then stopped as abruptly.
And, the pace of the activity on the ground had seemed to quicken.
A rowdy peaceful marcher pointed at a queer group that included feminine men and rough-clad women.
He read one of their banners aloud and asked a fellow peaceful marcher: "Ko gays and lesbians zvinorevei?"
The other marcher laughed and said: "Kuti gays and lesbians ndiko kuti ngochani."
"Aikazve? Ita haurevesi!"
"Saka you are telling me kuti you didn't know?"
"Zvinaani? I think we should beat them up."
"No, we can't."
"They can't be part of us. You know what I mean."
"They are actually the guest stars and the leadership has given specific orders for them not to be harmed by our side."
"How come?"
"Their special appearance is intended to attract donor funding."
"Is that the cost?"
"Mahwani shamwari."
"Tell you what? I can swear it upon my grandmother's grave kuti if I get the chance, I will give them the hiding of their lives."
Unaware of the averted grievous bodily harm, the homosexuals waved at their enemies.
The enemy who had explained their presence waved back.
Without knowing it, the freaks had survived friendly enemy fire.
An alert Western news correspondent caught the exchange on camera and interpreted it as tolerance.
She approached the homosexuals for an interview.
A woman in military fatigues talked tough: "We are here protesting Government intolerance of sexual choice."
A feminine man with lipstick concurred: "Yeah man. Sexual preference is an inalienable human right."
To be continued…