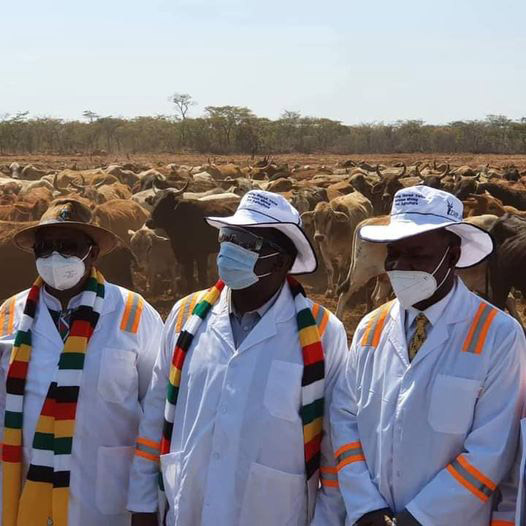 By Elton Ziki
IN a bold move to decisively grow the national livestock herd, President Emmerson Mnangagwa recently launched the ZIMPLATS and Palmline US$15 million Japanese Wangyu Breed Cattle Ranching Project in Mhondoro-Ngezi.
This private player investment will contribute to the National Development Strategy 1 (NDS 1) 'Livestock Growth Plan' which is part of the Agricultural and Food Systems Transformation Strategy (AFSTS) to increase the national cattle herd from 5,4 million in 2019 to six million by 2025.
In that regard, Section 297 of the NDS 1 notes that: "Livestock production plays an important role in the social, cultural and economic environment of Zimbabwe.
NDS 1 will prioritise animal health and production through strengthening farmer knowledge, skills in livestock production and health so as to enhance productivity through the following strategies:
Upscale hay cutting, development of pastures green belts and creation of forage banks, promote on-farm feeds formulation using cassava and cow peas to produce survival rations; intensify dipping programme and blitz tick grease application to prevent and control entry and outbreaks of animal diseases; provide lab diagnostics for confirmation of animal diseases and researches on animal diseases; strengthen implementation measures against tsetse fly and undertake operational research, create livestock business centres for small stocks (goats, sheep, pigs) based on the Hub and Spoke Model; strengthen pass-on schemes for dairy and small stock producers; increase watering points for livestock; establish a national bull centre and semen processing laboratory to strengthen conservation of animal genetic resources and research and develop stress tolerant animal breeds and further promote artificial insemination by cascading the programme to A1 small holder farmers; implement financial services-led livestock development initiative models which gradually phase out Government-guaranteed command programme through banks to a wholly private sector-driven financing model; climate-proof livestock production through commercialisation of fish, rabbits, bees and small stock;
establish breeding and genetic improvement centres and champion farmers, breeding and distribution of improved breeds, targeting export markets and support surrounding farmers with trained livestock extension officers;harmonise collection of levies in order to reduce the cost of compliance in livestock production; resuscitate the Cold Storage Commission, localise production of livestock inputs and veterinary vaccines and medicine, establish a Livestock Information Management and Traceability Systems for disease control and market access, and Training and capacitation of extension officers."
As stated in the NDS 1, relating to livestock development in various communities around the country, farmers have taken delivery of up to a 1 million kg of tick grease under the Presidential Blitz Tick Grease initiative to curb the spread of tick-borne diseases in livestock.
The US$60 million Dendairy-Chilonga Lucerne fodder project is envisaged to take shape in the coming year, with downstream benefits to the surrounding communities in the Lowveld.
This approach by the new dispensation is all-encompassing, 'leaving no-one and no place behind' as small livestock like goats, sheep, pigs and poultry are being promoted in community production programmes such that by 2025, the country should have created a solid base for an upper-middle income society as incomes are set to improve at household levels across the country.
The term 'livestock' is broad and used in reference to domesticated animals bred in an agricultural setting to provide meat, hides, wool or fibre, draught power, bones or manure to their owners.
Common examples are cattle, pigs, goats, donkeys, sheep, and poultry.
Livestock is generally raised for profit.
Rearing animals is an element of modern agronomy.
It has been practiced in many nations since the evolution of farming from hunting and gathering.
Livestock farming is the management and breeding of domestic livestock or farm animals for the purpose of obtaining their meat and products such as dairy products, eggs, leather, manure, and draught power, among many other derived benefits.
Livestock production can also be described as the economic activity that involves raising domestic animals for human consumption and obtaining meat, milk, wool and fur, among other livestock-based by-products.
It is interesting to note that livestock farming is one of the oldest economic activities of man.
It generates and guarantees high-quality food supply, hides, skins, bones, milk, cheese and other animal products without going to the forest to hunt.
No doubt livestock production is vital in the development of humanity.
It continues to occupy a prominent place among the major activities of the world economy, and Zimbabwe is no exception.
Economic sectors that include food processing industries, handicrafts, tourism and hospitality, among others, benefit directly or indirectly from livestock farming.
It is one of the few sustainable human productive economic activities and generates employment opportunities. Livestock breeding can also help a country generate foreign currency through the export of livestock-related products. This further strengthens the local currency value and stability through export earnings.
However, the commercial herd has significantly shrunk in recent years to less than half a million herd, with communal farmers coming onto the scene as far as livestock farming is concerned.
Bigger animals such as cattle, horses and donkeys can be used for farm operations such as ploughing and harrowing. It is against this backdrop that types of livestock farming systems must be appreciated, especially in the Second Republic's thrust to increase productivity across major pillars of economic revitalisation.
Value chain establishments through numerous initiatives, such as the private player ZIMPLATS-Palmline initiative, the CSC-Boustead Beef investment and the Chinhoyi University of Technology's (CUT) Artificial Insemination initiative launched by President Mnangagwa in October 2020, are clear game changers set to transform the face of livestock farming in Zimbabwe.
Chinhoyi University of Technology pioneered an artificial insemination project in four provinces, namely Matabeleland North and South, Midlands and Masvingo in a bid to improve the genetics in cattle breeds, which would result in bigger beasts and prolific milk-producing herds.
An agro-industrial park for an animal feed processing mill and medicinal feed manufacturing unit designed to improve the nutritional aspect of supplementary feed preparations for vitamins and micro-mineral supplementary livestock feed was set to be developed by the university.