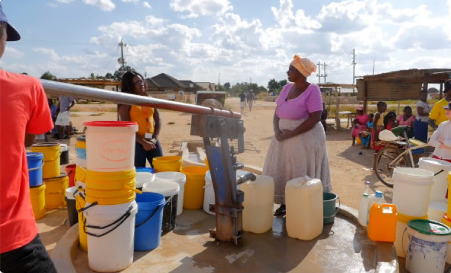 FOR Chipo Murindi (not real name), the walk from her house to the nearby borehole has become her daily routine.
The 37-year-old woman based in Zengeza Four, Chitungwiza, knows she has to make various trips to the borehole in order to get that precious liquid – water.
The borehole is about 500 metres away.
For the past year, Murindi says they have not seen a single drop of water coming out of taps at her in-laws' house.
She said she fetches between eight-to-10 20-litre buckets daily which are then used for drinking, cooking and various daily household chores, such as bathing, laundry and flushing the toilet.
"The routine is very tiresome (ndaneta mudikani), eight buckets are not enough for a family of four adults and four children," said Murindi.
"You cannot control people in general when they want to visit the toilet."
The UN states that having access to fresh water is a basic human right but for some residents, like Murindi, it is just access to water, whether clean or not, which is important.
Fetching water, said Murindi, has become a demanding task that falls largely on women as part of household chores.
Murindi's ordeal is a reflection of day-to-day lives of many women and girls living in Chitungwiza.
Water crisis is a disturbing reality that many households face in the dormitory town.
For those like Murindi who cannot afford to buy and hire water carriers, better known 'ngoroman', the head is their transportation of the precious liquid.
"There are physical and health-related realities of the task of carrying water for us women but you have to endure or else children will look at you when they want to eat, in-laws will question you and the husband will narrate how he is spending the day working for the family," said Murindi.
Women also bear the burden of queuing for hours, enduring quarrels and curses attendant at the boreholes.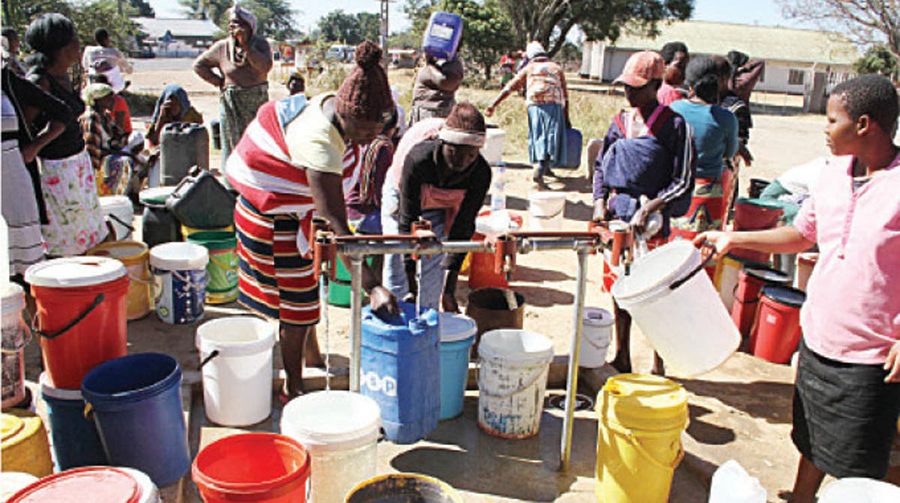 As primary caregivers at home, women need water to be able to carry out their duties.
During their menstrual cycle, women also need and make use of more water for hygiene and sanitation purposes.
Despite being one of the largest cities in Zimbabwe in terms of population, Chitungwiza does not have a dam of its own.
The supply of water in different areas of Chitungwiza is erratic, with some areas receiving water once a week, others once a fortnight, yet others, like Murindi's household, never at all.
Some residents complain that despite not having access to tap water, the Municipality expects water bills to be paid.
This publication caught up with Lovemore Meya, spokesperson of the municipality, concerning the issue.
"Those claiming to be receiving bills yet there is no consumption can visit our offices to lodge their complaints and we will verify the same by sending our teams for inspection," he said.
"We have been doing remedial action regarding the same."
Despite the City Council having used devolution funds to drill boreholes in various Wards, the boreholes are not enough to sustain the growing population.
Meya said water shortages in the city are due to many reasons, one of them being the reliance on Harare for water supply.
"On areas not getting supplies, it is due to gravity and minimal supply from Harare," he said.
Caroline Mutimbanyoka, the director of Sprout Women Empowerment Trust (SWET), an organisation that works with women in Chitungwiza, also laments the water supply situation in the town.
"It is proving to be difficult for us as an organisation to empower and initiate development of women in Chitungwiza because of shortage of water," she said.
"We are an organisation that carries out various empowerment projects, including agriculture for the peri-urban woman but, without water, our initiatives are dampened."
Mutimbanyoka also urged Government to prioritise the construction of Muda Dam which will ease water challenges.
Persistent water challenges in Chitungwiza are also a reflection of water challenges being faced in various urban areas in the country.
It is crucial to note that climate change, water mismanagement and overconsumption, among other issues, are worsening water challenges in the country.
Nearly two thirds of the world's population is predicted to face water shortages by 2025.
On its SDGs, the UN, however, has set Goal Six to ensure access to water and sanitation for all.
The UN explains: "Clean water is a basic human need, and one that should be easily accessible to all.
There is sufficient fresh water on the planet to achieve this. However, due to poor infrastructure, investment and planning, millions of people – most of them children — die from diseases associated with inadequate water supply, sanitation and hygiene."
Construction of Muda Dam will ensure the attainability of SDG Six and will also guarantee Zimbabwe's target on achieving an upper-middle income economy by 2030.
Access to clean water is one of the major strides that contribute to development of women and girls in various communities.
Chitungwiza must not be left behind.