By Evans Mushawevato,
recently in Mt Darwin
DEEP in the bowels of Mukaradzi, Mt Darwin, men and women, both old and young, have found not just relief from day-to-day challenges but life transforming opportunities through mining.
Gold mining in the area has literally pulled families out of poverty.
And those fortunate enough to strike rich veins in the bowels of the earth and wise enough to invest the proceeds are smiling all the way to the bank and significantly contributing to the fiscus.
One youthful miner, Lovemore Sariva, operating in the area, could not contain his joy with regards his operations.
"First and foremost my appreciation is to the Second Republic under the able leadership of President Emmerson Mnangagwa," he said.
"The new dispensation has created an environment where artisanal and small-scale mine (ASM) have become respectable and appreciated.
"In the Second Republic, there has been an increased transformation of small-scale artisanal gold mining through investment in appropriate technology and promoting the concept of sustainable development as well as maintainance of law and order."
Gold is expected to contribute at least US$4 billion, a third of the anticipated US$12 billion earnings from mining this year, making it a strategic mineral to the country's development agenda and central to the growth of gold production.
Sariva hailed authorities for ensuring that law and order prevailed in the area which has been a boon to operations.
"Police presence through patrols in the area has ensured that there is no lawlessness and violence that had come to be associated with small-scale gold miners," he said.
"The police have been impartial in dispatching their duties and services.
"I would also like to commend the wisdom and guidance that has been freely given to us, mostly youthful operators, by successful farmer, businessman as well as ZANU PF's Bindura South House of Assembly Member Remigius Matangira.
"Naturally, our area is a ZANU PF stronghold and the Party leadership are preaching peace and, sevana vemusangano, we make sure that the Party is not brought into disrepute through unruly behaviour and squabbling."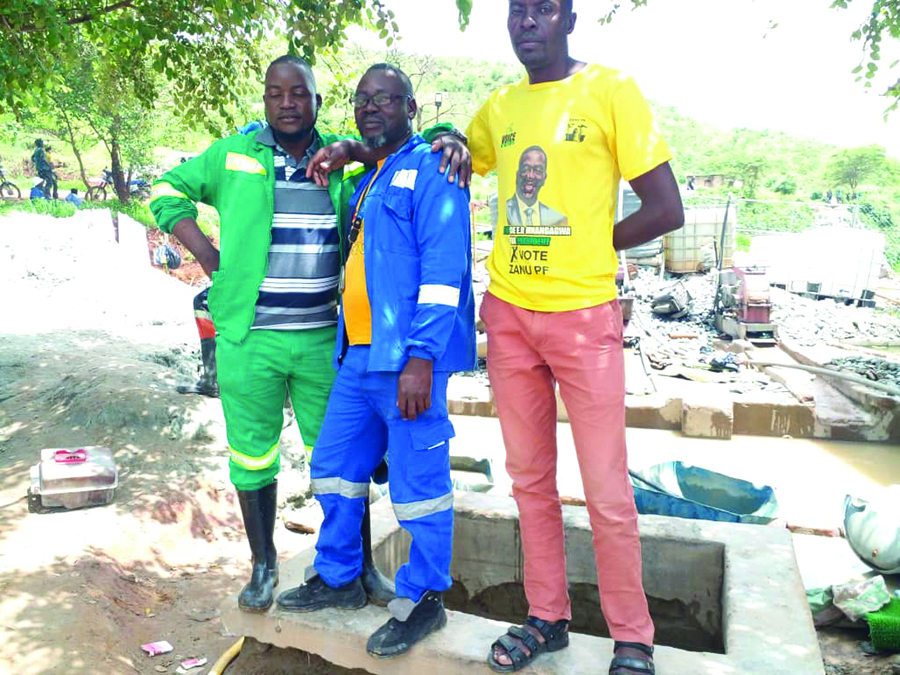 In 2022, of the total gold production during the first nine months, 17,12 tonnes were delivered by small-scale miners, accounting for 67 percent of total deliveries while big mining houses accounted for the balance.
Mining manager at Sariva's operation, Givemore Tikiti, hailed authorities for creating an enabling environment conducive to gold production.
"The authorities, by not allowing chaos, violence and other forms of conflict to fester in this place, have enabled us to operate smoothly," Tikiti said.
"Our operation employs more than 150 people, mostly youths."
According to Sariva, the key to a successful operation is investing in the latest technologies in mining.
"We have made efforts to bring in modern day equipment which has seen us improve our production," he said.
"Sadly, when performance begins to improve, there are some unruly people who want to use their political muscle to interfere in our operations by extorting money.
"But we are not disheartened because, with a listening President, we are confident that our grievances will be addressed.
"We know for a fact that President Mnangagwa does not entertain extortionate bullies.
"Artisanal and small-scale miners should not be lampooned in the same basket with machete gangs.
"We are genuine miners who are striving to earn a decent living and bust the illegal sanctions imposed by the US and its allies."
The youthful miner who closely works with his wife, Muchaneta Nyoni, said discipline and focus is crucial to success in the mining business.
"We are growing by ploughing back into the business and not getting carried away when operations are good," he said.
According to Muchaneta, President Mnangagwa's guiding philosophy "Nyika inovakwa nevene vayo/ Ilizwe liyakwa ngabanikhazi," has helped them to stay focused.
"We are young and pay heed to advice given us by our elders and we have taken to heart the President's call for every citizen to contribute to nation building," she said.
"None but ourselves will build the Zimbabwe we want. And, living in Mt Darwin, we are happy that the President has been true to his word of living no-one and no place behind; we are breathing evidence of his declaration.
"We have received all the support and been given the opportunity to thrive without harassment."
Local employment, slowing down urban to rural migration and the socio-economic development in formerly so-called marginalised areas has been the mainstay of mining development.