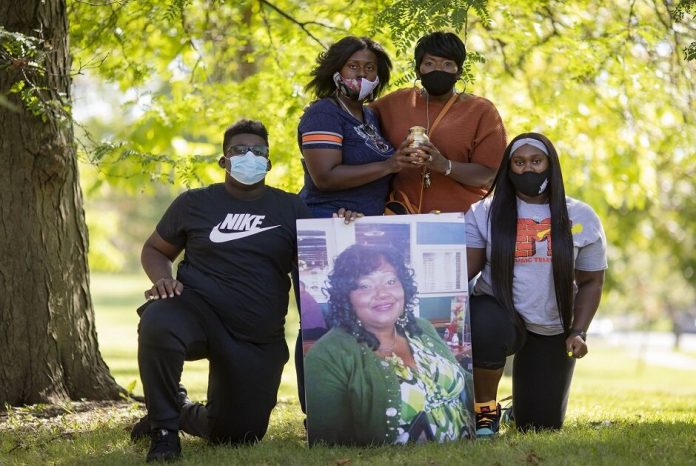 By Dr Masimba Mavaza
STRUCK by COVID-19 at the age of 53, the life of Misheck Sibanda ended with a short ceremony at a graveyard near the city centre in Midlands, Leicester City, England.
"They buried him like that without his loved ones," said Pretty Sibanda who, like others, has been kept at home by the restrictions.
"There was one person streaming the process live on zoom and facebook.
"When all this is over, we hope to give him a real funeral."
COVID-19 has struck everywhere regardless of culture or religion. Ancient rituals to honour the dead and comfort the bereaved have been abandoned for fear of spreading the scourge
Restrictions have meant that many people have died or grieved in quarantine.
Scenes from Scotland to Wales convey a deep sense of loss and show how end-of-life rituals are being abandoned.
People are being buried in a way never thought to be possible.
Thousands of people around the world have succumbed to the COVID-19 pandemic.
Compounding the pain and loss as the death toll mounts is the inability to grieve as before — yet another wrenching disruption affecting cultures and faiths worldwide.
Zimbabweans by nature have their way of conducting funerals.
In the UK, families can no longer carry out the traditional custom of bathing the body before burial; buying last garments and blankets and giving the last speeches by the grave side which are a hallmark of great honour and a show of respect.
Many people are being deprived of funeral wakes.
In fact, most countries have restricted the number of people who can gather and families have been prohibited from visiting loved ones suffering from COVID-19.
Under State and nationwide lockdowns, many have had to grieve alone and with no valued traditions which has defined funerals for centuries.
In Zimbabwean culture, the gathered community is essential to the grieving process.
This identifies us as a people.
It remains unclear how long such measures will remain and what lasting effects they may have on the bereaved and their communities.
It is not a secret that grieving practices are crucial for individuals' mental and spiritual health.
"For those who are bereaved, the funeral ritual is but one part of the process of acknowledging and learning to handle the grief," said Glenys Caswell, who studies end-of-life care at the University of Nottingham.
The virus, which has killed nearly two million people worldwide, is reshaping many aspects of death; from the practicalities of handling infected bodies, to meeting the spiritual and emotional needs of those left behind.
"Now that funerals are banned, my deputy parish priest and I are the ones who are there to pray for the dead on behalf of the whole community," said a priest from the Church of England.
"Many of my parishioners were not even able to talk to their loved ones before they passed away — they only see a sealed coffin, if they are lucky.
"We can only be close to those who are still here and pray with them.
"We can only have faith."
The global pandemic has brought death to millions and grief to thousands.
But it has also forced a radical change in the way those left behind are mourning their dead — upending rituals and traditions that have provided comfort and reassurance for generations.
A ban on gatherings has shattered the vital rituals that help us grieve, said Andy Langford, the chief operating officer of Cruse Bereavement Care, a British charity providing free care and counselling to those in grief.
"Funerals allow a community to come together, express emotion, talk about that person and formally say goodbye," he said.
"When you feel you have no control over how you can grieve and over how you can experience those last moments with someone, that can complicate how you grieve and make you feel worse."
Hospitals and senior-care facilities are closed to visitors, with family, friends and clergy members unable to be physically present with the sick in their final moments.
This is not only distressing for the family members but also to the person who is close to death.
COVID-19 has also compromised religious rituals.
In Roman Catholic rituals, for instance, a priest usually performs last rites at a dying person's bedside, which requires physical touch, including giving communion and anointing him/her with oil, but amid the pandemic, many clerics have been barred from entering health facilities.
During the worst of the second wave outbreak, priests stopped saying last rites.
Unable to enter patients' rooms, some priests in England were giving blessings from the hallway or over the phone.
In other religious practices, such as Protestants and other Christian organisations, family and a faith leader may pray with the dying person, but this has been nearly impossible because of COVID-19 restrictions.
Indeed COVID-19 is real and Zimbabweans in the Diaspora, like other people elsewhere, are still trying to come to terms with it.
It has turned our way of life upside-down.
For views and comments, email: vazet2000@yahoo.co.uk