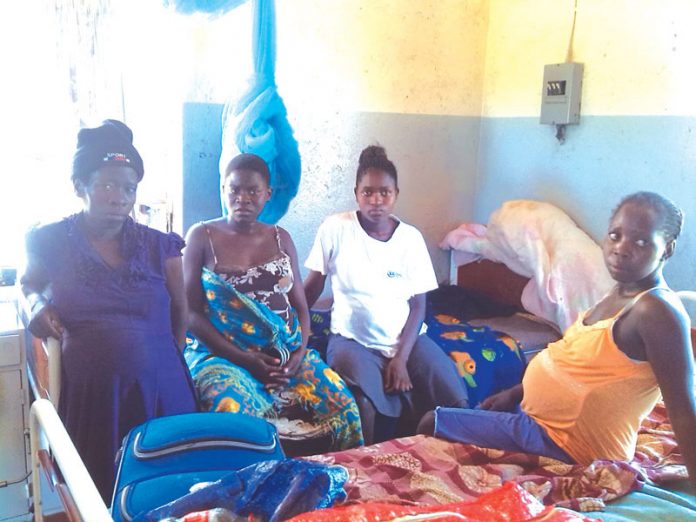 THOMAS TARU (not real name) has had flu for two days since he does not have medical aid as well as money for the doctor, he resorts to using natural remedies which, unfortunately, fail to work for him.
However, a colleague at work notices this and instructs him to inhale and apply, up the nostrils, a certain liquid which is said to have natural herbs called 'Tsunami 100%.
Funny enough, it works wonders and after a few minutes there is some relief.
Taru takes the 100% Tsunami again at night and the next morning, the flu has completely disappeared.
"I had difficulties in breathing due to flu and tried all remedies but did not work until I heard of this tsunami and it worked for me (sic)," said Taru
"It has instant results. However, I think the authorities must test it and see if it is safe and does not affect people's health in the long-run."
Nyasha Takaendesa has similar testimony.
He had a terrible tooth ache and dropped 100% Tsunami on that tooth. He got relief instantly.
100% Tsunami has become the talk of town as it is affordable healing many ailments.
A closer look at 100% Tsunami shows it is a green liquid, extracted from natural plants such as camphor wood and mint, mixed using high technology, has a punchy smell, tastes cool and spicy and has the effect of repelling mosquitoes, relieving itches, keeping cool and easing pains.
The instruction leaflet highlights that 100% Tsunami is effective for treating mosquito bites, colds, nasal congestion and headaches, preventing motion sickness in vehicles and ships, bruises and sprains, muscle soreness, abdominal pains and toothaches.
However, the leaflet states in bold letters that it cannot be used as a pharmaceutical product and clients are encouraged to consult doctors if the symptom is not relieved after a week.
Pregnant women and children under the age of one may not use it and children can only use it under adult supervision.
Despite its magic effect, 100% Tsunami is not approved for sale in Zimbabwe by the Medicines Control Authority of Zimbabwe (MCAZ).
The director general of MCAZ, Gugulethu Mahlangu warned members of the public against buying this green liquid.
"The product has to go through various channels of being assessed then approved and certified in order for it to be approved," she said.
"We do not know if this liquid is fit for consumption, hence, we are advising members of the public to desist from buying this 100% Tsunami."
Mahlangu said in as much as people celebrated the apparent healing properties of 100% Tsunami, there is no research that shows what the product does to the human system if it is used continuously.
She discouraged people from buying medicines from unlicenced traders on the streets because they are not certified.
According to the herbal supplement, the camphor tree is native to the southern islands of Japan, China and Taiwan, where it forms majestic forests.
It is also cultivated in many countries with tropical and sub-tropical climate, especially in India, Sri Lanka, Egypt, Madagascar, South Africa and the US.
It comes in three varieties; white, yellow and brown.
Only the white one is used medicinally as the other two are quite toxic.
Once, it was used as an external pain remedy for bruises, wounds, inflammation, gout and rheumatic joints and internally to treat hysteria, epilepsy and heart-related ailments.
Additionally, it was used in incense form as a treatment for asthma, bronchitis, emphysema and other respiratory ailments.
Today, camphor is mainly used in creams and ointments for rheumatic pain, neuralgia, arthritis, sore muscles, sprains and bruises.
In addition, it is used as an insect repellent. A camphor oil, or some other products that contain it, can be applied externally on the neck and chest as a remedy for acute or chronic pneumonia and bronchitis.
It can also be used directly on hands and feet to treat chilblains, acne and cold sores.
Camphor, as a herbal medicine, is now available primarily as oil where the pure crystallised form has been dissolved in olive oil, peanut oil or another neutral base oil.
It can cause a rash or allergic reactions in some people.
Overuse can cause skin irritation and no products containing camphor should be used on open wounds or burns.
All internal uses of the herb are advised against.
If it is consumed, it may cause vomiting, palpitations, convulsions, delirium, hallucinations or even death.
Children and pregnant or breastfeeding women should not use the herb.
Mint, as another ingredient of 100% Tsunami, is a great herb that soothes stomach aches and is good for indigestion.
It can also be used for nausea and headaches, respiratory problems like bronchitis, asthma and pneumonia
The strong aroma of mint is very effective in freshening the nose, bronchi, lungs and throat.
Mint is also used for weight loss, oral care, stress relief and research is still under way that primarily proves it is a well-herb for cancer prevention.
More research is still needed on its effectiveness in cancer treatment.