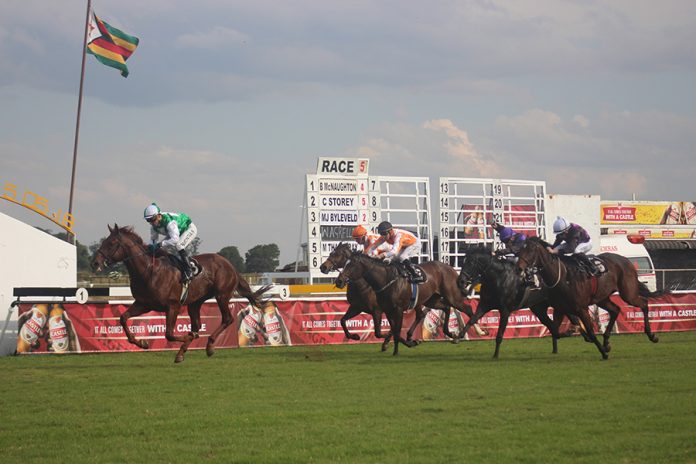 Sports Reporter
AFTER missing out on the Castle Tankard earlier this month, Simona and Kilrain got a second bite of the cherry as they are part of the strong field of 15 horses to take part in this year's edition of the OK Grand Challenge.
Simona and Kilrain missed out on the Castle Tankard with the two occupying second and third places respectively while Roman Discent came first.
Mathematician came fourth.
Comanche Brave, Amsterdam, Master Switch and Phantom Major are some of the horses that participated in the Castle Tankard and will be in the starting stalls at this year's edition of the OK Grand Challenge.
With 15 horses in the starting stalls, competition will be stiff while punters will have a torrid time in selecting the best.
Last year's winner of the OK Grand Challenge, Royal Honour, will not be present to defend the title together with Windigo who came second as they have other commitments.
Stakes will be high in the Grade Two race, with the winner pocketing US$40 000.
Three stables — Penny Fisher, Bridget Stidolph and Kirk Swanson — have provided horses for the race.
The Bridget Stidolph stable that provided the winner of the Castle Tankard, Roman Discent, have Comanche Brave, Life is Good, Super Good, Raven Girl Peggyson to be ridden by Brendan McNaughton and Simona.
Penny Fischer yard has Kilrain with odds of 3/1, Master 'N' Commande, Kevin Barry and Master Switch.
Kirk Swanson stable has four horses — Amsterdam, Phantom Major to be ridden by Francois Herholdt, Cool Solution and Heir Line.
Only three horses — Ashton Park, Mathematician and Leven Point — from the Castle Tankard are not part of the field.
Mathematician participated at the previous edition of the OK Grand Challenge and sustained an injury.
The horse returned to racing for the Castle Tankard.
The OK Grand Challenge race turns 30 this year.
The Challenge continues to attract thousands of punters as the event has numerous competitions.
This year's edition of the OK Grand Challenge will be on June 2.