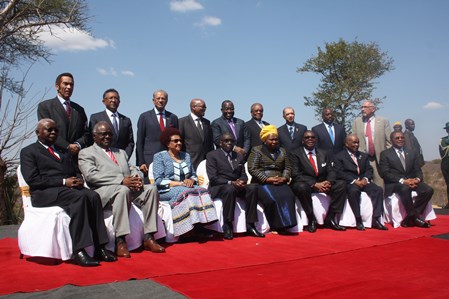 THE year 2014 will be remembered by many for its dramatic twists and turns on the political scene.
It is a year in which some in the political circles would forever curse while for many it was a fruitful year with many historical milestones.
Below are some of the major highlights that took the nation by storm.
Salarygate scandal
ZANU PF had won the July 31 2013 plebiscite with a resounding, if not flattering margin bringing to an end a five-year government of national unity (GNU).
Everyone in the party was happy.
And they all claimed the victory, they had sweated for it.
So when the salarygate scandal began in January 2014, it was for 'them' in the corporate world, the fat cats.
Off went Happison Muchechetere of Zimbabwe Broadcasting Corporation (ZBC), Cuthbert Dube at Premier Service Medical Aid Society (PSMAS), Grace Pfumbidzai of Air Zimbabwe and many others.
These had been perceived as untouchables, but as fate would have it, it all changed in a flash.
Just like that, the carpet was swept off their feet.
The era of sacred cows was gone.
So when the likes of former Minister of Information Communication Technology , Postal and Courier Services Webster Shamu and Transport Permanent Secretary Munesu Munodawafa were fingered in ZBC and Air Zimbabwe saga respectively, that should have sent alarm bells ringing.
But as the age old adage says, pride goes before a fall, they did not take heed.
And it was only a matter of time before chickens came home to roost.
Beyond Borders
In January at the 22nd African Union (AU) Summit in Addis Ababa, Ethiopia, President Mugabe was voted the AU deputy chair.
President Mugabe's election to the post positions him to assume the AU Chairmanship next year.
President Mugabe later in the year also took over as Southern African Development Community (SADC) Chair from Malawi President Professor Peter Mutharika.
This saw the country successfully hosting the 34th SADC Summit in the resort town of Victoria Falls.
Mega deals with China, Russia
In August the country witnessed an economic landmark when President Robert Mugabe and his delegation signed more than nine mega deals worth billions with China.
The deals, some of which kick started soon after the signing ceremony are set to support the country's key economic areas among them energy, roads, railway, telecommunications, agriculture and tourism.
Before the ink had dried, Harare signed another staggering platinum deal worth US$3 billion with Moscow.
The whole of Europe and America whose regime change project in the country had fallen apart were irked by these mega economic deals.
The West could not fathom these new developments that had taken them by surprise.
Hence they had to act swiftly.
Removal of Sanctions
Threatened by China and Russia's growing business ties with Harare, the European Union that had illegally imposed sanctions on Zimbabwe for the past 14 years were spurred into action.
Having finally acknowledged that their continent had been playing second fiddle to China and other Asian tigers in exploiting business opportunities in the country because of the illegal sanctions, on November 1 they decided to remove the trade embargo but however maintained travelling bans and asset freeze on the first family.
They termed the removal of sanctions as part of the West's re-engagement efforts with the country.
However, the EU's sincerity was questioned as they maintained sanctions on President Mugabe and his wife.
Enter Grace Mugabe
A disturbing trend had emerged in the past months as the ZANU PF youth conference and provincial elections for party chairmen and district structures had been marred by factionalism, vote buying and corruption.
Party principles had been replaced by dirty money used to buy votes.
However, the game changer to the plight of ZANU PF was the 6th ZANU PF's Women's League conference's resolution to endorse Dr Grace Mugabe as the secretary for the women's league.
Soon after being endorsed as the candidate for the women's league Dr Mugabe embarked on her Meet the People Tours, in the country's 10 provinces.
In the First Lady's tours, she took the bull by the horns and revealed many things to the nation.
Dr Mugabe revealed that the then Vice President Dr Joice Mujuru was leading a group of power hungry sharks within the party to oust the first secretary of the party, President Mugabe.
Grassroots reaction to this revelation was an immediate countrywide cleansing of the ZANU PF structures.
This saw some high ranking party officials like Vice President Dr Joice Mujuru and her close allies Didymus Mutasa, Ray Kaukonde, Nicholas Goche, Dzikamai Mavhaire and Webster Shamu failing to be nominated to the Central Committee.
Votes of no confidence were passed against district and provincial officials deemed to be promoting division within the party.
Then party spokesperson Rugare Gumbo alongside war veteran leader Jabulani Sibanda and Munacho Mutezo were suspended from the party.
Gumbo was later expelled from the party.
ZANU PF watershed Congress
THE 6th Zanu PF Congress has no doubt been a major landmark in the history of contemporary Zimbabwe.
It brought about a rejuvenated ZANU PF which brings fresh hope to deliver the party's promises made to the electorate a year ago.
The new politburo which is the party's highest decision making body in between congresses was trimmed and had no place for Vice President Mujuru and her cabal.
Cde Emmerson Dambudzo Mnangagwa and Cde Phelekezela Report Mphoko were appointed the party's second secretaries and the Government's Vice Presidents.
To underline the party's seriousness in weeding out incompetent and corrupt elements, President Mugabe dismissed former Vice President Joice Mujuru, seven ministers and a deputy.
Francis Nhema (Indigenisation), Dzikamai Mavhaire (Energy), Webster Shamu (ICT), Didymus Mutasa (Presidential AffaIrs), Olivia Muchena (Higher and Tertiary Education), Nicholas Goche (Labour) , Simbaneuta Mudarikwa (Minister of State for Mashonaland East) and Munacho Mutezo (deputy Energy) were the ones affected.
They have since been replaced by Samuel Undenge (Energy) and his deputy Tsitsi Muzenda, Supa Mandiwanzira (ICT), Oppah Muchinguri (Higher and Tertiary Education), Priscilla Mupfumira (Labour), Joel Biggie Matiza (Minister of State for Mashonaland East).
The President further appointed Monica Mutswangwa (Deputy Minister of Information), Christopher Mutsvangwa (Warvets) and Simon Khaya Moyo (Economic Planning).
We wish the new ZANU PF team a successful five-year term.
MDC-T
This year was no better for the MDC-T.
After a dismal loss at last year's July 31 polls, Morgan Tsvangirai's woes have been mounting.
Things moved from bad to worse for the opposition party as it split into two more factions- one led by Morgan Tsvangirai and the other by his former right-hand man and confidante, secretary general, Tendai Biti.
The MDC found itself not only divided but floating in the political abstractions of personality cults.
As if that was not enough for the embattled leader, the party fell out of favour with its international sponsors.
Its congress held in October was a non-event.
In fact there is really nothing much to talk about the MDC.