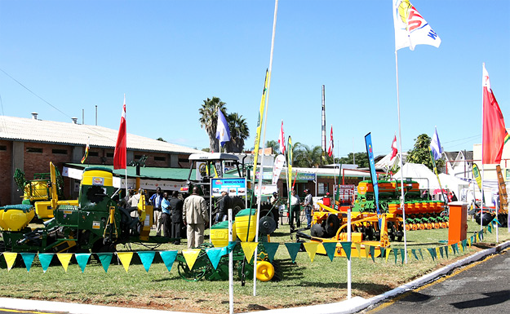 THE Zimbabwe International Trade Fair (ZITF) is fully exploiting technology in a bid to improve service delivery and to link businesses to enhance their operations.
The 55th edition to be held from April 22-26 2014 will run under the theme 'New Ideas to New Heights'.
The ZITF board chairperson, Bekithemba Nkomo said the company was reinventing itself digitally.
"On-line registration for business visitors is now open in preparation for the on-line matchmaking programme that will commence a month before the show," said Nkomo.
"In addition to our website and social media platforms the expo 'hashtag #ZITF 2014' is already functional for updates on all activities and events.
"ZITF would also be introducing a mobile application that will be compatible with all mobile phone operating systems for easier access to gather data.
"Information such as exhibitors lists, floor plans, event updates.
"Anyone with questions including the journalists can use the application to ask or share information.
"Wifi (free internet) will be available throughout the ZITF exhibition centres for the convenience of our participants."
Nkomo said the exhibition centres are set to get a facelift.
He said they were expecting a greater number of designer stands in the halls as exhibitors sought to differentiate themselves.
"From the stand-building infrastructure we purchased last year, we are able to offer limited walk-on-packages to upgrade the basic nine and 18 square metre stands," Nkomo said.
"This will create more room for the exhibitors and visitors to walk about."
He said there was more interest from foreign nations compared to last year.
"At least 21 foreign nations have expressed interest so far which compares favourably with last year's closing total of 16 nations," he said.
"Eleven of these have actually reserved stands namely Bangladesh, China, Egypt, India, Indonesia, Italy, Malawi, Mozambique, Poland, South Africa and Zambia."
According to Nkomo, the net exhibition space available for sale is about 51 000 square metres including hall space, pavilions and external sites.
"Market response has been positive," he said.
"Over 80 percent of space has been booked so far and if the trend continues, we expect to sell all the space."
Congo Brazzaville's President, Denis Sassou Nguesso will officially open this year's exhibition.
The ZITF is arguably one of the largest intra-regional trade fairs in Southern Africa.
The first three days of this year's trade fair will be business days.
Meanwhile, local Small to Medium Enterprises (SMEs) will get an opportunity to exhibit their products and services at this year's third edition of Chitungwiza Trade Fair which will be held a month before the ZITF.
Running under the theme 'Terms and Conditions', the Chitungwiza Trade Fair will be held from March 27-30.
In an interview with The Patriot, Chitungwiza Publicity Association director, Lexcy Murewa, said the fair is held weeks before the ZITF to prepare SMEs for the main exhibition.
He said about 75 companies out of the 500 invited have so far confirmed participation.
"The sole idea of Chitungwiza Trade Fair is promoting, marketing and exposing SMEs before the ZITF that is why it is held a few weeks before," Murewa said.
Trade fairs expose local products to a wider audiences leading to new export opportunities for the country.
They also provides platforms for the implementation of a number of bilateral trade and investment agreements
The ZITF in particular, has established relationships with various export promotion and investment facilitators.