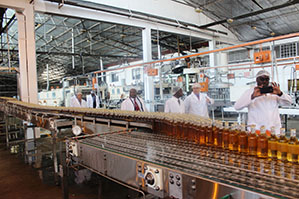 THERE are strong signals that the country's economy will record significant growth if authorities implement fundamental macro-economic policies.
Economic analysts are of the opinion that the key to this growth will be Government's willingness to work on policies that can help the country's economy to grow.
"If we maintain the stable and peaceful environment, implement economic policies such as the Zimbabwe Agenda for Sustainable Socio-Economic Transformation (Zim-ASSET) and we are able to access funding and make use of resources in an efficient manner, we should enjoy continued growth which has the potential to reach double digits," said economic analyst Hubert Muzikani.
Presenting the 2015 National Budget, Minister of Finance, Patrick Chinamasa highlighted that this year's growth hinged on implementation of macro-economic policies.
The Growth Domestic Product (GDP) growth is estimated at 3, 2 percent against last year's 3, 1percent.
However, he said the country should strive to implement the Zim-ASSET blueprint to enjoy growth targets in excess of six percent per year.
The manufacturing sector projected to register a marginal growth of 1, 7 percent hinges on sustained implementation of supportive policy intervention.
These measures, among others, relate to promoting competitiveness of the domestic industry through reviewing of import tariffs for selected sectors such as motor industries; beverages; agricultural commodities; clothing industry, and leather industry, as well as mobilisation of affordable lines of credit to domestic industry for re-equipment and re-tooling.
Analysts believe if key challenges facing the mining sector such as inadequate capital and energy supply constraints are overcome, mining can contribute as much as 18 percent to the GDP by 2015 and well above 25 percent by 2020.
A moderate growth of 3,1percent is expected for overall mineral output, being driven by nickel, gold, chrome and coal.
Although the successful completion of the merger and consolidation exercise in the diamond sector as well as the finalisation of the amendments to the Mines and Minerals Act and the new mining fiscal regime are envisaged to bring about a rebound in the mining sector.
Mining, manufacturing, construction and agriculture sectors have been significantly affected by power deficits.
Nevertheless, energy supply constraints will soon be a thing of the past as the country has so far licensed 12 Independent Power Producers (IPPs) with a combined capacity of 5 400MW.
These IPPs are expected to play a significant role in the country's electricity generation.
The country has for years battled power deficits.
National electricity demand is currently at 2 200 MW against current generation capacity of 1 240MW.
The tourism sector has the potential to be one of the fastest growing sectors, benefiting from the continued recovery in both global and domestic economic activity, and also on the back of targeted marketing strategies underpinned by the tourism policy launched in July last year.
Tourism is expected to grow by 4,7 percent compared to 3,9 percent in 2014.
This translates into tourist arrivals of about 2,1 million in 2015 from 2 million in 2014.
Prospects for the 2014/2015 agriculture season remain positive, and production in the main crops such as maize, tobacco, cotton, among others is expected to remain on an upward trend.
Overall agricultural growth for this year is projected at 3,4 percent.
Yet Takunda Mugaga, head of research at Econometer Global Capital believes all is gloomy for the country in 2015.
"Industrial production continues slumping with the manufacturing indices pointing to a distressed economy, policy pronouncements remains lethargic while efforts for international reengagements appears promising but remote at this juncture," said Mugaga.