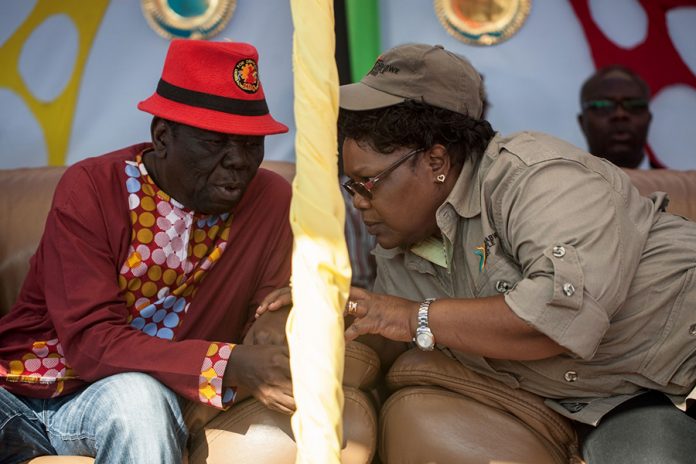 ELECTIONS always generate a lot of buzz all around. However, when it comes to the general elections of 2018 to be held in Zimbabwe, these general elections are generating a lot of stink all coming from opposition political parties.
One will be excused to think the gods in the skies have unleashed thousand upon thousands of skunks and civet cats (zvidembo) into our political environment in this country which is now heavily polluted with a lot of political stench coming from opposition political 'parties' before 2018 is even born.
Now what is the cause of the terrible political stench which is being generated by the opposition political parties?
Below we look at some of the major causes of the political stench which is choking and confusing Zimbabweans today.
One, outright lying and political fraud.
We, the people of Zimbabwe, are being fooled by the MDC-T political party led by Morgan Tsvangirai that he has right now, as we speak, signed an agreement with so called 'opposition political parties' to form what is being termed a 'grand alliance'.
We have even been told that because Tsvangirai has signed a so-called alliance agreement with other so-called political parties, one of his deputies, Thokozani Khupe, the former speaker of the Parliament of Zimbabwe Lovemore Moyo and others are mulling to leave the MDC-T and form their own party to be called maybe, 'MDC Bulawayo' or 'MDC-B', for short in protest over the formation of the 'alliance' by Tsvangirai without their involvement.
Now the question which all Zimbabweans want explained is: Who are the political parties who have joined the MDC-T to form a grand coalition?
In explaining this question, we are able to reveal the political fraud we have made reference to earlier on, which is generating a lot of stink.
Zimbabweans have been told with a straight face by Tsvangirai that he signed an agreement to form a political alliance to fight the 2018 general elections with the following so called 'political parties', Welshman Ncube's MDC, the PDP of Tendai Biti, the MDC 99 of Job Sikhala and Elton Mangoma's party.
Now maZimbabwe, here is the silliest political joke ever made in Zimbabwean politics.
And nobody is laughing!
Does Ncube have a political party which is fully functional across the length and breath of mother Zimbabwe today?
Do Ncube and Priscilla Misihairabwi-Mushonga constitute a political party?
The last time Zimbabweans read about Ncube's political fortunes was when his wife alleged that he had been beating her all along.
Now to tell us that an individual like Ncube, who has no functioning political party, has signed an agreement to form a grand coalition with Tsvangirai is to insult Zimbabweans' intelligence.
Tsvangirai, if Ncube has rejoined the MDC-T, simply say so. And coming to the so-called PDP of Biti.
Utter the acronym PDP and people across the country wonder whether you are referring to some 'kombi' service or what.
PDP, a name of a political party!
Or is it another name for Biti's law firm?
Most Zimbabweans don't even know this PDP which Tsvangirai claims to have entered into an alliance with.
Please Tsvangirai, if you have accepted Biti back into your party, simply tell Zimbabweans the truth.
The same goes for MDC 99 and Mangoma.
If the truth be told, the so called 'political parties' Tsvangirai claims to have entered into a 'grand coalition' with are individuals who once were members of his party who had gone to look for greener pastures when the MDC became broke.
It would appear, as we shall explain later, that a lot of money has since been promised to the MDC-T by the West if it rebrands to 'grand coalition', hence the trek back to it by its former prodigal sons.
The other political party which claims to be big and exists, while the truth is that it is a nonentity, is that of Joice Mujuru.
There have been claims that she too has formed a grand coalition with Tsvangirai.
Now, why are we having all these political shenanigans and lies from the opposition political parties which has raised a lot of stink in the political environment of the country?
To answer the above question, let us pretend that we are going to take 'Kenya Airways flight No. 2018 General elections' and land at Jomo Kenyatta airport where we shall be met by the former president of Kenya, Mwai Kibaki.
Kibaki was once Vice-President of Kenya under Daniel Arap Moi.
The ruling party then was KANU.
"Kibaki fell out of favour with President Moi in 1988 and was dropped as Vice-President.
He resigned from G,overnment leaving KANU on Christmas Day in December 1991.
And Kibaki founded the Democratic Party.
In preparation for the 2002 elections, Kibaki's Democratic Party affiliated with several other opposition parties to form the National Alliance Party of Kenya (NAK).
NAK later combined with the LDP to form the National Rainbow Coalition (NARC).
On October 14 2002, at a large opposition rally in Uhuru Park, Nairobi, Kibaki was nominated the NARC opposition alliance presidential candidate.
On December 27 2002, Kibaki and NARC won a landslide victory over KANU, with Kibaki getting 62 percent of the votes in the presidential elections against only 31 percent for the ruling party candidate Uhuru Kenyatta.
Back to Zimbabwe.
The talk of grand coalition by Tsvangirai and Mujuru is aimed at emulating Kibaki.
The godfathers of the opposition parties in Zimbabwe, the Western governments, have advised and promised lots of money to MDC-T that if they want to dethrone ZANU PF they must rebrand by calling themselves a coalition which is fronted by Mujuru, the former Vice-President of the country, like Kibaki who was a Vice-President in KANU and Kenya. Therefore by calling the return of his boys to his MDC-T party as the forming of an alliance, Tsvangirai is only rebranding the MDC-T, giving it a big name like the 'Rainbow Coalition' of Kibaki so that people of Zimbabwe think they are dealing with a new big political party which is all-encompassing.
And so, do not be fooled.
Furthermore, Tsvangirai is not re-branding the MDC-T as a grand alliance so that he can lead it.
No!
He has lost too many times against ZANU PF to try his luck in 2018, even under a re-branded MDC-T.
It is Mujuru the West want to lead the rebranded MDC-T because they believe she has the clout since she was once Vice-President.
Furthermore, because she is a liberation war veteran, they believe she will be acceptable to war veterans and a number of ruling party groups.
And so they want to mould her into a 'Zimbabwean Kibaki'.
Mujuru herself let the cat out of the bag when she said she was 'too big to become Tsvangirai's deputy'.
ZANU PF must know what Tsvangirai is up to.
He is rebranding the MDC-T, calling it a coalition for the sake of Mujuru.
All the elements who do not accept Mujuru to lead the re-branded party are being left out in the dark, such as Khupe and company.