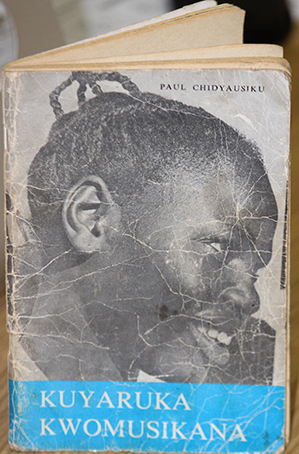 Published by Mambo Press (1989)
Kuyaruka Kwomusikana
Paul Chidyausiku
THE book Kuyaruka Kwomusikana is one of a kind.
What makes it unique and interesting is the fact that it is a book about women, written very well and exhaustively, by a man, Paul Chidyausiku.
He writes as an aunt giving advice to a niece.
So well-written is the book that those who read it might be forgiven for thinking that Chidyausiku is a woman.
The book is evidence that issues are best dealt with by those who are passionate about them.
It shows that care, concern and interest transcend gender barriers.
The writer, Chidyausiku, is one of the early writers in the country.
The publication debunks the myth that the African culture, the African society had no regard for women or to be more specific the girl-child.
This book explores the processes that go on as a girl transforms into a woman.
"Munhukadzi haasiri mai vemhuri yavo chete. Ndiyewo mai vorudzi. Kuti rudzi ruve nenduramo hunge mai vorudzi rwacho vaine nduramo."
In that brutal colonial era, an educated and intelligent man, a brilliant author who could have employed his skills to tackle any subject he desired expended his energies on a book about raising a girl-child.
The author says the book is one of his best works.
The book is detailed in its coverage of the subject of raising a girl-child.
For a man to write so well about issues concerning girls developing into women shows evidence of thorough and exhaustive research as well as determination to understand and appreciate the fairer sex.
Time is one commodity that was invested in the work in no half but full measure.
The book is as valid today as it was when it was published.
Raising a powerful, confident woman is becoming increasingly difficult in this modern society.
DSTV, commercials, magazines and even playgrounds are putting girls under tremendous pressure and creating unrealistic expectations.
And the book gives a blow-by-blow account of the stages of development that a girl goes through in developing into a woman.
Biological, social as well as psychological transformations are dealt with in detail.
No issue is mundane.
The writer delves into how a girl should take care of herself when she begins having menstrual periods.
This is one book that a mother and daughter can read together and find educative as well as enlightening.
It's a book that every parent raising a girl would find not just invaluable but empowering in the sense that it is not just a collection of theories hinged on imagination but a practical tool.
His research for the book included conversations with the girl-child especially those at tertiary institutions who were just getting into womanhood.
He also interviewed medical practitioners to get a full understanding of the biological transformations that take place as a girl starts developing breasts.
"Rega zvako kunyara mwanangu. Ndini tete vako. Ndinokuziva kusimuka nokugara. Nyange dai zvisiri izvozvo, hapana chaunofanira kunyara pamusoro pomuviri wako…chaunofanira kuita ndiko kuuremekedza kwete kuunyara," writes the author.
The book teaches and emphasises the point that the human body is sacred.
"Miviri yedu chipo chikuru uye mitezo yayo ine basa guru, basa rinoera…"
In today's fast-paced society in which parents and children are spending less and less time together and the extended family has almost disappeared, the book is a critical gap-filler.
"Nhasi uno vasikana vave kukura vagere namai pasina mumwezve angavadzidzisa zvokuyaruka kwavo. Saka ratove basa ramai kudzidzisa vanasikana vavo. Uye mabhuku akaita serino anotora nzvimbo yamadzimbuya."
The book highlights the pitfalls that threaten girls and how to best deal with them.
Girls are taught how to maneuver in and handle relationships.
Girls are advised they possess power that comes with womanhood and that they are influential figures in society and important to its survival as well as development.
The writer advises women to advance their education and be self-sufficient people who will not exist as dependents.
"Kana vakuru vachiti kupfuma ishungu vanenge vachireva kuti munhu haangoerekani apfuma pasina chaaita kuti awane upfumi ihwohwo," he said.
Patience is shown to be a virtue and it is an idea that would serve best our society which is ever in a hurry and impatient to get rich.
The book is a must-read and must be included in the school curriculum as it will help mould our youths into morally upright and productive citizens.