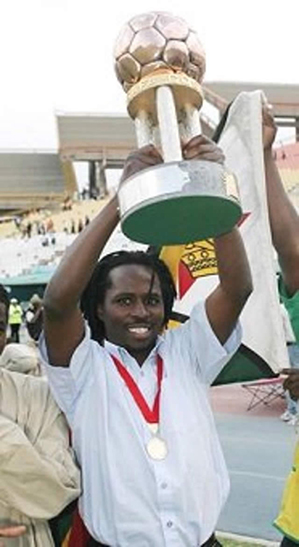 WE mourn Cde Alexander Kanengoni.
We mourn like we have never experienced death in our midst.
Death has robbed us of a man who has served the journalism fraternity, education sector, the nationalist movement and family with all his heart.
So committed was the giant, whose charisma stole the hearts of all his subordinates or rather his family at work, as we saw him as a father.
Today is now a new dispensation without our deputy editor.
A man who moulded every story line to celebrate being Zimbabwean.
From main news, features, business, health and sport articles, Cde Kanengoni always emphasised, the story must celebrate being Zimbabwean.
It has been a solid five years that I have worked with the gallant son of the soil.
Each day was a learning curve. Every time he spoke, you gathered a lot of wisdom and humour.
A seemingly natural ability to write, blended with journalism skills made his articles captivating.
Each piece he wrote was a gem.
I remember a time when the national soccer team coaching job was a thorny issue and he would always argue, Zimbabwe needs a local coach.
Look at the track record of foreign coaches and local coaches, you will see Zimbabweans have done better, but the Zimbabwe Football Association (ZIFA) keeps appointing them ahead of our own men.
It was true.
Charles Mhlauri steered Zimbabwe to their maiden appearance at the CAF Africa Cup of Nations finals in 2004 in Tunisia.
Two years later another Zimbabwean, Sunday Chidzambwa guided our flagship team to the AFCON finals in Egypt.
Now with Calisto Pasuwa in-charge, Cde Kanengoni believed, the national team would qualify for next year's AFCON edition to be hosted by Gabon.
I enjoyed all his arguments as they were based on facts.
The story of the Chieza family of Mhangura had a huge impact on him.
It was a sporting family that played soccer and netball.
In the Mhangura football team, about six family members made it in the first 11 while the girls dominated the netball squad.
Tendayi, Winston, George and Itayi Chieza were some of the Chiezas who made it into the Mhangura FC team.
Tendai went on to play for the national team.
The soccer stars were another talking point for Cde Kanengoni.
He would argue that yesteryear footballers were more talented, relating the story of George Shaya, the five-time Soccer Star of-the-Year.
He cherished how St Pauls Musami changed the football landscape, bringing the premiership to Murehwa.
Such stories were always his best as they celebrated the blackman's success in sport.
In cricket, Cde Kanengoni always wanted the inclusion of more blacks into the sport.
He enjoyed the success of blacks in the team.
Cde Kanengoni always emphasised when writing the cricket story, to include the political undertones in the game.
Back in 2003, Andrew Flower and Henry Olonga politicised the game when they wore black armbands during the World Cup match between Zimbabwe and Namibia.
Although it was a low key match, the political message of 'mourning the death of democracy' in Zimbabwe was awash internationally.
They were campaigning against the agrarian land reform that corrected the land imbalances in the country where Flower's kith and kin had benefitted from the imbalances for decades.
Cde Kanengoni never liked the reportage on BBC or CNN about the Zimbabwe cricket story as they were hiding from the fact that the whites wanted to demonise the country using sport.
Seeing the game being played by Tatenda Taibu, Hamilton Masakadza, Chris Mpofu, Stuart Matsikenyeri and Prosper Utseya, among others, made him smile. He wanted to see a day when Zimbabwe became a cricket powerhouse and proved to the world that even without 'them' (whites) cricket would flourish.
However, the current state of things in the national team was a big let-down to him.
Zimbabwe losing to Afghanistan shocked him.
He would question whether the players were giving their all.
If ever he were to get an opportunity to lecture the cricket boys they would be left knowing what it really meant to play for the national team.
Following that streak of poor results, he would ask: "Are these boys being paid to lose matches?"
The story of Kirsty Coventry did not escape his attention, neither did that of Elliot Mujaji, Stephen Muzhingi and the Mighty Warriors, among others.
He had insight in every sport in Zimbabwe and was a fountain of knowledge.
I had a fruitful time and relationship with 'DJ' and never imagined things would come to an end in such an abrupt manner.
And from this great tobacco farmer, I took a leaf and grew the golden leaf too.
Our pillar has fallen, fare thee well Cde Kanengoni.
Our tears may dry but memories never fade.