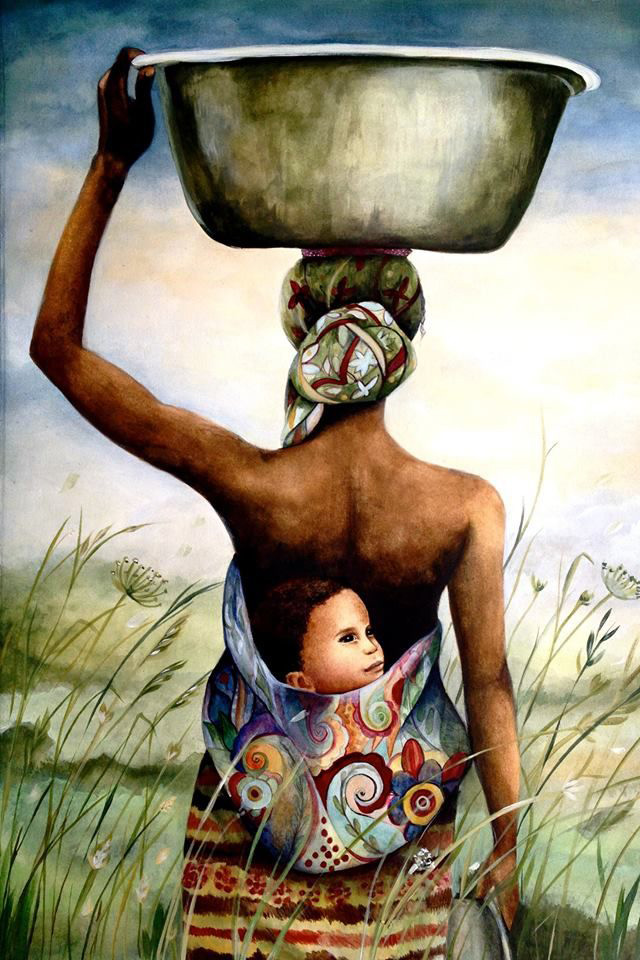 By Farayi Mungoshi
AND so, finally, I have managed to watch Nothando Nobengula's NAMA-nominated film, Like a Good Woman Should.
I didn't get to watch it earlier because I arrived late at the premiere (last year) after getting lost a couple of times trying to locate the venue (which was, as I mentioned in an earlier article, held at someone's abode and not a cinema hall).
I find myself at a loss for words where to begin because the film addresses so many socio-economic challenges being faced by women today in marriage and womanhood.
It is a story most of us have heard before and as for some, it is a story we have either witnessed or even experienced.
Told in narrative form through a voice-over, the story starts with Rose (Nothando Nobengula), with a baby on her back, looking over a village from the top of a rocky hill.
She has a distant and sad look.
The film flashes to the past when she was in Harare and her aunt Mathilda (Charity Dlodlo) is telling her to apply make-up before going out to study with her best friend Tino (Kundai Kachuwa).
That way she would be able to attract men with money to marry her.
Rose, 'like a good woman would', or rather in this case 'like a good child would', listens to her Aunt Mathilda and applies some make-up.
Mathilda clearly does not believe in education and repeatedly preaches to Rose that a woman cannot stand on her own two feet without a man.
Tino, on the other hand, is the opposite of Mathilda.
She believes in education and she doesn't believe that she needs a man in order to be successful.
Aunt Mathilda detests Tino whom she sees as ugly, hence the need for her to study hard in order to make it in life since no man would want to marry her.
Mathilda is materialistic. She performs an abortion on Rose against her will simply because the father of the unborn child is poor.
With such two strong contrasting characters tugging and pulling on either side of life and influencing her decisions, it is clear Rose is at a crossroads.
Having been raised to listen to her elders, Rose takes up aunt Mathilda's advice; dumps her books and gets married to Mike (Conrad Mwanawashe), a rich man who drives a Mercedes Benz.
Questions raised in the film include:
– What is a child to do if her own mother forces her to abort because the soon-to-be father is poor?
– When does a child cease to be a child and become a woman who makes her own decisions?
– Can't we make our own mistakes and learn from them?
These are the questions Nobengula seems to be raising in her film.
Sadly, in Nobengula's story, Rose fails for two years to get pregnant and one day her husband decides to take up another wife, Clara (Callista Sambaza) from the village.
Once again, we find women as the main culprits of the demise of other women.
After two months in the village, Rose discovers that she is pregnant, but once again, she loses the baby because her mother-in-law and sister-in-law would not take her to the hospital; instead they work her so hard that she loses her baby.
Is this just another sad story?
I beg to differ; it felt more like a good lesson for women to treat each other with respect.
It is a direct challenge to women who marry men only for their money; as is the trend nowadays with other women calling these men 'blessers'.
It is a word in season for women to stop backstabbing each other, but to work together.
I am particularly fond of the ending in the film when Rose dumps her husband, and we see her picking up her books once again.
Given the limited resources at hand, it is impressive that Nobengula still managed to come out with a feature length film.
The film also stars Felistous Tizola, Mia Maduwa, Ngoni Vere and Eddie Moyo.
I found Eunice Tava's acting as tete outstanding.
She was convincing in her victimisation of Rose, making the audience sad and more sympathetic towards the main character.
Like a Good Woman Should got two nominations for this year's NAMA; one for Best Actress and the other for Best Film Production.
It goes up against Shem Zemura's Kushata Kwemoyo and Hope Masike's One Woman and her mbira.