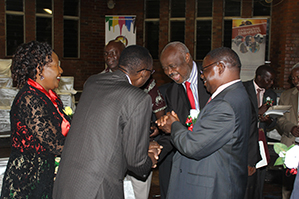 ONCE a teacher, always a teacher.
That is what Cde Alexander 'Gora' Kanengoni was, a teacher at heart.
Born on September 17 1951, Cde Kanengoni trained as a teacher and briefly taught at several schools before joining the liberation struggle in 1974.
Our hearts are filled with grief as we mourn one of our own.
Our own hero, a forthright, patient, loving and kind man.
I never imagined that one day I would be writing about this man.
So sudden was his death that even now I cannot still believe he is gone.
Neither can I find the appropriate words to express the loss.
It is true that munhu akanaka haagari panyika/Isitsha esihle asidleli.
I have lost someone who was more than my deputy editor, but a father, a friend, a writer, a unifier and, above all, my mentor.
Cde Kanengoni was an exceptional storyteller, gifted with an excellent command of both English and Shona.
We looked forward to every Monday and Friday diary meeting where we would spend close to three hours just talking and discussing politics, social and economic issues.
He would tell us about the liberation struggle and the story of Zimbabwe.
One important thing that he taught us was whether one writes business, sports or arts, the story should be uniform, telling the Zimbabwean story.
I got to understand the history of Zimbabwe and Africa at large from his lectures.
I vividly remember he would ask where Algeria was located.
He would make whoever was seated close to the world map point its location.
Chuckling he would say: "Some of you do not even know where Algeria is.
"Where is it Patience?"
Thereafter he would tell you about Algeria, its political structures, economy and the people's way of life.
He was a fountain of knowledge.
I would marvel time and again at how he remembered things in great detail.
You have left a big void Cde Kanengoni, one that cannot be filled.
All those who knew him would agree with me, he understood our individual characters and treated us equally.
Your last diary meeting this Monday was again another moment of looking back to the liberation struggle.
Again you told us that story that we all now know by heart.
The story of how you and your team were the first responders at Nyadzonia, Mozambique, soon after the bombing and how you buried the men, women and children who had been killed during the 1976 Nyadzonia massacre which left thousands dead.
We will never forget that story of the little girl whose body was ripped open, whose heart you could see beating, who asked you if she would live.
For the first time, during the war, you cried, you said.
No matter how brilliant you were, you really valued our opinions.
It meant so much to you to hear what our thoughts were on various issues.
You would agree to disagree if you had a different opinion and at the end of the discussion you would say: "You might be right after all."
I am glad l shared part of my life with you at The Patriot.
I learnt a lot as a journalist, as a mother and as a wife.
Everything I am today, you had a hand in it.
You shaped my thinking. Though a daughter of a war veteran, because of you, I appreciate war veterans more.
I now see them with eyes filled with respect.
Even last week when I attended President Robert Mugabe's meeting with war veterans, I saw selfless people who sacrificed their lives for us and future generations to come.
I saw men and women who are steadfast in defending the country's sovereignty and nationalist ideals.
You remained steadfast in defence of Zimbabwe's sovereignty and nationalist ideals.
We never got the chance to say good-bye, but I will cherish the moments we spent together and your teachings.
Fare thee well son of the soil.