THE minority, who could afford to buy their farms, prior to independence, were allocated an average of 125 ha of land in African Purchase Areas 4, mainly in natural regions III and IV which were adjacent to communal areas.
Notwithstanding the Lancaster House commitments made by Britain, the new British Labour Government's Minister for International Development, Claire Short, in a letter to Zimbabwe's Lands and Agriculture Minister, spelt out her government's position regarding the way in which land would be acquired and compensation paid for: "… I should make it clear that we do not accept that Britain has a special responsibility to meet the costs of land purchase in Zimbabwe. We are a new government from diverse backgrounds without links to former colonial interests. My own origins are Irish and, as you know, we were colonised, not colonisers."
She concluded that a programme of rapid land acquisition would be impossible to support, citing concern about the damage this might do to Zimbabwe's agricultural output and its prospects of attracting investment.
She stated that her government was only prepared to support a programme of land reform that was part of a poverty eradication strategy.
In November 1997, in the wake of a growing confrontation between the British, other donors and the Zimbabwean Government, in response to the high demand for land and white commercial farmers' continued reluctance to sell part of their land, the Government published a list, compiled via a nationwide land identification exercise undertaken over the year, of 1 471 farms (about 3,9 million ha), it intended to purchase compulsorily for redistribution.
Landowners were given 30 days to submit written objections.
Of the 1 471 farms, only 109 were eventually purchased on offer, while the Government delisted others on appeal to the courts by the farm owners due to various legal irregularities.
Land reform was accompanied by violence and the deterioration of diplomatic relations between Zimbabwe and Britain, as many farms were delisted and then re-listed as the Ministry of Lands and Agriculture debated the merits of acquiring various properties.
In September 1998, the Government called an International Donors' Conference on Land Reform and Resettlement Programme (LRRP) Phase II in Zimbabwe, held in Harare, and aimed at informing the donor community and building a consensus among various stakeholders in the land reform.
Forty-eight countries and international organisations attended the conference and unanimously endorsed the Land Reform Programme.
Agreeing it was essential for poverty reduction, political stability and economic growth, a set of principles was adopted to govern Phase Two of land resettlement, including respect for a legal process, transparency, poverty reduction, affordability and consistency with Zimbabwe's wider economic interests.
Appreciating the political imperative and urgency of the proposal, it was agreed that the inception phase, covering the first 24 months, start immediately.
A technical committee was appointed to work on finalising the details of the new system.
In its policy framework on the Land Reform and Resettlement Programme Phase II (LRRP II), published in June 1998, the Zimbabwe Government envisaged the compulsory purchase, over five years, of 50 000 square kilometres of land out of the 112 000 square kilometres owned by white commercial farmers, multi-national companies, public corporations, non-governmental organisations and churches.
The 'inception phase' of Phase Two of the Land Reform and Resettlement Programme aimed to redistribute one million ha in a 24-month period; in the long run, between 1998 and 2003 (within five years), the objectives of Phase II was to acquire five million ha of commercial farmland and resettle about 150 000 families. This meant that every year, the Government intended to purchase 10 000 square km for redistribution for five ensuing years.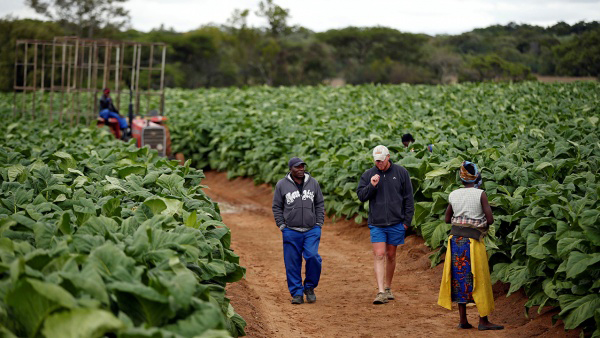 By 1999, 11 million ha of the richest land, held under freehold tenure, was still in the hands of about 4 500 mainly white, commercial farmers — the average large-scale commercial farm was approximately 2 200 ha; only five million ha short of the 11 million ha on which most rural indigenous Zimbabweans continued to suffer immense poverty on overcrowded, mostly poor and arid communal areas held under customary tenure.
In the face of the slow pace of land redistribution, land occupations among the grassroots were inevitable.
Dr Michelina Rudo Andreucci is a Zimbabwean-Italian researcher, industrial design consultant, lecturer and specialist hospitality interior decorator. She is a published author in her field. For comments e-mail: linamanucci@gmail.com