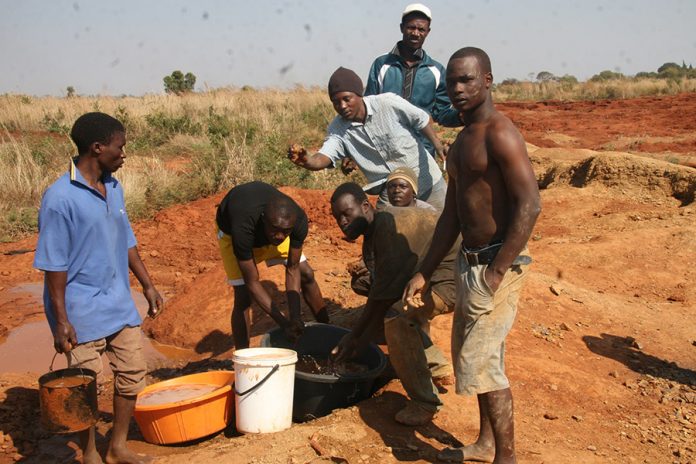 EVENTS in the last half of 2017 weighed heavily on my mind during my visit home over the festive season.
The 'new' Zimbabwe which many folk talked about, expressing their hopes that finally the country would be pulled out of the doldrums, sounded like the biblical Promised Land.
Funny thing about the Promised Land though, when the God of the Israelites informed their leader, Moses, that he should lead his people to the land of milk and honey, he gave them rules that would guarantee their continued stay in the Promised Land.
I am intrigued by a particular teaching on The Entry into the Promised Land by the Church of the Latter Day Saints.
"The initial company of Israelites who departed from Egypt did so with reluctance.
Bad as things were in Egypt, the known seemed better than the unknown to those who lacked faith.
During their 40 years of desert wandering, the children of Israel alternately blessed and cursed the name of God.
When He showed them miracles, they humbled themselves. When the tests and rigors of desert life became difficult, they hardened their hearts in anger and resentment.
They forgot His power and trembled in fear at the thought of facing the Canaanites.
In so doing, they lost their privilege to enter the land of promise.
As their children stood on the mountain and saw in the distance the Promised Land, the realisation of their expectations, were they ready?
Did they appreciate the great blessing of receiving that which was denied their fathers?
Could they move into the land under the leadership of a living prophet and possess the country on the Lord's terms?
Or would they pollute their inheritance, as their fathers had done before?"
Much like the children of Israel at the 'gates' of the Promised Land, young Zimbabweans have a lot of questions, expectations and dreams of the new dispensation the country has entered.
However, for me, the bigger challenge is not what the children of Zimbabwe expect out of this new dispensation, but what their leaders will do in order to ensure that Zimbabwe returns to its former glory or even surpass the mark.
The late liberation war hero, Cde Simon 'Chopper' Chimbetu, has a song that serves as a caution and reminder to politicians.
I remember one very clearly because my maternal grandfather played it over and over again during our school holidays.
I grew tired of the song and my grandfather, clever man that he was, made a small wager with me.
The wager was that he would give me US$5 if I could tell him what Chopper's song 'Survival' meant.
Part of the lyrics went: "Kana moenda mukoma kana moenda, musakangamwa chingwa chevana vaya.
Vanochema vana vaya vanochema, chavanoda ivo kusurvivor. Vanoyaura vana vaya vanoyaura, chavanoda ivo kusurvivor."
Of course my interpretation of the late Chopper's words was wrong.
Chopper was reminding the country's leaders not to forget that their job was to serve the masses.
The masses who need a decent meal on their tables, the masses who deserve a better life than that which they lived under during the colonial era which led to the Chimurengas.
Over the holidays, I met various Zimbabweans who reminded me of that particular holiday and most importantly, Cde Chimbetu's words.
In Masvingo, I met a young farm hand.
His name is Misheck (22), an orphan from Mount Darwin, who was raised by his maternal uncles.
Misheck cannot read nor write and each payday, a colleague goes into town with him to assist him in making purchases, because on several occasions he has been cheated out of his hard-earned money.
His illiteracy has not hampered him from being industrious. He says he owns six cows which are in Mt Darwin.
He hopes to marry this year and start a family soon.
Misheck also says this year, his employer has made arrangements for him to go to school three times a week so that he can be able to read and write.
In Bindura, I met four young men who informed me they had turned to farming, having failed to gain employment since they left university.
Of the four, none has any formal training in agriculture (except what they learnt in high school).
They are 'leasing' some land from a distant uncle who is a beneficiary of the Land Reform Programme.
When I asked them why they have not sought out land of their own, given that they have big plans and seem to have a knack for farming, all I got were dejected faces.
They were too young to benefit from the Land Reform Programme and now land has become a scarce resource, with the solution for many young people being to rent.
In Gweru, I met a store owner who was at his wits' end.
In front of his business are vendors who are selling the very same products he is selling.
He pays rent, taxes and fees, while they (vendors) sit on his veranda and pay nothing to the city or state.
Not only that, some suppliers charge more when goods are not purchased in cash.
In his words, he would do so much better if he became a vendor.
Zimbabweans have high expectations on the new Government of President Emmerson Mnangagwa.
There is a generation of young people who have never been formally employed.
They have grown up with the promises that they would enjoy the fruits of the liberation struggle, that they were the young Israelites who would enter the Promised Land.
Unfortunately, much like the children of Israel, the Promised Land turned out to have giants, fortified cities and many other challenges.
Zimbabwe is much like that.
It needs leaders who understand that theirs is a job which requires putting the masses before the self.
We have seen the results of an oligarchic political system which resulted in a few individuals enjoying the fruits of the Promised Land, while the masses were told they had to make do with the scraps.
We are at the crossroads.
The new leadership has to learn from history in order to chart a new path which is inclusive and recognises that at the end of the day, whether ZANU PF, MDC, NPP or independent; we are all Zimbabweans, and they are a Government of the people.