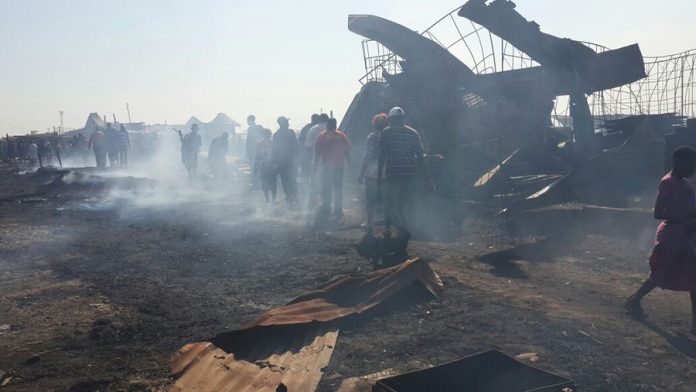 LAST WEEK a fire swept through Glenview Home Industry Complex in Harare, famous for making household furniture, destroying property and stock worth thousands of dollars.
Traders have been left counting their loses and hundreds of small-to-medium entrepreneurs with no source of survival.
Some grief-stricken carpenters could be seen scrapping through the rubble trying to salvage the little that was left.
Conspiracy theories suggest foul play as the fire has become a common phenomenon over the past few years.
There have been repeated fire incidents at the complex but investigations have been unable to establish the cause so that a lasting solution could be found.
In 2016, the complex was again razed to the ground; it also happened in 2015.
In September 2011 and in September 2012, fire broke out at the complex, with similar destructive ferocity.
Last week's fire was reportedly fueled by gas bottles, saw dust, glue and thinners.
As the dust settles and the ash cools, a sense of gloom fills the air with many of the people wondering how they will be able to recover from the fire and earn an honest living in the days and weeks to come.
Unfortunately for most traders at the Home Industry Complex, none of them had their property insured.
When it went up in flames, so did their livelihood built through years of blood, sweat and tears.
Insurance and Pension Commission (IPEC) said sudden catastrophes such as this point out the need for business insurance, especially among SMEs.
"It is certainly wise and advisable for the small to medium business owners there to seek out insurance so that their businesses and properties are protected if such a calamity were to strike again," said IPEC public relations officer Lloyd Gumbo.
"Imagine the cost that they have to go through to replace the furniture they had made, some of which probably had already been paid for.
"Yet if they had insurance, replacing the same would have been at little cost to them."
IPEC said there was need to educate SMEs on the need for insurance that can cover them when such disasters happen.
"If smallholder farmers can insure their crops and livestock, why can't traders at Glen View Complex? What is important is for them to see insurance for what it is — that it is a financial protection tool, not an unnecessary cost," said Gumbo.
Gumbo urged insurers to be innovative and continue introducing products that speak to the needs of the market, including small enterprise traders.
"Contrary to the myth that only established businesses or those in the upmarket require insurance, insurance companies that we regulate have come up with insurance products that are tailor-made for small-to-medium enterprises."
In a drive to increase insurance uptake, IPEC was in Gweru last week for an awareness campaign commemorating World Insurance Day.
National insurance uptake currently stands at four percent.
IPEC said the series of awareness campaigns being held would assist in doing away with misconceptions.
"We are using road shows to demystify the misconceptions about insurance and pensions where some people think insurance and pensions are just for the elite or those who are formally employed," said IPEC pensions manager Nhau Chivingira.
Chivingira said the response has been overwhelming as many people displayed keen interest in pensions and insurance issues.
However, many Gweru residents took the opportunity to register complaints with IPEC over some insurance and pension companies in 'breach of contractual undertakings'.
Aleck Chinodya lodged a complaint relating to life assurance.
Upon joining, Chinodya was told the policy would mature after 10 years but only to be told eight years later the maturity period had changed to 20 years.
"In 2010, I signed for a policy from a reputable insurance company and I was told my policy would mature in 10 years, but this year in March, when I went there to upgrade to a higher level, this is when I was told my policy matures in 20 years not in 10 years as initially stated," said Chinodya.
"They told me it was a way of attracting people. ImagineI"
Chinodya said it is such things that make people mistrust insurance companies.
George Karumazondo (66) of Mkoba, Gweru, who retired last year, had no kind words for pension companies as he feels he was dubbed upon retirement.
"I had been working for the past 37 years, contributing towards my pension from a lower level and later as a territory sales manager," said Karumazondo.
"My salary was above US$1 000, but from my pension, I get a pay out of US$82.
"How did they come up with the US$82?" asked Karumazondo.
He said he was now sceptical about pension and insurance schemes as he was also affected in 2008 during the economic meltdown, more than a decade ago.
IPEC made an undertaking to investigate the complaints.