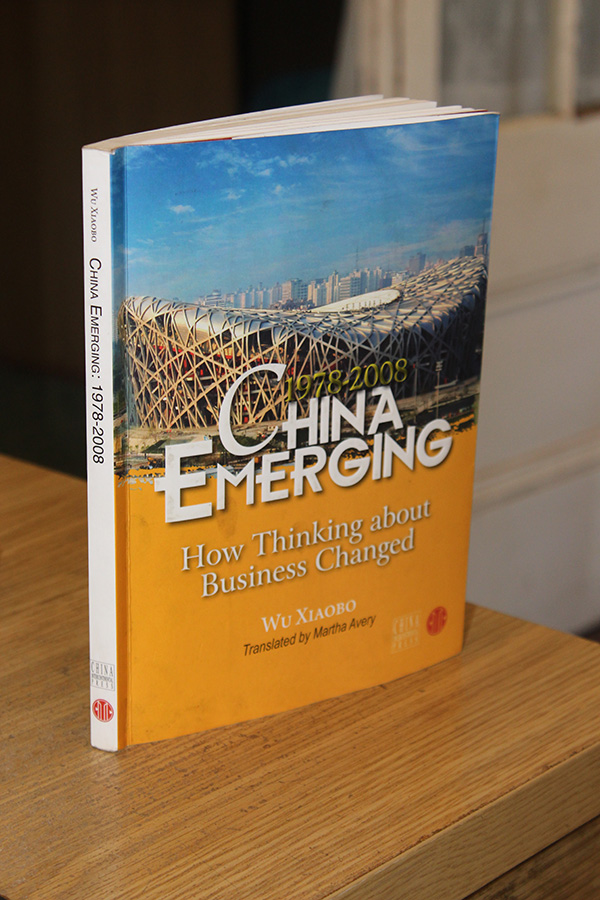 China Emerging: 1978-2008, How Thinking about Business Changed
By Wu Xiaobo translated by Martha Avery
Published by Li Xiangping
ISBN 978-7-5085-1363-8
"STARTING is always the hardest part," goes a famous Chinese saying, and the ascent of China's economy, in roughly three decades, is perhaps one of the most remarkable spectacles in recent history.
The book under review this week is China Emerging: 1978-2008, How Thinking about Business Changed by Wu Xiaobo.
The book extracts certain moments that are presented as key in shaping China to be what it is today.
Perceptions are powerful, and given that history is a succession of mental images linked by time, when people recall an era, it is these images of specific events in time that float to mind and constitute classic moments.
"One of the most important meetings in modern Chinese history took place in Beijing, the Third Plenary Session of the Eleventh Central Committee of the Communist Party of China (from December 18-22 1978). The sole topic of this meeting was 'Shifting the Focus of All Party Work toward Socialist Modernisation and Construction'," writes Wu.
The writer notes that the Chinese leadership, having been shaken by the adverse effects of spasms of the Cultural Revolution, was ready to catch up with the rest of the world, admitting that the 'planned economy' was not sustainable without improving efficiency of State-Owned Enterprises (SOEs).
In order to realise change, the Communist Party of China resolved to adjust their policy on land.
The underlying message in the book is that the emergence of China, as has been wrongly interpreted in the past, was not initiated by Deng Xiaoping, but was started by the Chinese people. Deng simply ratified what the people were agitating for.
The farmers of Xiaogang Village, who opposed their Government's 'one big pot for everyone' policy and took matters into their own hands by introducing a system they called 'da-bao-gan' whereby each family became responsible for their own piece of land, were just the warning shots.
Farmers in Xiaogang Village had realised that their Government policy on land was forcing the farmers to be perennial beggars, since the subsidies they got were hardly enough to sustain them. When Government eventually gave them the green light, they had already showed their agitation with the status quo.
But the major question that marked a turning point in China's history was: Where will the money come from?
"In 1978, China's total foreign exchange reserves came to the trivial amount of USD167 million. Thirty years later, China's foreign exchange reserves exceed USD1,7 trillion. The total has increased more than ten-thousand times," writes Wu.
The writer notes, when the Chinese Government started wooing foreign direct investment, their fortunes did not change immediately.
Foreign investors were sceptical of China's policy climate, which they described as opaque, while the geographical area made it cost ineffective.
However, Wu applauds the decision by Deng to experiment with Special Economic Zones (SEZ) when he declared that 'let some cities get rich first' and called out the names of different places, including Shenzhen.
The plan worked because the Chinese Government allowed the leasing of land, guided by Vladimir Lenin's philosophy postulated in his Collected Works.
Yuan Geng, founder of the Shekou SEZ in Shenzhen, erected a massive billboard at the gate of the Management Commission of Shekou screaming: 'Time is money, efficiency is your lifeline' which later swept though China like a veld-fire, becoming an iconic phrase of change.
When the Chinese authorities started focusing on improving efficiency, they caught the eye of multi-national corporations such as Coca Cola, General Motors, Volkswagen and Pierre Cardin, among others.
Pierre Cardin, the first world-class designer to go to China, walked down Chang'an Street in Beijing in March 1978.
As someone remarked after the successes of the opening up policy: "If we had known how far apart we were from the world back in 1978, I don't know if we would have had the courage to press on."
The book argues that the majority of China's most successful enterprises, which started operating in the late 1970s and early 1980s, came from the lower echelons of society, unemployed people, with low levels of education but mostly relying on highly acute entrepreneurial instincts.
"While this first generation of entrepreneurs was founding companies, China's state-owned enterprises remained 'inside the cage' of the planned economy system," writes Wu.
In 1988, China welcomed a distinguished visitor, Milton Friedman, the first Nobel prizewinner in economics to visit China, who would later open the floodgates of ideological debate.
"While he was visiting Sichuan, Milton Friedman and the governor of that province engaged in an amusing conversation that was widely broadcast thoughout China. Friedman told the governor, 'If you want to cut off the tail of a mouse, you shouldn't do it slowly, one piece at a time. You must do it all at once. A short pain is better than a prolonged pain'."
Th governor responded that China's businessmen had many tails that were intertwined which made it difficult to trace.
But in time, a decision to cut off all the tails at once would be reached by the Government, which, after being plagued by price fluctuations, realised that there was a thin line separating SOEs and party officials, even in business.
In time, the objective would be ensuring the success of the Chinese people, and before Deng's retirement in 1989, he was credited for saying: "It doesn't matter if a cat is black or white, so long it catches the mice."
China experienced massive urbanisation as a result of its industrialisation.
The book traces how, with its populace mostly living in densely populated urban areas, China struggled to contain the SARS virus, a highly contagious inflammation of the lungs which can lead to sudden death.
The book also traces the housing bubbles spiked by 'Wenzhou buying groups' that snapped up all newly-built buildings in cities and along China's coast around 2003.
"They went around with little wooden placards announcing their presence, wanting to buy apartments or whole buildings, as casual as if they were simply buying vegetables. In fact, they wanted to buy all real estate in sight," says Wu.
No doubt, China Emerging: 1978 – 2008, How Thinking about Business Changed does not just wax lyrical about China's rise, but gives one an inside look at the gentle giant which has blinded most to see it for what it really is; a nation driven towards greatness by its own people.