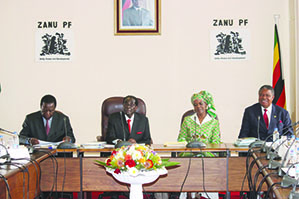 FIRST LADIES the world over are seen as living symbols; 'mothers of nations' and are expected to strike a balance between maintaining a degree of dignity in tandem with their titles.
In short, First Ladies strive to endear themselves with all citizens given that they are supposed, among other things, to prepare and attend ceremonies, hosting banquets and being actively involved in charity work.
Zimbabwe is not different as First Lady Amai Dr Grace Mugabe has demonstrated her unparalleled leadership skills and is adored countrywide.
The hardworking Amai Dr Mugabe has been actively involved in charity work and has built the Amai Mugabe Children's Home and Amai Mugabe Junior School in Mazowe, Mashonaland Central province.
On the other hand, Amai Dr Mugabe announced her grand entry on the country's political landscape by exposing wholesale corrupt acts perpetrated by former Vice-President Joice Mujuru and her cabal late last year.
Immediately after being endorsed as the ZANU PF Women's League boss last year, the First Lady embarked on 'Meet the People Rallies' around the country and warned that all corrupt ZANU PF elements should repent or they will be 'baby-dumped' during the 6th National People's Congress.
Amai Dr Mugabe is now the Secretary for the Women's League in the Politburo.
After the congress, the First Lady joined President Robert Mugabe for his annual leave in Singapore.
During her stay in Asia, Amai Dr Mugabe underwent surgery, the third since 1986.
Upon her return home on February 15 and accompanied by her husband President Mugabe, she met hundreds of ZANU PF supporters at the Harare International Airport who were waiting to welcome her.
She stunned everyone when she started to chronicle her medical history, much to the amazement of some top Government officials and ordinary citizens that thronged the Harare International Airport.
This was obviously unusual because it is not expected of top politicians, let alone First Ladies, to reveal their medical history in public as it is feared that political opponents will seize advantage of the disclosure and use it against them.
Political analysts contend that First Ladies are not public figures and are under no obligation to publicise their medical records.
Even ordinary Zimbabweans are sceptical about revealing their medical history for various reasons.
Others are generally superstitious.
However, Amai Dr Mugabe, a rare breed of First Ladies and politicians, told thousands of her supporters that she was hospitalised for some time in Singapore and was yet to physically recover although she said her spirit and resolve remain unbroken.
"Kana ndimire zvandiri I always tell him (President Mugabe) remember I am an incomplete human being," said Amai Dr Mugabe.
"I say so because I want to tell you my medical history so that you know what I mean when I say we should persevere as human beings.
"In 1986, I was suffering from tonsils for a long time during my youth.
"Even my children who suffered from tonsils had them removed.
"I underwent an operation called 'tonsillectomy' that is why I am saying I am incomplete because my tonsils were removed.
"They were so painful I could hardly breathe, so doctors recommended their removal.
"So this was my first surgical operation in 1986.
"1996 before we got married in August I was not feeling well and wondering what was wrong, when I consulted the doctors.
"They said you produce too much acid that is why you have stomach pains.
"Whenever I had my evening meal, three hours after around 9 pm I would have severe abdominal pains and I would wonder the cause, so I consulted doctors."
The First Lady said she was finally told that her gall bladder was in a bad condition.
She said it was found out in 1995 that her gall bladder had gall stones.
This resulted in an operation on January 5 1996 after the gall bladder had inflamed.
"Ndaiona history yacho kuti 1986,1996, saka ndakabva ndangobviswa nekuti gall bladder iyi yange itori inflamed saka two handichisisina gall bladder –zvinhu zviviri zvandange ndisisina asi munhu anongorarama," she said.
Amai Dr Mugabe said she had appendectomy procedure – a minor surgery – on January 2 this year and had to be sutured again after the wound got infected.
"It was sudden, saka apa vakazonoita zvekucheka ronda hombe chairo ndokuvhura ndokubvisa appendix iye," she said.
"Saka ndave nezvinhu zvitatu zvandisina."
Such nitty-gritties concerning health are rarely shared in the world, in particular in Africa, by people in influential positions.
Amai Dr Mugabe is now famously known as 'Mai Stop It!' after widely criticising corruption in high offices.
And true to her new nickname, she is 'stopping' and demystifying everything that people previously thought were taboos.
On Wednesday Amai Dr Mugabe attended her very first ZANU PF Politburo meeting as the Party's Secretary for Women's Affairs.