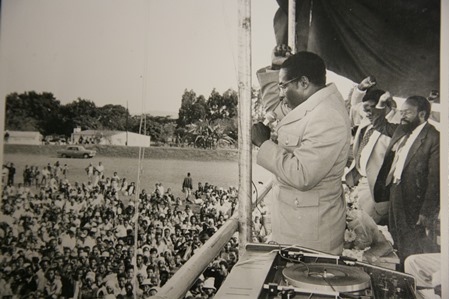 PRESIDENT Robert Mugabe turns 91 on February 21 2015 amid celebrations and reflections.
Last year, President Mugabe, after turning 90 at the wedding of his daughter Bona, said his wish had been to live long enough to see her off to school for the first time.
His 91st birthday has been crowned with his appointment as the Chairman of the African Union (AU) just after his appointment as head of the Southern Africa Development Community (SADC).
His appointment is a reflection of a race well run, but not without sacrifices.
"During my tenure as chair, I will deliberately provoke your thoughts to pay special attention to issues of infrastructure, value-addition and beneficiation, agriculture and climate change in the context of Africa's development," said President Mugabe at his appointment at the AU Headquarters in Addis Ababa, Ethiopia.
Those that have demonised him across the decades are struggling to understand why Africa has taken such a stance.
This is despite an estimated US$2,5 billion poured in by the Western powers as early as 1999 to topple the 'Mugabe regime'.
Efforts to demonise him seem to only endear him to many on the continent as he has been cheered on throughout Africa.
The reasons for this celebration have more to do with his unwavering stance regarding the black man and his resources as well as his policies.
Many see him as part of the old guard that worked and sacrificed to champion the black race most at the cost of their lives.
It is what he has done for Zimbabwe that the continent rises up in ovation.
When President Mugabe came into Government, he began to craft policies designed to boost the once trodden African population.
There was a boost in infrastructure as schools and clinics were constructed throughout the country especially in the rural areas where most of the population resides.
Initially, the Zimbabwean health care system was designed to cater for the white population with separate care for Africans.
This resulted in the concept of Equity in Health and Primary Health Care which narrowed the gap between health provision in rural and urban areas.
Significant strides were made in education when universal access to education was introduced.
This abolition of primary school fees in 1980 saw school enrolment increase from 819 586 in 1979 to 1 235 994.
By 1985 enrolment had increased to 2 216 878.
In an almost desperate attempt to discredit President Mugabe as worthy of African celebration, the Western media has been quoting his statement albeit incorrectly when the President said "It's not possible that women can be at par with men."
In fact President Mugabe was one of the first to establish a ministry for women's affairs in Africa in 1980.
This also saw the repelling of repressive colonial labour laws that saw women not receiving equal pay to men despite performing the same duties.
Although most of these policies were marred by the Economic Structural Adjustment Programme (ESAP) in the 90's the impact saw the catapulting of Zimbabwean citizens as competitive candidates throughout the world.
When President Mugabe came to power in 1980 he pledged that 160 000 black families would be resettled on white-owned soil within three years.
"Our struggle represents the final phase in the development of a conflict situation between the colonised and the coloniser. It was mainly on the principle of the recovery of the fatherland that the armed struggle was built," President Mugabe said in 1981 as quoted by Phyllis Johnson and David Martin in their book, The Struggle for Zimbabwe.
It was to be the first step towards reversing a colonial legacy which would see him face dire resistance resulting in sanctions not only on his family and Government, but on the population.
Fast forward decades later regime change platforms argue that the Land Reform Programme of 1999 was sparked by President Mugabe's attempt to cling to power and not about giving the land to the black people.
Regardless, decades later it is still the biggest land reform in Africa.
About 4 000 white farmers who occupied the country's prime land have been replaced by over 400 000 black households.
With such a record, Africa it seems knows the kind of man they elected into office.
Africa now knows that Africa and its abundant resources is for Africans.
Happy birthday Mr President!