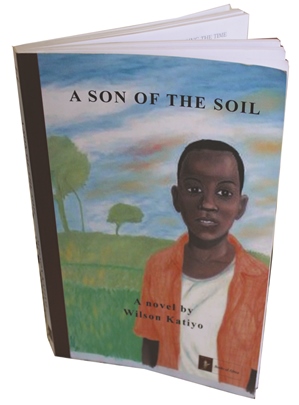 A Son of the Soil by Wilson Katiyo (2010)
Book of Africa limited publications.
ISBN 978-0-9566380-0-7
THE fear of the older black generation and intellectuals is that one day no one will tell our story.
The generation that exists today seems to no longer bother about that history as it has been rendered redundant.
Some young writers today say there is nothing special about the country's liberation history as they believe had they been born that time, they too would have participated.
In the name of democracy and globalisation, today's generation assumes the world has one enemy.
Our common enemy according to the Western world and Europe is one who flogs 'human rights' and the rule of law as dictated by their standards, for example, President Robert Mugabe during the Land Reform Programme.
So new writers write they are tired of the war rhetoric and want to move on with the times so they can be like the rest of the world.
Sometimes even those that fought the capitalist system that supported colonialism today write memoirs denouncing their own participation in the struggle as a fraud.
Wilson Katiyo left the country in 1965 at the age of 18 after harassment by the Rhodesian Special Branch for associating with the African nationalist movement.
In 1976 while in exile, Katiyo wrote and published his book A Son of the Soil.
After independence, Katiyo returned home and somehow failed to fit in the new society.
He left again for Europe in 1985 for self exile where he died in 2003.
His book is biographical as it tells Katiyo's own story through the protagonist Alexio Shonga.
It is a sad narration of poverty and powerlessness in colonial times.
Just like many writers of his time, his story is often tangled with his political consciousness and awareness as he grows up.
In one instance, Alexio's journey takes the reader through the corridors of the Rhodesian forces after he is taken by the police because they suspect he wants to join the guerrillas.
As he walks in the corridors of the Special Branch on the walls are pictures of their leading superintendent Wright in action.
"Wright: unleashing an Alsatian on a group of African children. Wright: sitting on top of a police Land Rover with a Thompson submachine gun, patrolling in an African township. Wright: with a raised truncheon chasing a black woman."
Such pictures were often displayed with pride on Rhodesian walls, but after independence, such memorabilia was quickly erased as the Rhodesian sought to clean up this image marred by racial intolerance.
Ironically, today there are numerous lobbies by white southern Africans especially in South Africa and Zimbabwe who declare that they are victims of racial intolerance.
Alexio's story begins with the death of his grandfather and village elder who tells the story of the white man's coming.
Peter Godwin in his book When A Crocodile Eats The Sun writes how his pioneer forefathers 'came with nothing in their pockets and built an empire'.
The story also sheds light on how most settlers amassed the wealth that their children today say their parents worked hard to attain.
In the story, Boss Hill, a white gold panner, arrives in Chief Chuma's village.
At first he is looking for a bargain with, a mirror, two guns, two shirts, a pair of trousers and bullets in exchange for 24 oxen and 17 men.
After the chief pleads with him to allow him to speak to his people as he cannot just command them to surrender, Boss Hill turns nasty, 'what you don't seem to realise is that I can simply take as many oxen and as many men as I want'.
Immediately, he begins to shoot at the people leaving 40 dead and some injured.
Hill proceeds to take the 24 oxen and the 17 men, among them, a relative of Alexio.
The book also traces the often tragic narration of Alexio's life that is marred at an early age by the death of his father.
He is taken from his mother and moves to Harare to stay with his aunt Rudo who was a domestic worker in the affluent white suburbs.
There he meets the madam's sons and a friendship brews between the white boys and Alexio albeit at the disapproval of their mother.
However, this too is quickly destroyed when one afternoon the trio gets into a fight and the two white boys gang up against Alexio who fiercely fights back.
After a lot a scratching, biting and punching, the white boys looking bloody, their horrified mother demands the boy be sent away after another thorough beating leaving him swollen.
Years later after working for the Van der Byls, their attitude towards her does not change.
One of the boys 'Master Peter' says, "Confusing manners towards Rudo and 'people' is rather like confusing black and white."
Even after almost over a decade raising the white boys, they still do not regard her as a human being worth of recognition.
Alexio also highlights his orphanhood that sees him taken in and raised by strangers.
In some cases he witnesses murder, violence and poverty.
The vicious cycle does not end as the book concludes with Alexio joining the guerrillas in the bush to fight for motherland.