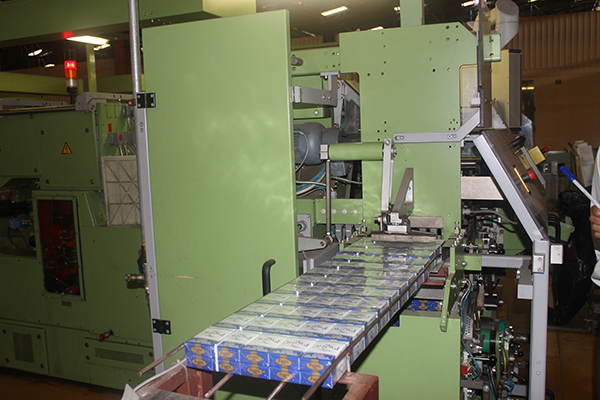 CIGARETTE manufacturing company Savanna Tobacco is one example of the success of Zimbabwe's indigenisation and empowerment policies.
The company's story has led some of the most sceptics of indigenisation to reassess the legacy of such policies.
When many manufacturing companies were struggling, including some multinational corporations in the past decade because of the economic sanctions imposed against Zimbabwe by the West and its allies, the story was different at Savanna Tobacco.
In an interview with The Patriot, Savanna Tobacco executive chairman Adam Molai said it was at that 'pressing' time that the cigarette manufacturer thrived.
The next question one would ask is what is the secret behind Savanna's success story?
"An innovation revolution, a new market segment, a noble proposition, that's Savanna Tobacco's secret to sustaining the future," said Molai.
"We approached indigenisation with an open-mind: it is not shareholding that defines indigenisation, but the ability to set up our own companies.
"Thus we started from scratch.
"We built the cigarette manufacturer in an industry traditionally dominated by multinationals.
"It was not easy, but because of our innovative ways of doing business we sailed through."
Molai said the journey started with Savanna Tobacco's quest for a contract growing licence.
"With the commencement of the Land Reform Programme in Zimbabwe, newly resettled farmers did not have the financial capacity to grow tobacco, so we convinced Government to create a dual system of contract farming and auctioning tobacco," he said.
"This process was a resounding success.
"Since then, the company has never looked back."
Over the last 12 years, Savanna Tobacco has evolved from a threshing plant to a significant producer of tobacco products and brands in Zimbabwe.
From an average monthly output of 3 000 master cartons of cigarettes in 2004, the company now produces between 35 000 and 40 000 master cartons per month.
The company has become a symbol and forerunner of innovation.
Molai said the output capacity and quality packaging has been made possible by the company's state-of-the-art machinery imported from Germany in 2006.
A tour of the firm by The Patriot established that Savanna's automated high-tech cigarette makers have the capacity to manufacture 8 000 stems of cigarettes per minute.
The company's flow wrap packers have done away with the traditional pattern of packaging.
Affordability, dignity and hygiene came into mind.
"Just because we do not have money does not mean we should lose our dignity," said Molai.
"The sale of loose cigarettes did not give consumers the dignity they deserved.
"Low-income consumers were forced to purchase cigarette sticks at local vendors on street corners often resulting in the unhygienic handling of products
"High tech flow wrappers for packs of two, fives and tens were then specifically manufactured for the Zimbabwean market."
Molai said Savanna Tobacco not only kept pace in a tough business environment, but pulled ahead to build new markets.
"Our brands have been extremely well accepted on the market," he said.
"Over our 12 years in business, we have witnessed a growing footprint across the Southern African region in countries like Namibia, Swaziland, Angola, Democratic Republic of Congo, Zambia and Mozambique."
In terms of products, said Molai, Savanna Tobacco recognised that the future of the business lies in its brands remaining relevant to its target markets and in continuous development and improvement of existing and new brands.
Savanna Tobacco developed three key brands each with four variants to suit every taste and spending ability.
These brands are Pacific, the major brand that is well known in the regional markets; Pegasus, which is the newer of the three and has mainly been traded in South Africa and Zimbabwe; and Branson, the latest addition to the family.
Their products include: Pacific Storm, Pacific Breeze, Pacific Mist, Pacific Blue, Pegasus Ruby, Pegasus Emerald, Pegasus Platinum, Pegasus Sapphire, Branson Imperial, Branson Knight, Branson Royal and Branson Classic.
Furthermore, an internal quality assurance department ensures that the quality of products is constantly par excellence.
Every day, thousands of casual workers carrying cartoons of cigarette sticks fan out across cities and towns in Zimbabwe on sponsored bicycles.
"The initiative is part of the Savanna Tobacco Company's vendor capacitating project aimed at facilitating employment creation," said Molai.
In theory, initiatives such as these would have been unthinkable a mere decade ago when somewhat secluded elite of mainly white industry players and farmers held the purse strings to the tobacco farming and cigarette manufacturing industry.
Today, with stubborn optimism and entrepreneurial skill, almost hundreds of thousands of tobacco farmers and their families are benefitting from the industry compared to less than 4 000 white farmers who dominated tobacco farming prior the Land Reform Programme initiated in year 2000.
Many black farmers had no tobacco farming experience, yet they managed to produce a hefty crop, rebounding from a low of 48 million kilogrammes (kg) in 2008 to more than 159 million kg last year.
Since 2008, Savanna Tobacco has been integrally involved in contract farming, with the introduction of the Savanna Tobacco Contract Growing Scheme benefitting many families in rural and farming communities.
Farmers in Nyamaropa, Burma Valley, Centenary and Honde Valley have dramatically and positively changed their livelihoods through assistance from Savanna.
The increase in the number of farmers is a result of the increase in the number of small-scale farmers who were beneficiaries of the Land Reform Programme.
Savanna Tobacco is a testimony that Zimbabwe's indigenisation programme is too big to fail.
It is one company that has led by example.