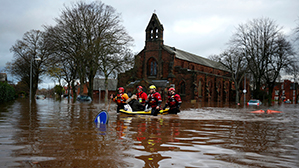 INSTEAD of enjoying the just ended festive season and her 76th birthday on Christmas day, my mother spent most of her time glued to CNN, BBC or Sky News to find out more about the severe floods ravaging some northern parts of England, Wales and Scotland, or the UK in general.
On the news, she saw families being rescued by the army in small boats, helicopters dropping sandbags to barricade the wrath of the angry rivers, whose waters had busted, threatening mankind and demonstrating God's power that He is mightier than men.
And indeed, Storm Desmond was reigning, causing havoc to British towns and cities. Desmond damaged many homes and properties while some people lost their lives. In addition, people were cut off from essential services such as electricity and food supplies.
"Haisati yasvika kwamuri here ikoko mwanangu?" (Hasn't the storm reached you yet, my daughter?) mum would ask, more than twice a day.
"Kwete amai, haisati yauya, asi varikuti mvura yacho ichakanganisa nzvimbo dzakawanda muno muUK. Kuno kune mhepo, ndiyo yakawanda, nemvura iriko asi kwete sezvamuri kuona ikoko panews," (Not yet Amai, it hasn't affected us yet, but they are saying the floods will cover most parts of the UK. There are very strong winds here, though. It's also raining but not as bad as in the areas that you are seeing on the news) I would tell her, trying to reassure her that all was well.
"Ko imiwo, zuva tanzwa kuti kuri kupisa, zvirisei?" (And you, we heard that the sun and heatwave are affecting you, how are you there?) I would also ask my mother, worrying her because at her advanced age, she was at risk of dehydration and some serious physical health problems due to the heatwave. She told me about the drought, predicted to be one of the worst in Zimbabwean history.
South of the Pacific, Zimbabwe included, El Nino is reigning; causing a heatwave, drying up dams and other water reservoirs and damaging crops; day-by-day crashing the farmers' and peasants' hopes of any harvest.
So, this is a tale of two countries, Britain and her former colony Zimbabwe. Countries that are so different in terms of geographical location; one is in the Northern Hemisphere and the other in the Southern Hemisphere; different in terms of climate, weather patterns, development and demographic composition. Separated by volumes of water and land, the two countries share the same grief caused by the unpredictable and severe weather patterns.
Marko Phiri writing for Reuters tells how El Nino and the drought are taking a toll on Zimbabwe's cattle. He says: "Zimbabwe is one of many countries feeling the strain of El Nino, which has dried up rainfall across southern Africa over the last year, killing crops, disrupting hydropower production and forcing local water authorities to enforce stringent water rationing in some areas."
So what is happening?
Some ordinary people like me think that it is just due to climate change.
Scientists will explain it in terms of the effects of global warming. Mankind has become the main destroyer of the environment.
Others, who are religious, say the floods and droughts are part of the Biblical prophecy.
"…The great city was split into three parts and the cities of the nations fell. Babylon The Great was remembered before God, to give her the cup of the wine of His fierce wrath. And every island fled away, and the mountains were not found.  And huge hailstones, about one hundred pounds each, came down from heaven upon men; and men blasphemed God because of the plague of the hail, because its plague was extremely severe… "(Revelations).
Recently I spoke to a relative who lives in one of the villages in Njanja over the phone. He strongly believes that the drought is a sign ancestors are angry. "Kare taibika doro remukwerera topira midzimu, Mvura yonaya. Chokwadi venyikadzimu vakatsamwa," he said. He thinks because there are too many churches and false prophets, and Africans have lost their ways, God and the ancestors are angry.
One of my facebook friends based in the US, however, suggests that Zimbabwe will forever be afflicted by diseases and droughts for as long as Cecil John Rhodes's remains are still buried at the sacred Matonjeni, Mwari's shrine in Matopos.
In Zimbabwe a few days ago, Acting President Phelekezela Mphoko urged Zimbabweans to pray for rains. Barely a few days after his appeal, some newspapers reported heavy rains falling in some parts of the country. However, at Mwari's shrine in Matopos, traditional drums were also beating for the rains. What a coincidence?
It is a fact that most of the severe weather pattern is caused by global warming.
Year-after-year, world leaders have been meeting to pledge their commitment to reducing carbon emissions into the atmosphere. But it is easier said than done. Meanwhile, Africa, which is less industrialised than the industrialised First World, is bearing the brunt of carbon emissions into the ozone layer by these developed countries.
In 2005, a Nigerian scientist, Anthony Nyong from Jos University, predicted that in sub-Saharan Africa, rainfall would drop by 10 percent in 2050 due to global warming, which would see temperatures in sub-Saharan Africa rising by two degrees centigrade in the same period. He urged the G8 rich nations to make "substantial and genuine reductions in greenhouse gas emissions by the principal emitters", also reporting that these rich nations (G8) "accounted for nearly half of world carbon dioxide (CO2) emissions in 1999".
Urging the UK government to do more to address climate change, the UK Independent's editorial (December 27 2015), commented: "…as with other extreme weather events globally, then that raises many more questions about climate change and the record of a government that once aspired to be unprecedentedly green."
The same editorial urged world leaders to do more to address climate change: "If nothing else, these floods remind us that there is so much more to be done here and abroad to protect the planet's fragile stability and to plan for the climate change that may already be irreversible.
"Britain is a small player, providing an almost trivial percentage of the pollution that global industry is pumping into the skies and seas, and has little financial muscle. Yet, as in the military sphere, that is not to say that a minor power cannot make a major difference.
"Our own international aid budget, and through the EU a broader international effort, should tilt more towards dealing with issues such as bio-diversity, soil erosion and desertification and ensuring security of water supplies – the latter being probably as potent a source of wars as any in decades to come."
Whatever the case, we need to do more to address the effects of global warming. There will be no place to hide when Mother Nature unleashes her anger.