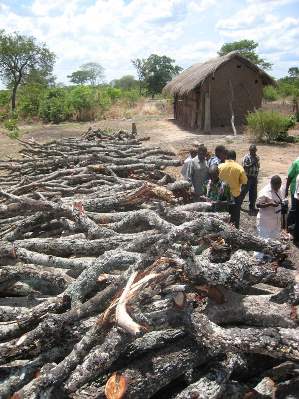 OUR first port of call was sekuru Bhowasi's plot near Mufudziwakanaka.
The latter is known for a school that goes by that name and also famous as a Hwisiri parish.
I remember during church services in Unyetu hearing announcements about a preacher coming from or going to Mufudziwakanaka.
The name sounded very religious to me, conjuring biblical images of shepherds and obedience.
We found sekuru busy putting finishing touches to a double storey structure of wooden poles.
Were it not for its roof framework I would have mistaken it for platforms we build to store maize stalks as cattle fodder during the dry season.
Ndyanga or ngarani, we called the platforms.
I later leant that sekuru's structure was a crude barn being built for curing tobacco.
This year he put his hectare plot under tobacco.
The crop was looking yellowish and presumably flourishing.
In this area people have taken to tobacco farming in a big way.
Subsistence farmers have become commercial farmers overnight.
The forests are fast disappearing as tonnes of green wood are required annually to cure the rising tobacco harvests.
I cannot imagine anything stopping the tobacco frenzy soon.
That could perhaps come earlier if the area eventually runs out of firewood resources.
Sekuru did not appear happy to see us.
He was visibly stressed.
I reasoned that was probably because we had disturbed a man at work.
He was alone at home; his family had gone to church at Mufudziwakanaka.
We sat under a shade as we went through the traditional greeting protocols. Sekuru later brought us water and a raspberry concentrate to dilute and drink.
I skipped this hospitality and opted to look for magaka, a type of cucumber that grows in abundance in traditional fields.
Sekuru cut short my excursion advising us that ever since he switched over to tobacco farming, he stopped growing all the usual crops from the village; millets, maize, manhanga, nzungu, nyimo and mapudzi.
I joked with him that he was now growing hunger.
The previous year, sekuru had put half his plot under tobacco.
He had a good harvest which fetched good prices at the auction floors at US$3,80 per kilogramme on average.
Buoyed by this he decided to go for the jugular this year, investing the entire season in tobacco.
He is looking forward to selling his tobacco crop.
But for now there is hardly any cash or food at home.
Ever since he got addicted to the tobacco cash sekuru now prefers to buy all his food and drinks.
To imagine we had refused to carry boiled mealies that muchembere had prepared in Unyetu that morning?
It was with great relief when sekuru advised us that he did not have the red millet, zviyo, for the kurova guva ceremony in Unyetu this year.
On his advice we left for Chirasauta where he had made arrangements with his younger cousin brother, Manyowa.
When we got to Chirasauta I was impressed by the diverse and healthy crops in the fields.
Swiss knife in hand, I traversed the fields helping myself generously to magaka.
The fields were of maize, millet, ground nuts and peas.
We had a tour of the fields and vegetable gardens.
At the latter site the river was roaring with satisfaction.
In the newly returned wetlands sekuru Manyowa was dreaming of a fish farming project.
We rested under a shade overlooking the ndyanga platform.
Behind us were expectant granaries, tsapi/hozi/matura.
Tasty maheu were served as we listened to sekuru's dream projects on goats, road runners and cattle fattening.
Concerning the latter, my sister Maidei promised to send sekuru literature on how to make silage from maize stalks.
With that knowledge sekuru Manyowa looked forward to venturing into cattle fattening in order to supplement his subsistence.
Time to eat came and the meal consisted of sadza served with road runner chicken and goat offals, (zvinyeze).
We ate until our tummies could take no more.
Improvised tooth picks in mouth we then explained the purpose of our visit. Instead of the one bucket rezviyo, we got two.
Wearing happy faces, we left for Unyetu, mission successfully accomplished.
On the way back to Harare from Unyetu I kept thinking of the contrasting farming lives of my uncles, vanasekuru.
A day after returning to Harare I read of the chaos at the auction floors where tobacco was selling for as little as US60 cents a kilogramme.
At that price, sekuru Bhowasi will not be able to cover his costs let alone buy subsistence essentials like maize meal and matemba.
He will have to go to sekuru Manyowa in Chirasauta for drought relief.
Tobacco has taken away sekuru Bhowasi's dignity, soul and subsistence.
It has taken away 2 000 years of Bantu farming culture.
There is no more jakwara or nhimbe to talk about.
Associated songs and dances will soon be forgotten.
Does democracy mean allowing sekuru Bhowasi to be abused like this?
Does it mean allowing sekuru Bhowasi to destroy his own environment like this?
The Zimbabwe Agenda for Sustainable Socio-Economic Transformation (Zim-ASSET) preaches food security.
Allowing tobacco farming to take over our subsistence is to burn Zim-ASSET.