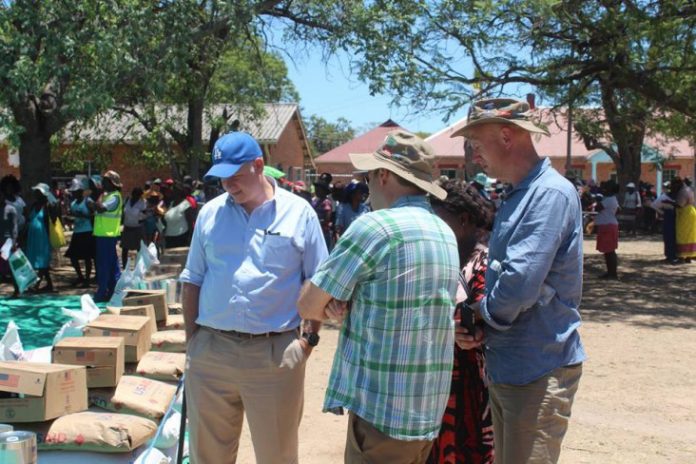 OVER the past two decades, US Agency for International Development (USAID) has spent over US$6 billion pushing for regime change initiatives in Zimbabwe.
In Zimbabwe, beneficiaries of these funds have been making loud pleas for the aid but they accompanied their pleas with false reports, lies and exaggerations.
This week, the US cut funding to three Zimbabwean civil action groups citing misuse of funds.
USAID terminated funding for the Zimbabwe Human Rights Association (ZimRights), the Election Resource Center (ERC) and the Counselling Services Unit (CSU).
USAID provides about US$310 million of aid to Zimbabwe annually.
However, there is very little to show for the huge amounts of money as it has been diverted to personal use.
Project co-ordinators and managers diverted the funds to personal use, with some reportedly marrying more than one wife, buying luxury cars and houses.
NGO leaders in the country drive posh cars and lead lavish lifestyles.
About 90 percent of the donor funds go towards their salaries and allowances as they pay themselves hefty packages, with only 10 percent channelled towards operations.
It has become a norm that many NGOs, during the year, are sedentary only to become active towards year-end as they hold a few workshops in order to have something to write about in their reports.
The matter has since been reported to USAID Office of the Inspector General (OIG). The OIG is an arm responsible for investigating the abuse of USAID programme funds.
This is not the first time these organisations have been accused of misusing donor funds.
In 2014, the US Government cut funds to 15 NGOs in Zimbabwe after they failed to account for over US$850 million extended by USAID as part of the illegal regime change agenda between 2011 and 2014.
In 2005, about 30 NGOs were fingered over alleged misuse of US$87 million from international donors.
In the final stages of the ill-fated Inclusive Government, USAID donated close to a billion dollars to the NGO sector in pursuit of illegal regime change.
The money was squandered, in its place were fake reports, nepotism, lies and exaggerations.
The organisations included the Zimbabwe Election Support Network (ZESN) led by Rindai Chipfunde Vava, the Election Resource Centre led by Tawanda Chimhini, Mfundo Mlilo's Combined Harare Residents Association (CHRA), the Zimbabwe Peace Project led by Jestina Mukoko and Okay Machisa's ZIMRIGHTS.
Bulawayo Agenda, the Bulawayo Progressive Residents Association, Heal Zimbabwe led by Rasheed Mahiya, Community Tolerance and Reconciliation Trust led by Gamuchirai Mukura, Zimbabwe Informal Sector Organisation led by Promise Mkwananzi, Youth Agenda and Democracy led by Tichaona Masiyambiri and Zimbabwe Poets for Human Rights led by Michael Mabwe are also under investigation.
The organisations, most of them operating as affiliates of Crisis in Zimbabwe Coalition (CiZC), were supposed to conduct civic education programmes using the money, but the donors discovered that no such programmes were undertaken.
Instead, the organisation directors were accused of writing fake reports on the use of the money working in cahoots with some Zimbabweans at USAID.
Some of the directors were accused of working with advocacy and democracy officer at USAID Harare,  who would approve their fake budgets and then go on to demand 10 percent of the released funds.
It was also found out that most of the people who work under affiliates of Crisis in Zimbabwe Coalition were either relatives or friends.
His wife worked at CHRA where one of the accused, Mfundo Mlilo, is a director.
Mlilo is also the spokesperson of the CiZC management committee.
It was also revealed that the director for CiZC, McDonald Lewanika, sat on the board of his organisation's affiliate, Youth for Democracy in Zimbabwe, led by Sydney Chasi.
At the same time, Zimbabwe Human Rights Association director Okay Machisa was the past chairperson of CiZC.
The private media were not left out.
Alpha Media Holdings, publishers of NewsDay, Southern Eye, The Zimbabwe Independent and The Standard newspapers, were in 2014 also affected amid reports Western donors who had been propping the group had also cut funding.
The company was partly-owned by the US-based Media Development Investment Fund.
South African businessman, Iqbal Survé, who runs Sekunjalo Independent Media consortium, in 2014, threatened to expose that The Mail and Guardian, also owned by Trevor Ncube, was allegedly funded from Washington by the United States' Central Intelligence Agency (CIA).
Soon after, AMH suspended the editor of its flagship title NewsDay, Constantine Chimakure, for publishing falsehoods.
NGOs and the so-called independent media in Zimbabwe have been thriving on fabricating stories and reports to attract donor funding.
If crisis does not come by, they create one.
Recently, notorious regime change agent Dewa Mavhinga, who masquerades as a human rights activist based in South Africa, doctored a video on alleged threats of violence by ZANU PF supporters and dished it out on social media as fact.
Mavhinga posted the blurred video on his twitter handle, which was evidently targeted at election observer missions in the country.
The faint and very much old video was accompanied by a twitter caption: "Video evidence of #Zanu-PF intimidation to unleash soldiers ahead of 2018 elections — in Mt Darwin."
Just like Mavhinga, most NGO directors earn a living through cheap lies sensationalising events for donor attraction.
Counseling Services Unit (CSU), which used to be known as Amani Trust, have a track record of doctoring evidence and cooking up figures for donor attraction.
Amani Trust has been fanning ethnic hatred in Matabeleland from around 1998.
It sponsored most of Catholic Commission for Justice and Peace (CCJP)'s Breaking the Silence, Building True Peace: A Report on the Disturbances in Matabeleland and the Midlands 1980-88 which exaggerated the disturbances and inflated figures to 20 000 victims.
In 2002, when the MDC launched a court petition challenging the election results of 2002, Amani Trust cooked evidence and brought 'witnesses' on behalf of the MDC.
ZimRights, formed in 1993 on the mentorship of Sir Garfield Todd, like Amani Trust, exaggerated further the disturbances in Matabeleland when it published The Matabeleland Crisis by Charles Carter.
In 2007 Doctors for Human Rights chairperson Dr Douglas Gwatidzo, the same doctor who treated Tsvangirai, Chamisa and other MDC officials during a clash with police, gave an exaggerated medical report on the extent of the injuries.
The doctor even speculated about the weapons used to inflict the fractures and the wounds. And for that, his organisations and other NGOs, the MDC factions and Studio 7 project received funding through USAID and the US Embassy in Harare.
One hopes the EU and the US finally see the light. There has never been reason to plough money into supporting acts that chase fictitious issues in the country.
The NGOs can't be blamed for abusing the funds to enrich themselves.
The funds were there for the taking and the reports —true or false — were filed.
That there is no longer honour among thieves is neither here nor there.