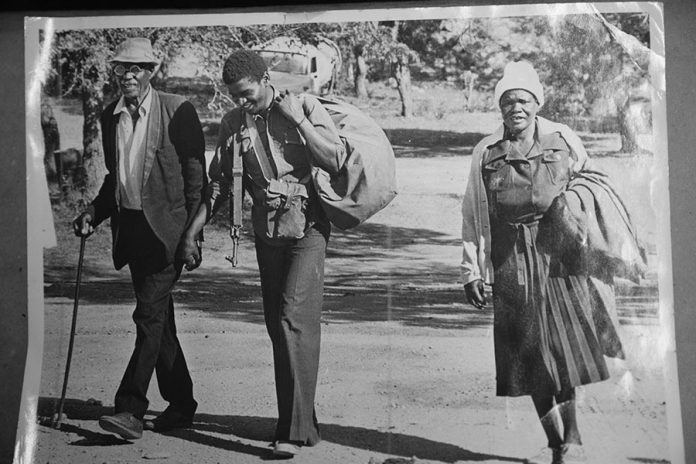 IT was not easy for our mothers.
They wanted Zimbabwe to be free as they amply demonstrated when they took care of freedom fighters.
They cooked for them daily, did their laundry, tended the injured and provided intelligence to the liberation forces until Zimbabwe became free.
During the struggle, we would sing:
"Baba namai sarai zvakanaka
Ropa rangu muchazoriona pasi pemureza weZimbabwe…"
As children, we never forgot about our mothers we had left behind as we joined the liberation struggle.
Many mothers woke up to the traumatic news that their children had 'disappeared' and instantly knew they had crossed the border to join the war to free Zimbabwe.
In the thick of things when, as a recruit, the Mozambicans turned him and 22 others back from crossing into Mozambique, Cde Canaan Mugadzaweta, aka Brooks Chinembiri, still had time to think of his mother on the arduous journey back to Zimbabwe, before being accompanied back again into Mozambique to successfully join the liberation struggle.
Said Cde Mugadzaweta:
"Again I found myself thinking about my mother.
What was she doing?
How had she reacted to my disappearance?
Being the last born in a family of three boys and three girls, I was a favourite child and I knew my mother was a troubled woman.
I shared a close bond with my mother and she was greatly attached to me.
She worked at one of the tobacco processing firms called Gallaher.
I remember one Christmas party at her workplace hosted for the workers and their children.
At the party I was deemed the brightest child and this got me a toy gun as a present from the management.
In the pain and fatigue of the climb, I vividly recalled my mother jumping up and down ululating and shouting: 'Sinyoro! Sinyoro!', praising my totem.
She was proud of me.
I knew she would also remember those moments in what now seemed my short life with her.
I chuckled.
Perhaps the gift of the toy gun that I had been given by my mother's employers was a pointer to my destiny as a freedom fighter.
When our identity particulars were confiscated, I managed to hide my mother's photograph.
I took it out of my pocket.
I looked into her eyes and, in turn, she looked directly into mine, smiling.
I smiled back and chuckled, tucking it safely into the back of my pocket.
Simba asked what the chuckle was all about.
I told him I was just talking to my mother. Unfortunately, Simba had lost all his possessions that included a family photograph.
He was surprised that I still had that priceless possession with me."
Indeed, leaving for the liberation struggle was pledging to die for the motherland.
That is precisely why we could never tell our mothers so simply.
Each mother who learnt or discovered her child had left for the liberation struggle knew the most likely possibility was she would never see her child again.
Whenever our mothers heard of bombings in Mozambique and Zambia, they knew it could be their child who died and indeed it was their child.
For each life lost in the struggle, there was a bereft mother; a heartbroken mother.
All those buried at Chimoio, Nyadzonia, Pasichigare, Mboroma, Mkushi and in shallow graves around Zimbabwe, there is a mother who made the most painful sacrifice of her life.
Whenever Rhodesians announced that they had captured a 'gandanga' (Rhodesian term for terrorist), each mother knew it could very well be her child and whenever a comrade was paraded as a gandanga Rhodesians had killed, each mother would approach the body with trepidation, lest it was her own child.
Sometimes families would be sold out if their child joined the liberation struggle.
There were reprisals against the families.
The Ian Smith regime had no compunction about beating up the mothers, arresting them and burning their homes.
In the story of Cde Obert Gwerevende, his mother was incarcerated at Chikurubi Maximum Prison because of his involvement with the freedom fighters in the opening of the North-Eastern Frontier in the Mt Darwin area.
His sister Phyllis was also imprisoned for the same reason.
When Cde Gwerevende was on trial, the mother was brought from Chikurubi to watch her son's trial.
She was told her son would be convicted and hanged.
She had to watch it all and go through the trauma.
In the case of Cde Chinodakufa, one of the very first comrades to open the North-Eastern Frontier, his wife was jailed for three years, so was his mother, aunt and together with his uncle and father after the Rhodesians learnt of his involvement in the liberation struggle.
This is the story throughout the country.
No one was spared.
Our mothers; whether they suffered because a spouse had joined the liberation struggle, whether it was a son or a brother, accepted that this was a necessary sacrifice.
In their pain and sorrow, they did not rebel against the liberation struggle.
My mother knew she was not likely to see me again.
She told me she suffered so much, but in the end was reconciled to the fact that she was never going to see me again.
When the war ended, she still hoped, but her original conviction prevailed.
Through the late Justice Sandura, my parents got confirmation from Cde Simon Muzenda that I was in one of the party houses in Highlands.
On an early evening in June 1980, Justice Sandura arrived with my father at this house in Highlands near Chisipite Shopping Centre.
It was a total surprise.
I was overjoyed, but the first question was: "Where is my mother?"
They told me she had told them there was no way I could be alive and would wait for my coffin at home.
It was traumatic for her.
She preferred to accept what she knew to be 'true' in her heart and prepared to see my body.
When they brought a live being, my mother was ecstatic, but years later as I reminisce, indeed it was not easy for our mothers to let their children join the liberation war.
They are the mothers of our revolution and we must always take time to remember them.