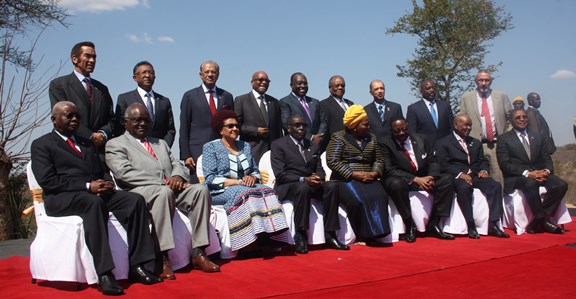 THE 34th SADC ordinary summit of the Heads of State and Government saw President Robert Mugabe assuming the Chairmanship of the bloc.
It is to everyone's hope that President Mugabe's chairmanship brings change in the region as a whole.
The region has been experiencing a lot of challenges presented by neo-colonialism forces.
Sadly some leaders gave in to such forces.
President Mugabe represents a unique brand of leadership with powerful principles which have been tried and tested successfully against colonialism and more recently neo-colonialism.
President Mugabe should continue to apply his steadfastness not only in defending the territorial integrity and sovereignty of Zimbabwe but of the bloc and continent as a whole.
The country has immensely contributed to the bloc's peace and stability, disaster management and poverty alleviation.
Zimbabwe has played a significant role towards ensuring that peace and tranquillity prevail in Mozambique from 1983 to 1992 and in the Democratic Republic of Congo (DRC) under the Southern African Development Community Allied Forces from 1998 to 2002.
It has also participated in observer and peacekeeping missions in Angola and Lesotho.
To fight neo-colonialism forces, the country is endowed with the best security forces training facilities which include Zimbabwe Defence College which trains forces from the SADC region.
Furthermore, the country has taken part in flood and other natural disaster rescue related situations in Namibia, Zambia and Mozambique. 
Zimbabwe has also set the tone for the Indigenisation and Empowerment drive in the region.
So far it is the only country in the bloc that has achieved economic freedom by taking the land and giving it to its rightful owners.
South Africa and Namibia are using Zimbabwe's land reform programme as a model.
Upon assuming the chairmanship President Mugabe set the tone for the bloc to realise that it is time to ensure the region lives off its rich mineral and natural resources.
It is another opportunity for the bloc to refocus its energies towards empowerment and economic development of the bloc not through donor funding, but from the region's riches.
President Mugabe has called on the regional bloc to wean itself from depending on foreign partners.