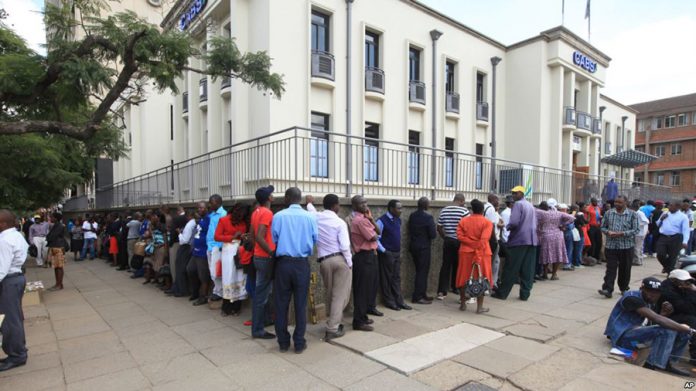 THE year 2017 had its highs and lows, each swing leaving one breathless.
The prevailing cash crisis has been dubbed by many as the main low impacting negatively the year 2017.
"Ummm ambuya gore rino range rakaoma, mari yange isirikubatika," said one Harare businessman, Luke Mapako.
Long queues at banks became the order of the day, with most reportedly limiting maximum withdrawals to US$20.
Due to the liquidity crisis, most shops ceased to give customers cashbacks.
This initiated the buying and selling of the US$ and the Bond note on the parallel market.
Premiums on real time gross settlement (RTGS) and Bond notes are 60 and 35 percent respectively on the parallel market.
For instance, US$100 is being sold for $135 Bond notes, $160 RTGs and R100 trading at $8, 50 Bond notes.
In recent weeks, cash dealers returned to the streets in full force despite Statutory Instrument (SI) 122A of 2017 — Exchange Control (Amendment) Regulations 2017 (No 5) which criminalises the practice, attracting a 10-year jail term if one is found guilty.
Cash dealers continue to conduct their 'business' opposite the Holiday Inn hotel, Eastgate Mall, Copa-cabana and Roadport bus terminus in Harare.
High premiums for the dollar saw most prices go up as companies had to pass on the cost of procuring the US dollar to customers.
Price hike madness
Prices of basic commodities have shot through the roof from September 23 in what was dubbed panic hoarding.
Since then prices have not come down.
And this week some commodities increased by 125 percent.
Basic commodities such as cooking oil, sugar, rice, meat, flour, meat are fetching more than they used to prior to September 23.
Last week a loaf of bread was hiked to US$1,10 from US$0,90, before reverting to the old price after the Government had a meeting with the grainmillers association.
A two kilogramme packet of self-raising flour which was trading at US$1,80 is now selling for between US$2,10 and US$2,30 in various retail outlets.
A 2-litre bottle of cooking oil is trading at between US$4,35 and US$4,90 while a 2kg packet of rice that was going US$2,30 is now selling at US$3,35.
Meat prices have also rocketed, with commercial beef which used to cost US$4,50/kg three months ago now selling at US$9/kg.
In addition to being in short supply due to the outbreak of Avian flu, chicken prices have doubled from US$3,50/kg to
US$7/kg.
Eggs have also risen from US$4,50 per crate to US$6 per crate.
The margins are even worse for imported luxuries such as sweets, chocolates and biscuits.
Mineral output increases
The consolidation of the diamond industry, together with the capitalisation of the Zimbabwe Consolidated Diamond Company, saw marked improvement in output.
As at end of September, diamond output stood at 1,8 million carats, up from 1,3 million recorded during the whole of 2016.
With regards to coal, management changes at Hwange Colliery Company, together with the company's recapitalisation exercises, led to considerable recovery in production.
Coal output rose from as little as 30 000 tonnes per month in the first quarter of 2017, to about 300 000 tonnes per month.
This translates to cumulative coal output of 2,4 million tonnes by the third quarter from 363 000 tonnes of the first quarter.
As at end of October 2017, overall mineral export receipts were around US$2 billon, against US$1,6 billion during the same period in 2016, representing 25,2 percent of the country's exports.
Gold purchases by Fidelity Printers stood at 17 163kg during the period January to September 2017.
This is 12 percent higher than purchases of the corresponding period in 2016.
Small-scale producers accounted for 51 percent of the delivered 17,2 tonnes.
On the back of performance displayed during this period, the country remains on course to meet the target of 24,5 tonnes of gold delivering through Fidelity for the entire 2017.
Manufacturing industry plunged
The manufacturing sector capacity utilisation plunged by 2,3 percentage points to 45,1 percent in 2017 from 47,4 percent last year weighed down by cost and shortage of raw materials, low local demand and foreign currency shortages.
The decline was also attributed to competition from imports and antiquated machinery and breakdowns, according to a state of industry report.
The decline in the capacity utilisation comes as the country has enacted SI 64 of 2016 to regulate the importation of certain goods into the country.
Capacity utilisation is the percentage of the firm's total possible production capacity that is actually being used.
It refers to the relationship between actual output with the installed equipment, and the potential output, which can be produced.
Industrial capacity utilisation reached its peak at 57,2 percent in 2011, before sliding to 44,2 percent in 2012, 39,6 percent in 2013, 36,3 percent in 2014 and 34,3 percent in 2015.
The survey revealed that manufactured output volume grew by 5,5 percent, with growth in output recorded by companies, whose machinery is less than 10 years old.
Total employment in the manufacturing sector declined by an average 15,2 percent in 2017.
According to the CZI 2017 Manufacturing Survey most companies retrenched due to waning business on the back of subdued economic activity, characterised by the erosion of disposable incomes and a slump in aggregate demand.
Others, CZI said, laid off workers as part of the right-sizing and remodelling business operations.
This year, growth in manufacturing is estimated at 1 percent, with projections of 2,1 in 2018, benefitting from improved agro processing value chains in foodstuffs, drinks and ginning also amid supportive import management measures.