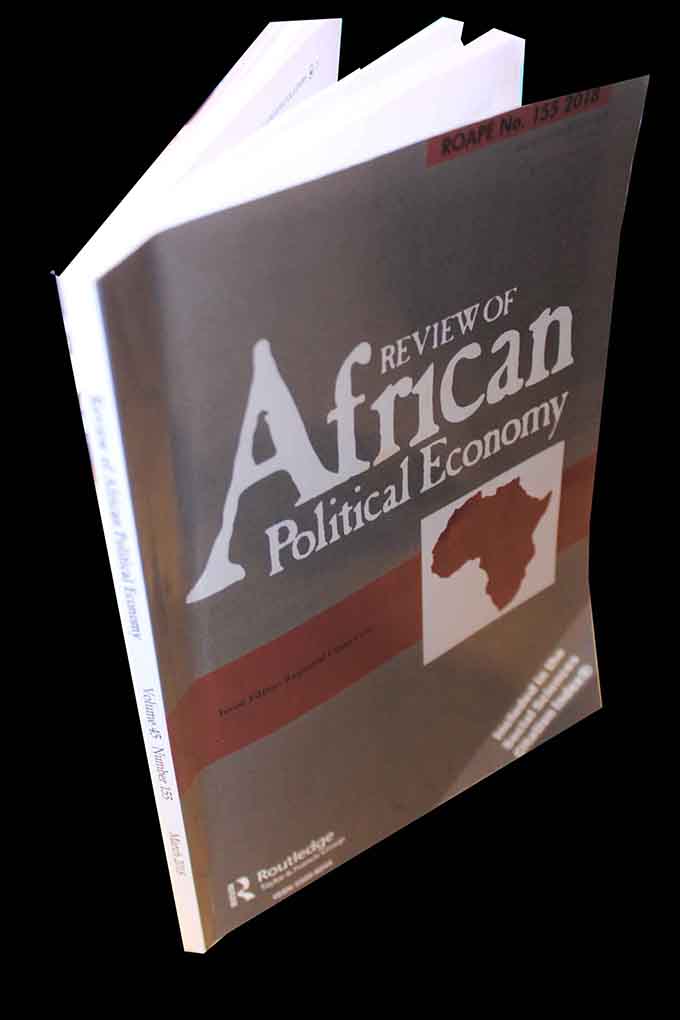 Review of African Political
Economy
Issue Editor: Reginald Cline Cole
Published by Taylor and Francis
Volume 45, Number 155 (2018)
ISSN: 0305-6244
AFRICANS have constantly struggled, under difficult circumstances, to improve their social, economic and political lives.
By adopting collective methods of action to challenge unjust and unaccountable systems, Africans have managed to emancipate themselves and gain some economic and political power.
One cannot talk about the collective efforts of Africans without mentioning the force of social movements that include the working class, the poor and other marginalised sections of the African society that has managed to play a crucial role in shaping Africa's contemporary history.
Social movements in Africa were, and still are essential to challenging exploitation by Western imperialism and trying to bring an end to formal European control of the continent.
Under review this week is a peer-reviewed journal that addresses different issues about class dynamics and social movements in different African countries.
One of the papers titled 'Rethinking class and culture in Africa: between E.P. Thompson and Pierre Bourdieu' by Pnina Werbner focuses on the study of labour and class in sub-Saharan Africa.
In the paper, Werbner argues identity, class and globalisation are critical to African studies. The paper talks about the identity of an African as a worker.
In her argument, Werbner provides a debate that shows how the African worker continues to live an exploited life through his/her identity as a worker, a member of a certain class and culture leading to the working class being fragmented.
Issues of trade unions that are not true to the ethos of an African worker are brought to the fore, stressing that most of them are bourgeois organisations focused on milking hard-earned money from the worker.
"One important objection to the view that trade unions are 'bourgeois organisations primarily focused on consumption' has been evidence of unionised workers throughout West, Central and Southern Africa mobilising political struggles against social injustice and autocratic regimes," writes Werbner.
African workers, according to Werbner, continue work under adopted cultures from the imperialist who made a lot of money during colonialism.
In South Africa, for example, the apartheid regime was dominated by exploitative companies that did not allow workers to enjoy the freedom of their class and identity.
The identity of African workers discussed in the paper is that it respected the dignity of workers by those who have the power to provide remuneration and a working environment.
"Working-class identity, both individually and collectively, constitutes for workers a narrative of virtue, moral commitment and self–respect, seriti, to be defended against those in power," Werbner writes.
However, writer Loes Debuysere brings out a different perspective in her paper titled, 'Between feminism and unionism: the struggle for socio-economic dignity of working class women in pre and post-uprising Tunisia'.
Her argument is focused on social movements and class identity in Tunisia, but mainly on the working-class women in the Tunis region.
"In Tunisia, women workers often face discrimination and precarious working conditions, more than their male counterparts," she writes.
The paper highlights that, just like other African countries, women fail to contribute much to economic development as a result of socio-political impediments put in place by those in power.
Talking about rural women workers, Debuysere notes that women carry the burden of gender inequality and gendered division of labour.
The writer clearly demonstrates it is the global political economy that contributes in affecting and influencing the input of women workers, hence their advancement becomes challenged and hampered.
To show the plight of rural women workers in Tunisia, Debuysere writes: "Rural women in Tbourba (and elsewhere) are seldom fellahat, i.e. farmers who own land as they generally do not inherit land as a consequence of the unequal Islamic inheritance rules enshrined in Tunisia's family code."
Debuysere's research shows that, despite problems being faced by working women in Tunisia, there are women's associations that have been created to come up with solutions.
Some of the associations criticise and question cuts in social services, economic imperialism on the part of international financial institutions and neo-liberal course of economics that disproportionately harm women.
Such an argument highlights that though the global political economy is a crucial factor in affecting and influencing women workers, Africans have to come up with solutions that empower women and support gender equality.
Just like the collective efforts that African governments came up with to fight colonialism, African workers, both men and women, must come up with initiatives to uphold their identities and class.
Review of African Political Economy is a must-read as it contains various papers addressing the plight of Africans.