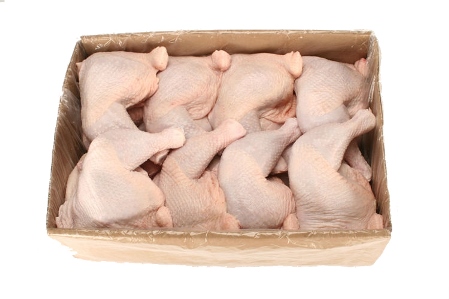 TWO years ago, a butcher in Harare imported many boxes of chickens from America.
On the brown card board box there was a sign stamped these words: 'Made in Texas'.
The chicken meat comprised of big chunks of thighs, wings, necks, feet and other skin and fatty pieces.
Food vendors flocked to buy the chicken because it was a lot bigger than the chicken they would normally buy in the supermarkets.
Food sellers were cutting the chicken into many pieces and making more money when selling a plate of sadza and one piece of chicken for a dollar.
This American chicken that had travelled all the way across the seas from America was suddenly very popular.
Within a few months, the food vendors and their customers started complaining that the American chicken was full of water and it had too much fat.
Customers shunned it because it was tasteless.
Even if the chicken was cooked using the best ingredients, including garlic, ginger and chili, the consumers said the American chicken was outright tasteless.
A few months later, the big frozen chickens from America disappeared from the butchers in Harare.
But, that was two years ago.
Recently, this writer discovered the chicken from America in yet another butcher in the high density suburbs of Harare.
Inside the fridge, you saw masses of chicken wings and chicken bones with very little meat.
The chicken was cheap starting from as little as US 50 cents.
There was a long queue of people waiting to buy the cuts with their dollars in hand.
How is this chicken from America coming into Zimbabwe?
Why is it so cheap in comparison to our local chickens?
What does this do to our local market?
Zimbabwe is not alone in being the dumping ground for cheap American chickens.
African countries are becoming the garbage dumping ground for Western countries who do not want cheap chicken off cuts and bones.
From an economic point of view, the chicken dumping business shows the negative consequences of the unfair trade policies of the European Union (EU) and the USA.
Basically, the Western countries are dumping their heavily subsidised agricultural surpluses into the African markets at a very cheap rate.
By doing this, they destroy the businesses of small-holder African chicken farmers.
How did this business of dumping chickens start?
One reason for this is a simple story: Many years ago, Europeans started to worry about being overweight and having too much cholesterol in their blood stream.
It was no longer fashionable to eat a whole half chicken.
Europeans preferred the fillet, drumstick and other leaner parts of the chicken.
They did not like the bones, back, wings, feet, necks and heads.
In the past, these remains of chicken were given to cows until the cows got sick.
Since it was expensive to burn or dispose of unwanted chicken meat, companies in America decided to get rid of the chickens by dumping them in Africa and making money from poor Africans who were desperate to taste chicken.
Normally, a village road runner chicken is very tasty because it is killed on the day and consumed there and then.
But a frozen chicken has a different taste.
There is a story about a teacher called Maurice Oudet who worked in Sahel country of Burkina Faso.
One day, when he was with his friends on the way to a meeting with rural farmers, they stopped in a small village to order a chicken for lunch.
Instead of getting the usual tasty and tough village road runner chicken, they were served a 'formless and tasteless fricassee'.
Then the owner of the restaurant, seeing their surprise, quickly hurried to explain that these were 'poulets congelées', frozen chickens straight from the 'blessed lands of Europe'.
Frozen chickens from Europe are ending up on plates in Zimbabwe and also in many parts of Africa. The frozen European chicken pieces are shipped from one place to the other and by the time it gets to Africa, it is far from being fresh.
The chances of getting poisoned from salmonella are very high.
A research in Cameroon showed that 83 percent of imported chickens on Cameroon's markets were not fit for a human being to eat.
According to Wolfgang Schonecke of Netzwerk Afrika Germany, Cameroon is one example whereby the Europeans dump their chickens.
He wrote: "In 1994 Cameroon imported about 60 tonnes of poultry.
"In 1996 the country joined the World Trade Organisation (WTO) and accepted the liberalised trade.
"By 2003 chicken imports had reached 22 153 tonnes.
"As a result 92 percent of the local producers went bankrupt, 10 000 people lost their employment and Cameroon spent 15 million Euros hard currency to import what it had previously produced locally."
South Africans, like Zimbabweans, eat millions of chickens, more than double the amount of beef.
As a result, chicken farming is always good business.
But this business shrunk in South Africa due to cheap chicken imports from Brazil.
"We cannot afford to have chicken dumped in South Africa," said Tumi Mokwene, a small-scale poultry farmer speaking to the media in South Africa.
"Our people are losing jobs, our companies are losing profits.
"It will impact negatively on the country's economy."
The poultry industry in South Africa accused Brazil of dumping chickens on its market, forcing farmers to cut jobs because they could not compete with Brazil's low prices.
Then South Africa's International Trade Administration Commission (ITAC) carried out an investigation into the dumping of frozen bone-in chicken by Holland, Germany and the UK.
It was established that European countries were selling unpopular parts of chicken to South Africa at a very low price which was much less than the cost of production.
The prices were so cheap that the local chicken traders could not compete.
We do not know what is in the dumped chicken pieces from the Western countries and also from Brazil.
It is possible to get sick and not know the source of the illness.
But for how long shall we continue to eat cheap unhealthy chickens being dumped on our plates?