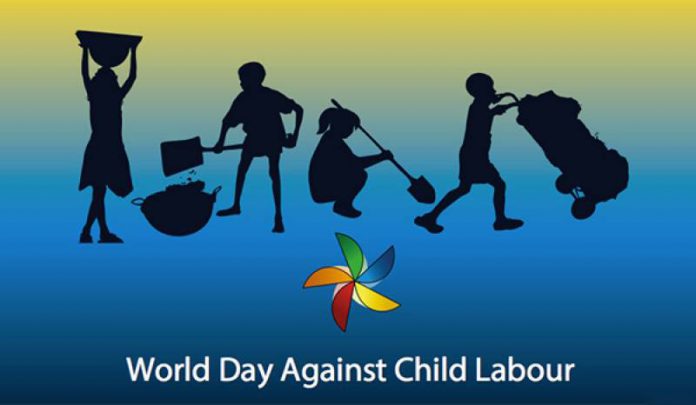 By Dr Michelina Andreucci
MONDAY, June 12 2017 is the universal World Day Against Child Labour.
Each year on June 12, the World Day Against Child Labour endeavours to bring governments, employers, workers, organisations, civil society and millions of concerned citizens around the globe together to draw attention to the dilemma of hundreds of millions of girls and boys worldwide who are affected by child labour and to find an enduring solution to help them.
The World Day Against Child Labour was initiated as a global day of observance, by the International Labour Organisation (ILO) in 2002, to focus attention on the global scope and magnitude of child labour and the efforts and actions required to eliminate it by 2025.
In 2011, there were an estimated 215 million child labourers in the world, of whom 115 million were involved in dangerous work.
Today, ILO estimates show that there are 168 million children in child labour worldwide.
The ILO further asserts that there are over 1,5 billion people living in countries affected by conflict, violence and fragility, which kill, maim, injure and destroy livelihoods, forcing populations to flee their homes; ultimately forcing people into poverty and starvation and ensnaring them in situations where their basic human rights are grossly violated.
As a result, many children are internally displaced or become refugees in other countries. Children, who are often the first to suffer, become vulnerable to trafficking and ultimately, millions are forced into child labour.
In a message by the director-general of the International Labour Organisation, Juan Somavia on the occasion of World Day against Child Labour in June 2008, he said that '…it was unacceptable that so many children must still work for their survival and that of their families'.
He emphasised that education is the right response to child labour.
At the time, over 70 million primary school-aged children were not enrolled in school; many begin working at an early age, often well below the minimum age of employment.
With this in mind, one of the United Nations Millennium Development Goals set achieving universal primary education and eliminating gender disparity in education as targets to break the cycle of poverty and child labour.
Though child labour is usually associated with poverty and developing countries where it is considered to be rampant, there are numerous incidents of Western companies exploiting children in developing countries to save production costs.
According to UNICEF, children in the US '…are employed in agriculture, a high proportion of them from immigrant or ethnic-minority families'.
In 2016, the focus of the World Day Against Child Labour was on the supply chains and child labour.
Most multinational companies declare to have 'zero policy' for child labour, and theoretically are bound to carry out basic checks to ensure that child workers are not used in the supply chains for their products. Regrettably, this is not always the case.
This was revealed in an article by Amnesty International in 2016, by tracing the sale of cobalt used by electronic companies.
It showed that cobalt used in the lithium-ion batteries to power various devices such as laptops and smartphones by multinational companies such as Apple and Samsung, was mined using child labour, some of them as young as seven years of age.
Children and adults working 12 hours a day faced many health risks attendant to mining, including long-term health damage and death due to fatal accidents.
The total number of accidental deaths is unknown as many accidents go unreported and those who die are left buried underground.
In 2014, according to UNICEF, 40 000 children worked in mines across the DRC in Africa. Like the children of the Victorian Era who mined coal for the privileged wealthy elite, these children are plagued with constant illnesses while mining cobalt, to power the gadgets of today's elite.
With technology constantly advancing, cobalt will remain in a steady high demand; the bulk being mined in African countries such as Democratic Republic of the Congo where child labour is rampant.
Governments, multi-nationals and investors are prepared to turn a blind eye to child labour when it comes to essential goods that are in demand; be it chocolates, clothing, machinery, minerals, foodstuff or tobacco.
But should the Western multi-national companies, worth billions of dollars, not investigate their suppliers to ensure the raw material they buy — be it cobalt, cotton or cocoa — is produced by children?
Or should the governments of countries exporting the raw material shoulder the responsibility?
Is the onus on consumers to research where the raw materials in their merchandise come from?
Or should multinational companies importing raw materials provide better working conditions and better pay for the workers in countries that provide their essential (raw) resources?
The West is constantly pushing for new 'rights for minorities', believing they are striving to make the world a better place for everyone; but are they?
But is pushing for more (uneven) laws restricting the use of child labour in Third-World countries the way forward?
Is access to quality education the (only) panacea to eradicating child labour and to a better life?
On June 8 last year (2016) during the 105th Session of the International Labour Conference to mark World Day Against Child Labour, 'a high-level event' was held in the Human Rights Council room of the Palais des Nations in Paris, France.
This year it will be held from November 14-16 (2017) at the IV Global Conference on Child Labour, in Buenos Aires, Brazil, when child labour, forced labour in conflicts and humanitarian settings will once again be discussed.
As we strive to achieve the elimination of child labour by 2025, whether in Arabic, German, Hebrew, Korean or Spanish (Día Mundial contra el Trabajo Infantil) and English (World Day Against Child Labour) – the message is clear… unless and until the West stops transferring their guilt by imposing and enforcing unsuited 'one law fits all' policies under their ill-perceived pre-conditions, they will continue to only pay lip service to the impoverished third-world whom they freely raided, raped and looted for centuries – without pre-conditions; we were never given a chance!
It is time for the well-fed, well-nourished, well educated, better housed, predominantly white functionaries, most of whom have not had to struggle for much — go to bed hungry and cold, walk for miles to fetch water or go to school, live in shanty conditions that are too hot in summer and freezing cold in winter, etc. — stop their mightier-than-thou attitudes.
These high-level events are where much of the money is exhausted. It could be better spent to building and running schools, paying teachers, supplying furniture, books and equipment.
It is time for world leaders to stop flitting around the world, trying to look busy and concerned. Rather, they should listen and learn from what the Third World has to say; after all we are keeping the cogs of multi-national machinery grinding.
It is time also for local employees of NGOs, foreign institutions and companies to stop being sell-outs (vatengesi) by being 'yes-men and yes-women', as they have been historically as evidenced by a myriad of colonial instances such as Mbuya Nehanda's lynching in colonial Zimbabwe and countless other instances.
After all, Cecil John Rhodes, the British South African Company and scores of white settlers could not have accomplished what they did or endured as long without the help of the sell-outs. Some of the world's conflicts may even be resolved!
Dr Michelina Rudo Andreucci is a Zimbabwean-Italian researcher, industrial design consultant lecturer and specialist hospitality interior decorator. She is a published author in her field. For comments E-mail: linamanucci@gmail.com.