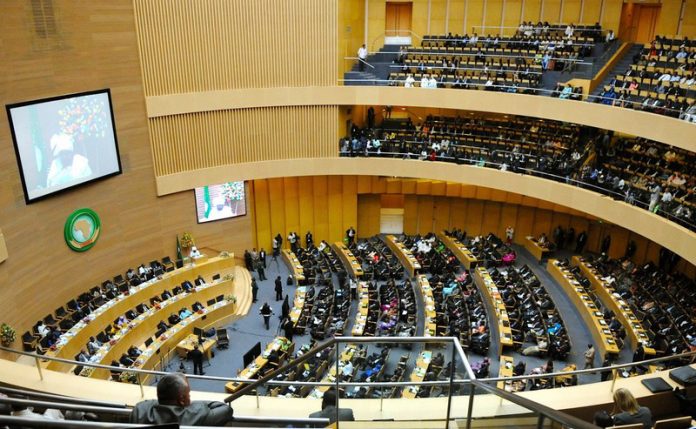 ON May 25 1963, the newly 'independent' African countries came together to form the Organisation of African Unity (OAU) that would promote the unity, solidarity and development of the new African states and act as a collective voice for the continent.
In line with the vision of the founding fathers for an independent Africa, its successor the African Union (AU) in 2015, adopted a continental plan for the next 50 years to ensure transformation and sustainable development for future generations through Agenda 2063.
The AU's Agenda 2063 lies at the heart of the vision for a united Africa with no borders, with economic prosperity driven by closer than before integration with the continent's citizens having one passport.
It was anchored on the realisation that as a continent, Africa has the capability to realise its full potential to fully develop and establish flourishing, inclusive and prosperous societies.
As Africa celebrates its 55th anniversary, there is no doubt progress has been made in the seven aspirations entrenched in Agenda 2063.
The seven aspirations are:
– A prosperous Africa based on inclusive growth and sustainable development;
– An integrated continent, politically united based on the ideals of pan-Africanism;
– An Africa of democracy, respect for human rights, justice and the rule of law;
– A peaceful and secure Africa;
– An Africa with a strong cultural identity, values and ethics;
– An Africa of people-driven development relying on the potential of its women and youth; and
– Africa as a strong, resilient and influential global player and partner.
It is important to note that since the launch of Agenda 2063, significant progress has been made.
As one way to achieve Agenda 2063, most African governments developed and enhanced economic blueprints that will guide them in the implementation.
These include Zimbabwe Agenda for Sustainable Socio-Economic Transformation (Zim-ASSET), South Africa's National Development Plan, Ethiopia's Growth and Transformation Plan, Zambia's Vision 2030, Uganda's National Recovery Plan, Kenya's Vision 2030 and Rwanda's Economic Development and Poverty Reduction Strategy, among others.
As stipulated in the Agenda 2063, these economic blueprints recognise that key to development, the continent has to benefit from its natural resources.
Despite a challenging financial and economic time for African economies, the continent identified 13 flagship projects which fall within the First-Ten Implementation Plan, 2014 to 2023.
These projects comprise the establishment of a continental free trade area, free movements of persons and the African passport, silencing the guns, formulation and implementation of the AU commodities strategy and the establishment of a single air transport market.
This leaves the continent with only five years to achieve goals under this plan.
An all-Africa electronic passport was unveiled at the AU summit in Kigali, Rwanda, in 2016 where they were issued to heads of state and senior officials.
Up to now, nothing much has been done to finally have this passport in the hands of the common man.
Most progress has been made on the free movement of goods throughout the continent.
The AU established a Continental Free Trade Area (CFTA) in 2017, creating the largest free trade area in the world.
According to the African Export-Import Bank, free trade in Africa was worth US$180 billion in 2016, less than a fifth of the total US$930 billion of trade on the continent.
By way of comparison, free trade in Europe accounts for nearly two-thirds of all trade.
It is hoped the CFTA will boost free trade levels by a third by 2021.
Regarding the Pan-African Integrated High Speed Train Network, a five year action plan and a roadmap have already been agreed upon by the AU and committed partners.
Building of railways network is thriving in East Africa.
Progress has also been made on the energy generation focusing on the Great Inga Dam in the DRC.
The blue print has been developed.
AU Commission is continuing to support mobilisation of development partners and the private sector to get engaged in the project.
Nigeria and South Africa have already indicated their intended purchase of the power generated by this project.
Good progress has also been made in the preparations for the establishment of the Virtual University.
The stage of developing a staffing structure, developing a strategic plan and formulating draft project has arrived.
Notably, though, policymakers and other stakeholders often encounter challenges when trying to measure countries' progress towards these aims – particularly when it comes to data.
In many areas, especially in health, where data is more available, Africa is making progress.
The progress made in health includes improved life expectancy at birth, reductions in adult mortality rate, under-five mortality rate and maternal mortality ratio – due to better availability, coverage and utilisation of health services.
Regional integration continues to face headwinds; wars bordering on syndicates of terror still wreak havoc in Nigeria while attempts at narrowing the poverty gap have yielded marginal results.
Africa, as a 'continent at peace with itself', is a key part of the Agenda 2063 vision.
Conflict and fragility are major constraints to Africa's development.
About one third of African states, home to more than 200 million people, are considered to be in a state of relative socio-economic fragility.
In Africa's context, fragility is not a static condition, but a dynamic continuum.
To reduce conflict and fragility, the High Level Panel on Fragile States in Africa was established.
And there's the big issue of illicit financial flows.
Africa is losing, according to the AU High Level Panel on Illicit Financial Flows from Africa Report, US$50 billion with some estimating this to be growing at just over nine percent a year.
Tackling this problem is not just a task for the technical financial industry alone, but one that requires the political will to take the fight to the highest levels of multi-lateral diplomacy where these issues become hooks onto which strings to development assistance can be attached.
Financing development requires the mobilisation of domestic resources and, in Africa, the aspiration as articulated in Agenda 2063, is: "Africa shall be an integrated, united, sovereign, independent, confident and self-reliant continent."
If resources are mobilised only to make their way into numbered off-shore accounts or are misappropriated to support the extravagant tastes of leaders rather than in support of development progress, then this agenda will remain a mirage.
Sound public finance management, including transparency, accountability and strong oversight institutions backed by a conducive governance environment, will be essential to safeguarding resources and ensuring progress towards self-reliance.
The path to Africa's financial self-reliance is dogged by challenges including the resource curse, terrorism and intra-African trade barriers.
Overall, the vision has had its fair share of criticism for being over-ambitious while the situation on the ground suggests a more divided continent than a united one, especially in the pursuit of free trade.
However, it is Africans' path to walk and it is Africa's path to fix.
Only Africa can!