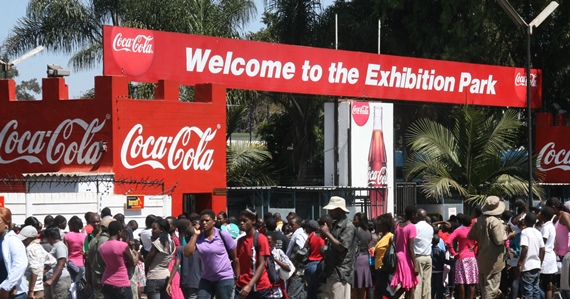 PREPARATIONS for this year's 104th Harare Agricultural Show have gathered momentum with at least 80 percent of the 780 stands having been booked, a Zimbabwe Agricultural Society (ZAS) official has said.
When The Patriot visited the exhibition park, most exhibitors had already finished preparing their stands.
In an interview, ZAS spokesperson, Heather Madombwe said the Agricultural Show to be held from August 22 to 30 had gained impetus.
"Preparations are at an advanced stage as both local and foreign companies have indicated their willingness to take part at the show," she said.
"Our stands bookings are currently at 80 percent.
"We are now geared up for the event and ready to go."
The Exhibition Park, has 780 stands that include commercial, industrial and agricultural exhibitions on 25 hectares of land.The show will run under the theme, 'Sustaining and Transforming Agricultural Growth'.
Madombwe said the agricultural showcase had created more space to accommodate new companies who wish to market their products at the major event.
Last year the showcase had 749 stands.
Madombwe said they were expecting an increase in foreign exhibitors as most of them have shown interest to participate at this year's event.
She said foreign firms that had confirmed participation are Italian-based companies who have been part of the show for the past three years.
"We have had a lot of interest from foreign exhibitors at the moment," she said.
"In the dressage section (horse) we always have foreign exhibitors.
"We have foreign competitors from South Africa, Zambia, Democratic Republic of Congo and Lesotho so we look forward to those every year.
"We also hope that this year we will have more competitors to follow through."
Last year the show ran concurrently with the United Nations World Tourism Organisation (UNTWO) Summit in Victoria Falls and some exhibitors failed to participate at the main exhibition as it was impossible for them to exhibit at both functions.
Madombwe said they were expecting exhibitors who did not participate at last year's edition due to the co-hosting of the UNWTO by Zimbabwe and Zambia to grace this year's occasion.
This year, the annual event has added a cultural fete which is aimed at showcasing the country's traditional values as a way of educating youths about local traditional morals.The official opening which will be held on August 22 will showcase live performances from the Zimbabwe National Dancers, drum majorettes and musicians.
"We have lined up cultural performances to commemorate the life of the former president of the Agricultural Show Society Mr Hosiah Mapondera who passed on early this year," she said.
Madombwe said entry fees for this year's edition remained unchanged.
She said the charges are affordable for the public as children below the age of 12 will pay US$1 and adults US$5 per head.
"Our fees have not changed since dollarisation," she said.
Lined up are the traders' days, Agriculture business forum, bull sale, a US$1 raffle draw for a GW Steed truck, national parks and wildlife campaigns and five days of fireworks.
Madombwe urged people to visit the agricultural show in their numbers.
At least over 150 000 people are expected at this year's exhibition.
The ZAS is working with various stakeholders including Harare City Council and the police to ensure a smooth show.