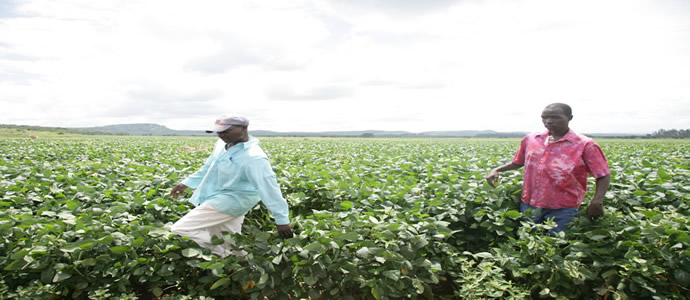 IN his article that was published in the Newsday of September 19, Wisdom Mudzungairi deliberately attempts to create the impression that agriculture in Zimbabwe has 'failed' since the inception of the land reform and resettlement programme without taking into consideration the reality on the ground.
Titled 'Agriculture, Zimbabwe's sleeping giant', the report cites the widely reported importation of maize to support his case.
The article is also laden with shocking falsehoods that are aimed at giving the impression that new farmers have failed to produce on their farms.
"With weak institutions, endemic corruption, disputes over repossessed farms and violent land grabs, the land question is one of the biggest single threats to food security in the country," reads the report in part.
"From breadbasket of Africa to the continent's basket case — that's Zimbabwe!"
In his wisdom or lack of it, Mudzungairi fails to acknowledge the fact that the decline in production is due to a cocktail of challenges emanating from, sanctions which have resulted in lack of working capital and high production costs among other issues.
In May this year, this paper published a series of articles that demystified the myth that Zimbabwe never had hunger until white farmers lost land during the land reform and resettlement programme.
It is this lie that Mudzungairi uses to pursue his shallow argument that whites were the mainstay of agriculture.
But statistics do not lie.
Before the inception of the land reform and resettlement programme which was accompanied by Western sponsored illegal economic sanctions, communal farmers used to produce 70 percent of grain in the country.
It was during this time that only 1 500 whites concentrated on producing crops like tobacco.
Mudzungairi needs to be reminded that agriculture was and still is the prime target of the sanctions.
In 1980 communal farmers produced 66 565 tonnes of maize.
In 1983 there was a drought which was recorded by Morgan Tsvangirai's William Bango, then The Herald reporter, as the worst experienced in the country, Zimbabwe recorded a commendable tonnage of 137 234.
In 1984, communal farmers doubled the tonnage, producing 335 130 tonnes of maize.
This rising trend continued but was often disrupted by droughts.
More recently there has been a surge in tobacco production with newly resettled farmers, operating in a harsh economic environment performing reasonably well.
In 2008 they produced 48,8 million kilogrammes of tobacco, in 2009 they produced 60 million kilogrammes while in 2010 they upped production to 123 million kilogrammes.
A year later, 132 million kilogrammes was produced by the new farmers, while in 2012 they produced 144, 5 million kilogrammes and this year production was 160 million kilogrammes.
One of the major reasons why the new farmers are going for tobacco is the failure by the previous government to adequately fund the Grain Marketing Board to buy maize from the farmers.
On the other hand farmers are no longer into crops like cotton due to poor market prices.
Yet Mudzungairi solicits the warped views of former white commercial farmers who are no doubt still bitter about losing land to black farmers.
If this is not an insult to the people of Zimbabwe who waged a war of liberation to reclaim their land from colonialists then nothing is.
One of the people Mudzungairi interviews, Charles Taffs, president of the now near moribund Commercial Farmers' Union whose organisation now has a membership of less than 30 people cannot speak on behalf of Zimbabwean agriculture.
Taffs talks about so-called land rights when he is advocating leases to be given to new farmers.
But it is common knowledge that the leases will simply be used by the white farmers to buy off black owners of the land who are currently facing chronic funding challenges.
"The collapse in commercial farm output has been the primary cause of total economic decline in Zimbabwe. At its peak, agriculture contributed to as much as 30 percent of GDP as well as being a significant employer of human effort. This production was supported in the commercial sector by a full basket of land rights which included use rights, exclusion rights and enforcement and exclusion rights. These measures within the commercial sector have been replaced since State acquisition and Zimbabwe requires a mechanism to resolve disputes and ensure land rights are made secure in all categories," Taffs said in the interview.
Which planet is this man living in?
Has he forgotten that white farmers got 15-year loans from banks without collateral and most of which they failed to settle?
How on earth can so-called 'disputes' be a threat to production when the rampant effects of sanctions are there for all to see?
Where is Wisdom Mudzungairi's wisdom when he agrees with such falsehoods?
Both Mudzungairi and Taffs must read a research by foreign analysts and published under the title 'Zimbabwe takes back its land', which shows that the Land Reform Programme has increased production on the land.
The researchers criticised Amnesty International for exaggerating the plight of farm workers.
The researchers said the number of farm workers had increased more than five-fold, from 167 000 to over a million in 2011.
"White farmers never used all the land they had taken. In the years just before minority rule collapsed, in spite of generous Government subsidies, 30 percent of white farmers were insolvent and another 30 percent only broke even. Some 66 percent of arable land was lying fallow," reads the report in part.
Mudzungairi's attempt to revive the imperialist agenda will never work.