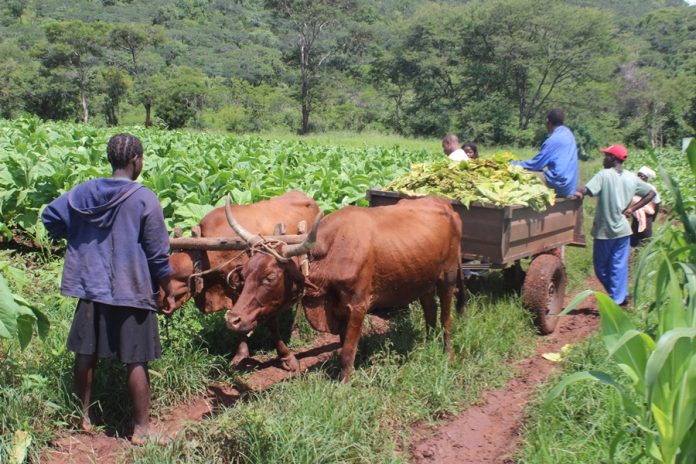 ZIMBABWE on Wednesday, April 18, celebrated 38 years of independence.
Land was one of the reasons blacks took up arms to fight the colonial regime.
Speaking on the issue of land, former ZANU National Chairman, the late Herbert Chitepo said: "When they (Pioneer Column) arrived at what is now called Salisbury on September 12 1890, they hoisted the Union Jack and set up an administration.
Then they started parcelling out the land of Zimbabwe amongst themselves.
Each one was given large tracts of land.
Those who wanted more were allowed to buy it for as little as a shilling an acre."
The rights of locals who had been occupying the land were infringed, Chitepo highlighted.
"With it, of course, went the people who were living on the land," he said.
"So that, a man who had lived on a piece of land, cultivated, built his home and reared his cattle and goats and sheep on the same piece of land suddenly woke up to be told by a European who had come from afar: 'No, you are a tenant now'."
Today, however, as Zimbabweans celebrate 38 years of self-rule, they also enjoy the privilege of being the owners of the land.
Policies have been put in place to ensure Zimbabweans play a pivotal role in key economic sectors.
One such sector where Government has made Zimbabweans masters is the agriculture sector, the backbone of the country's economy.
In 2000, Government embarked on the Land Reform Programme under which land was redistributed to indigenous Zimbabweans.
Prior to the programme only 4 000 white farmers owned prime land, but today, over 400 000 households have been allocated land.
Resettled farmers have not disappointed.
They continue to work hard to drive the agricultural sector despite challenges they are facing.
The Land Reform Programme irked Britain and her allies as, over the years, whites dominated the sector resulting in them imposing illegal economic sanctions on the country.
All this was meant to derail efforts by resettled farmers.
However, locals have not looked back.
Instead, they have continued to work hard to improve the sector.
Indigenous farmers have since ventured into production of crops such as tobacco, cotton, sugarcane and maize on a commercial level.
Commercial farming was a 'preserve' of white minority farmers.
However, today, statistics indicate that over the years, there is growing interest by resettled farmers to shame the country's detractors who had labelled them 'failures'.
The tobacco production sub-sector has grown over the years with production levels rising from an all-time low of 48,8 million kg in 2008 to 60 million kg in 2009.
In 2010, the country produced 123 million with 132,5 million kg in 2011.
In 2012 farmers produced 144,5 million kg valued at US$527,6 million.
Earnings for farmers increased as they pocketed US$586 million from US$566 million in 2015.
Farmers are also producing cotton, the country's second largest export crop.
The cotton industry has proved to be a significant source of income and employment that is vital for economic growth as 25 percent of the country's rural population derives livelihoods from cotton farming.
Measures to improve cotton production are in place as stakeholders aim to improve on yield and the numbers of growers.
Production of the 'white gold', over the past seasons, had lost its lustre.
Frustrated by poor returns, growers had abandoned the crop, turning to more lucrative crops such as tobacco.
Price disputes became the order of the day during marketing of cotton with farmers arguing that prices offered by ginners were not viable.
Cotton production was proving to be a more lucrative business for ginners than farmers, but for the 2017/18 cropping season, cotton growers received support under the Presidential Input Scheme.
Under the scheme, farmers received a full package of inputs for a quarter hectare from Government that included seed, fertilisers and chemicals.
Grain production, which indigenous farmers have always been practising on a small-scale, is now also being done commercially by resettled farmers.
Under Command Agriculture, Government is targeting to produce two million tonnes under 400 000 hectares.
The Presidential Inputs Scheme is also in place with distribution of inputs having commenced.
Resettled farmers have also taken up livestock production.
Efforts are being made to boost the national herd to 25 million in the next 20 years.
The herd stands at five million.
The livestock facility under the Command Agriculture Programme is working towards the resuscitation of the Cold Storage Company (CSC).
Farmers are venturing in dairy production which was in the past done on a small-scale.
Fish and crocodile farming, which traditionally were domains of white farmers, have since been taken over by indigenous farmers.
In the poultry sector where the norm was for communal farmers to only produce for consumption, changes are being witnessed as resettled farmers are taking up the trade commercially.
Small-scale farmers have continued to play a pivotal role in boosting the poultry sector, contributing 65 percent of production.
As the conducive environment continues to prevail, farmers must remain united in driving the agriculture sector as the backbone of the economy.