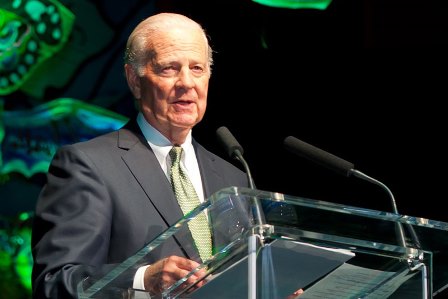 THIS past week, the US Senate Foreign Relations Committee held a hearing on 'Examining America's role in the World'.
Why I took note of this particular hearing was because it provides insight into how America's role in the global arena and foreign excursions are likely to be determined by Congress in the foreseeable future.
In his remarks to the Committee, former Secretary of State, James Baker III, highlighted that, domestically, America continues to sag.
Internationally, the US is losing some of the respect it earned over the course of decades as a global leader
And as the current presidential election is demonstrating, Americans are losing faith in institutions – from Washington to Wall Street – that have aided the country's advancement over the years.
At the same time, much of the rest of the world – countries like China, Brazil and India – are catching up to the US, largely because they are adopting a paradigm of free markets.
Of course, it would not have been true hearing without the usual 'America is great' rhetoric. Baker kicked it up a notch, saying: "Still, we should remain the world's pre-eminent leader for the foreseeable future.
"We should accept that responsibility, not shrink from it.
"If the US does not exercise power, others will.
"We simply have too much at stake in the world to walk away from it, even if we could.
"Other countries depend on our leadership.
"This is most obviously true of our allies in Western Europe, East Asia and elsewhere.
"But even countries that are sometimes anything, but friendly often seek our engagement."
There was nothing new to Baker's contribution as he regurgitated what most political science students can attest about America's foreign policy.
"Using 'selective engagement' as a blueprint, we can identify America's vital interests in the world and then advance them using all of the tools available to our foreign policy – including our many strategic alliances, our economic clout, our diplomatic assets and, as our last resort, our military.
"So what are those vital interests?
"They range from combating international terrorism to managing the emergence of China as a global power and from stemming the proliferation of Weapons of Mass Destruction to expanding free trade."
The other testimony at the hearing was by Thomas E. Donilon, former National Security vice-advisor and a distinguished fellow at the Council on Foreign Relations.
In his remarks, Donilon also took another well-trodden path when it comes to defending America's predatory foreign policies.
According to Donilon, the world is currently characterised by an unusually large number of unstable and volatile situations and America needs to act on this.
Donilon claimed the current high levels of instability are rooted in four broad trends:
l Systematic breakdown of state authority in the Arab Middle-East since the Arab revolutions beginning in 2011 have created a number of failed or near-failed states.
These states have lost the ability to control those who operate within their borders and to maintain a monopoly on the use of force.
As a result, vast ungoverned spaces now exist across the region, paving the way for the rise of ISIS and other terrorist organisations.
This has also put extreme pressure on neighbouring nations, some of which are all-important partners of the US.
The breakdown of state authority has also fuelled an unprecedented migrant crisis in Europe, threatening the very integrity of the European Union.
l The re-emergence of great power competition which is reportedly rooted in Vladimir Putin's return to the Russian presidency in 2012.
l The global reaction to profound economic and political transitions taking place in China.
l The geopolitical impact of sustained low oil prices since mid-2014.
In conclusion, Dinolion outlined four challenges that the next president, must work to address in order to bolster America's security and national well-being. l Economic Growth
l Terrorism
l Cyber Security
l The Asia-Pacific
The greatest threat to America is how China and Russia will challenge its foreign policy as the two nations have over the last few years shown that they would not go along quietly.
Internally, in light of the growing discontent over the wars America has been involved in since 9/11, the establishment has reached a realisation that the US must lead politically, diplomatically and economically without putting American boots on the ground.
So of course, the American people will continue to be fed propaganda that freedom is at stake because of terrorism, whose roots can be traced back to America's own secret wars as far back as the Cold War.
They will also be told of China's threat to their jobs and Russia's unwillingness to embrace democracy because it is important for the establishment to have the nation's buy-in.
After all that is democracy, right.